BY VICTOR AHIUMA-YOUNG
From Akwa Ibom to Maiduguri, from Kano to Ekiti, from Ogun to Kogi and from Lagos to Abuja, the story is the same; unemployment, poverty, harsh living conditions, just name it. There is tension everywhere, many are losing jobs daily while many that still in employment, their take home pay, can hardly takes them to the bus stop.
It happened in Tunisia and Egypt. It is happening in Libya, in Syria, Yemen and others. Though some have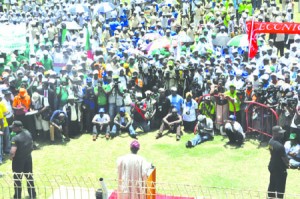 argued that it cannot happen here, but the indices are everywhere across the country; frustration, hardship, poverty, unemployment, high level corruption and the likes. But the only guarantee to avert such is for leaders to perform and deliver as promised. This was the thrust of the messages both leaders of Nigeria Labour Congress, NLC, and their Trade Union Congress of Nigeria, TUC, passed to the nation's leaders during Sunday May Day celebration.
At the Abuja, Eagles Square Venue of the National May Day celebration, the two central labour organisations warned that the growing insecurity in the country, harsh living conditions, rising level of unemployment among others, must be addressed by the government to avoid mass revolt.
Adrressing the rally, NLC President, Comrade Abdualwaheed Omar, declared that "growing the national economy for job creation and peoples' welfare, and appropriately addressing the nation's monumental development challenges is in the enlightened self interest of employers, government and Labour. The alternative is predictable; workers and the Nigerian people will be compelled by objective conditions to take their destiny in their own hands. The signals from local and international restiveness in some parts of the world, dictate that there comes a time when outlandish opulence of a few in the face of stupendous poverty of the majority becomes anachronistic and ignites a reaction. At this stage, no amount of promises, political sloganeering, and tokenism, would extinguish the ambers of the people's wrath. This is the import of this year's workers."
Unemployment, economic growth
"The Federal Government has set up a committee on Job creation and has recently helda one-day Job Summit. Several State Governments have instituted programmes of Job Creation. While all these are commendable, the reality is that the unemployment challenge remains very daunting. We call on Mr. President to urgently adopt policies to tackle unemployment. In particular, the number of unemployed university graduates does not only constitute an unfortunate wastage of human capital, but also constitutes a major threat to a stable social order. While interventionist and targeted programmes can help to ameliorate the problem in the short run, the long run solution to the unemployment problem lies in nurturing a national economy which is buoyant, balanced and stable. In the past few years, the national economy has been growing at the impressive rate of between 6 and 7 percent annually."
"What is clear, however, is that such growth has not led to real development. Unemployment and poverty nave continued to deepen. What we must seek is balanced and inclusive growth. This raises the issue of the underlying philosophy which governs economic management in our country. What is needed is a developmental state that would lead to the creation of an economy that is people centred, one that promotes true development and not jobless growth, and an economy that does not concentrate wealth in a few hands, but one that lifts all out of vulnerability and destitution."
Job driven economic growth.
Corroborating the NLC President, President-General of TUC, Comrade Peter Esele, said: " Nigerian workers and its dependants want to feel the impact of all the growth reeled out periodically by relevant governmental agencies. They want to see it translated into more qualitative and quantitative food on the table; better education; better social and physical infrastructure; they want to work in decent environment and they want their efforts towards nation building to be adequately recognised and rewarded. Nigeria is today one of ILO's model country for the Decent work country programme and advanced work has been done concerning its actualisation. The findings have been that of huge deficits in decent work targets. We therefore call for concerted action from government to address the various identified gaps with a view of making the Nigerian worker the key element in all our employment policies. Most of our affiliates in recent times have spent most of their time negotiating redundancies. Why? The simple reason is that companies are largely downsizing while others are closing shop. Our industries are near dead. Must we at this time open up our borders to all manners of imports? Trade liberalisation was one of the basic problems of the Nigerian economy that messed up our domestic capabilities in the recent past. Must we go back to it?"
"Although Nigeria is ranked the 39th richest economy in the world with a GDP of $212bn based on the 2008 World GDP survey, this disguises the fact that we have more mouths to feed as the eighth most populous nation on earth. Once this wealth is expressed per head of population, our world ranking drops to 170th , based on Gross National Income per capita, placing Nigeria in the bottom league of 'very low income economies.' So, the challenge facing Nigeria in this decade is to generate more wealth to meet the needs of a growing population that is projected to almost double in 2050. Increasing the size of the cake would require annual GDP growth in double digits to achieve the country's 2020 millennium goals. While this challenge is daunting, it is not impossible if the political will is there on the part of the entire leadership, but first, there must be adequate power supply."
Subscribe for latest Videos