*Says, I penetrated northern leaders for the president
*'My conditions for peace with Uduaghan'
Chief Edwin Kiagbodo Clark is Ijaw national leader and leader, Delta State Elders' Forum.
The septuagenarian was a former federal commissioner for information in 1975, commissioner for education, Mid-Western Region 1968-71; commissioner for finance and establishment, Bendel State, 1972-75 and a senator, 1979-83. In this interview,  the Kiagbodo born elder statesman  bares his mind on the April elections, the PDP, Delta State politics, among other issues.
By Henry Umoru
What is your take on the just concluded elections especially the presidential poll which President Goodluck Jonathan won?
First and foremost, I would like to congratulate Mr. President who made it possible for INEC to conduct fair, free and credible elections leading to one man, one vote. You will realize that for some time now, Nigerians never queued to vote; in most cases, results were compiled, allocated and punctured for political parties or to individuals and results were announced and almost everybody in this country lost interest.
In 1999, we had a semblance of election, but, in 2003, there was no proper election; in 2007, votes were allocated to agents, there were no campaigns carried out by individuals. I remember asking one of our senators whether he ever came to  campaign in his constituency. That brought problem in the country.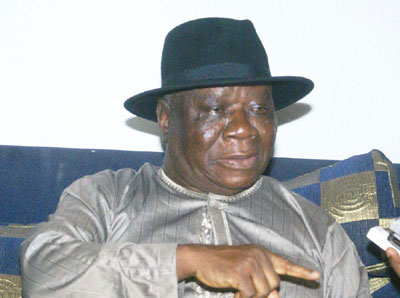 People were wondering whether democracy was in place and they were worried when the United States of America  elected a black man their  president  on merit and his opponent conceded defeat and congratulated him.  And when the man went to visit Ghana, everybody was worried, why did Obama not come to the biggest country in Africa? The man shunned Nigeria because Nigeria was not better than a country under military regime.
Then the late Yar'Adua, who was to be the beneficiary of this bad election, had the courage to appoint a committee under the former Chief Justice of Nigeria, Justice Lawal Uwais, to review the electoral procedures in this country which they did very well.  That led to the amendment of the constitution and the electoral law, but Jonathan took over and stood firm and said we are going to have free, fair and credible elections leading to one man, one vote.  That is how it came about and people wondered whether Jonathan would be able to maintain that when he was going to be a contestant.
Some said he should give up and conduct a good election for Nigeria as a legacy but he decided to contest when the people encouraged him to do so.  When he appointed INEC chairman, Professor Attahiru Jega, he said he didn't know him, he had never met him.  When Jega was appointed, he asked for 87 billion Naira, Jonathan made the money available.  Jega asked for another 6 billion Naira, he made it available.
That shows that Jonathan was ready for that job; so, in the first place, he created the atmosphere for this successful election to be held in Nigeria.
Again, when on 2 April, it was not possible to hold the parliamentary elections, Nigerians doubted the integrity of Jega to hold free and fair elections.  But Mr. President came in,held security meetings, thereafter he made a broadcast to the country, apologising to them, asking them to come out and vote.  That gave Jega the courage to conduct the elections on 9 April which were very successful.  Then on 16 April, that was the landmark of the whole thing; for the first time, Nigerians all over the country voted for the candidate of their choice, whether you are a northerner, whether you are a southerner, whether you are an easterner, a westerner, whether you are a south-south man, everybody voted for Mr. President and he was able to win 31 out of the 36 states.
But the last election, we all doubted  if it  will  be as fair, free and credible as the presidential election; we knew what these governors could do, they have amassed so much money, they have become dictators in their states, so they were able to influence the results of the last election even though it was credible in some places. In other places, it was cash and carry. But, generally, taking the three elections together, they were very successful and we must congratulate Mr President and Professor Jega who made it possible for us to have the polls.
In other words, Nigerians voted for Jonathan and not PDP.
PDP has almost lost its credibility. We saw the primaries that took place  which destroyed the PDP.  Nigerians voted for Jonathan because they believe in him, they've seen him perform. A man of humility, a man of integrity, a man who has reputation, a man who believes that he has no background, he was like any other ordinary man.
'I have no enemy. Any of you can become what I am because when I was a young man, I did not wear shoes, no cars to take me to school, I had no school bag. I had to trek to school. I come from a very small village. If I can become today president of Nigeria, anyone of you can do it'. At least that message went across. They saw a man of sincerity, a man who is honest. I think that is why they voted for him.
Prior to the primaries and the elections, there were hiccups. There was the issue of zoning spearheaded by the Northern Political Leaders Forum, NPLF,  led by Mallam Adamu Ciroma. You were talking from this side, Ciroma was talking from the other side.As an elder statesman, now that the battle has ended and Mr. President has been elected, are we expecting a situation where you as an elder statesman will call Ciroma and say 'my brother, the battle has ended, let us come together to move Nigeria forward'?
Excellent, I will do that. Ciroma, Alhaji Yankassai and most of the men, even the late Dogoyaro, I sent  a message of condolence to her family and to the government of Jigawa State. Let me tell you one thing that happened. Two weeks to the presidential election, I went to the hotel where Tanko Yakassai was staying and I spent about two hours with him there. We have been friends for about 40 years. We reviewed the whole situation and we agreed that let Nigeria move forward and I was happy that he was serving in the committee set up on religious crisis.
I learnt that Adamu Ciroma lost an aunt. Without him knowing, I got leaders of the south-south including the former governor of Edo State, Professor Oserheimen Osunbor, former senators and so on, serving senators, about eight of us, we went there. We got there; we were told he had just finished prayers, evening prayers and had gone up.
I said to them, 'tell him to come down' and he came down and he was surprised to see us and we embraced. He thought I was going to introduce politics. I said we were to sympathise with him. He said about what? I said 'you lost your aunty or your sister'. He said she had been buried. I said we just heard of it and  that  was the reason we were there and he was very happy.
So we will, now that the elections are over and Jonathan has stretched his hands to everybody, we will encourage him to  do more and we will meet with everybody, call a meeting and we will settle our problems.
How soon?
By next week (this week). That is why I am back from home. The nine youth corpers killed in Bauchi, my nephew,who I trained in the university, was among them. That is a sacrifice  I have made, or the family has made. Today, we  have a Nigerian (Jonathan) that God has sent to unite the country.
What is your take on the post-election violence in some parts of the north following the declaration of President Jonathan as winner of the presidential election?
It was very unfortunate, unfortunate in the sense that some of the leaders, including those who wanted to contest election, have made statements to the extent that if  they do not have presidency, there will be no Nigeria. Or the north has lost everything and I think that was the ground work which prepared them for this riot. It's not something that came just like that. Secondly, some of them said they will make the country ungovernable. These were statements made before the riot and the ground was prepared. Buhari himself made some statements that they should defend their votes and how are they going to defend their votes?
So, immediately he thought he had won particularly the north-west when the votes were coming out, there was the likelihood that he was going to win; so when he did not win, he needed not go to tell them to go and riot. He had prepared the ground; I am saying this today and some of them have done so. But we are lucky that majority of the northerners have become very well educated.
Men who do not believe in religion or tribe and they supported Jonathan, otherwise it could have been worse. But now that it is all over and I told you I was a victim of it, we have no other country to go. Nigerians must live together despite what happened. We should  build a united country free from religion, free from interest, free from ethnicity and let's be one country.
A country where everyone is equal. A country where anybody can rise to any position in his life as Mr President said, 'you too can be', and the children are very happy to hear that. A country where some people believe that I can never rise to the top, Jonathan has a duty to maintain the unity. And let's forget the riot that took place, it has happened. What should be done is to educate these boys. Most of them have nothing to do and Jonathan will see to it that the almajiris  are educated; provision will be made for them.
A man who has nothing to do will always fight. If some of these boys were in the textile industry at that time, they would not have come from the factory to  fight in the streets.  So let's forgive them, let's move the country forward. Let's improve their standard of living and Nigeria will be a better place.
I know that Mr. President listens to you very well.  By the time he is back to Abuja from Obudu, what kind of cabinet are we expecting from him?
I don't interfere
If you are to advise Mr. president on the composition of his cabinet, what will you tell him?
Let him be sworn-in first. When he is sworn-in, then he will be able to form his cabinet and he knows those who will bring this country together. The only thing I should say is that he should not allow a situation whereby governors are responsible for nominating ministers from their states That is a recipe for trouble! That  caused a lot of trouble in the past where a minister appointed by the president has double loyalty. Loyalty to his governor, loyalty to Mr President. He should appoint technocrats from all over the country, appoint people on merit.
When governors appoint commissioners, they don't consult the local government chairmen, so why should you consult them in appointing ministers?  You could consult the party, not governors. Governors will always nominate their boys who listen to them. He should consult with the party, prominent men in the country, prominent traditional rulers who will recommend people for him and he did that last time and I think he should do it again. This time, he should not consult the governors.
Now to your state, Delta, what is your relationship with the governor, Emmanuel Uduaghan?
What type of relationship?
Political relationship
We are members of one political party, PDP.
Are you still a member of PDP?
I am a PDP leader.
At the national level?
At the national, I am an elder of the party.
In Delta State, what are you?
At the state, I am a leader of a faction of the party whereas the governor is a leader of the other faction. In  2007 or 2006, many people wanted to be governor of Delta State. They were over 10 and there was one organisation known as three I's, Ijaw, Isoko and Itsekiri.
They believed that power should change from the central to the south or north and we all supported them. But the question I asked was, 'who is your candidate? Have you agreed on any candidate?' They said no and the present governor was their spokesman. They met us, they consulted with the elders,
(Pointing to the old man sitting on the same chair with him).  The elder sitting by me is one of the few first republic politicians alive,.
You must have heard of Chief James Otobo, he was the deputy premier in Osadebey's time when Midwest was created.  We met, he represented the Isokos, I represented the Ijaws and Idodo represented the Itsekiris. We met at a place called PK Guest House and we discussed this thing.  And when the governorship aspirants came, we asked them, 'have you chosen anybody?' they said no. So we met a second time, we even held a rally in Oleh, where we said we wanted a change.
But what happened?  Without consulting us, the  then Governor Ibori decided to organize a congress in Ogwashi-Uku. First, all the aspirants went to Port Harcourt for clearance and under the chairmanship of Alhaji Adamu Hassan, the Wakili of Adamawa. Uduaghan failed the test, he was not cleared. Overnight, he ran to Abuja.  Ibori was there to support him and Ogbemudia rejected the disqualification which they did, and set up a congress without  consultations with members of the party.
Ibori then  called five of the aspirants that he dreamt that God told him that he should be succeeded by his cousin, that is Uduaghan. The aspirants said they won't withdraw. Among them was Ewherido, the deputy Speaker, Okowa, Young Igbude from Isoko. They said they won't withdraw and he said whether they withdrew or not, they would succeed.
So, a kangaroo congress was held in Ogwashi-Uku and Uduaghan was imposed on us.  Some of us said no.  Majority of us went to Agbor on 29 January, 2007 to say no, the hall was full.  From there, we moved to Abuja to see Mr. President on 5 and 11 February and the opposition was very strong.
But what happened, Ibori helped  Obasanjo to conduct the PDP convention and to organise the election, that was the condition that made him to support Ibori against us. So, the two of them adopted Uduaghan. We had no case, all we did was to go to court, we filed a case in the Federal High Court.  Meanwhile, Uduaghan had been elected, and he now enjoyed immunity under the constitution, so his name was withdrawn from the suit.  The case is still pending today in the Court of Appeal, Abuja.
In 2008, we had no party (PDP) executive. You heard about Orubebe's case.  Ibori and Uduaghan said he should not be a minister and Yar'Adua said go and settle your problem and a committee under General Omu was set up.  The committee met once and it did not meet again.
The next we heard was that an executive had been set up under the chairmanship of Peter Nwaoboshi and we said no.  We set up a parallel executive under the chairmanship of General Philip Onyekwele from Ndokwa east.  Then  Colonel Iboma (rtd) took over from Onyekwele.  So, we have been in this parallel situation in the state.
Every attempt made to resolve the problem, they frustrated it.  We have talked.  The last delegation they sent to us was under the chairmanship of the former deputy governor, Elue, and another deputy governor, Eboka.  We agreed on many things, that we should cease-fire, let us resolve this issue, but they didn't do it because Ibori was always dictating to them from Dubai.
Even the convention, the presidential primaries, the delegates were to vote for Atiku until we intervened.  We have evidence, text messages were sent; Ibori told them through one Moses Odibo that everybody should vote for Atiku. Delta State had the highest number of people who voted against their own son.
Could you imagine a situation where I am fully committed to Jonathan! I was not a delegate to the convention where he was voted for like many of us and when people ask me, I  say I am a father, I don't have to go to the convention and vote for my son. That was the excuse I give. I couldn't become a leader from my own local government which I used to be. So the crisis remained.
When the present government  was to come in, and we were to have the gubernatorial primaries, one Ngozi collected the nomination form, paid N5 million plus, another one called Professor Teriba Mukoro paid N5 million. They all went to Port Harcourt to be screened. Uduaghan was there, but at the time they were holding the primaries, Ngozi and Mukoro  were not invited. That  led to our having what is called parallel primaries which were held also in Ogun State.
But because the National Working Committee, NWC, had been compromised  in 2008, they refused to listen to our case. So, we are in court, Mukoro is in court, claiming  he was excluded from the primaries even though he satisfied all the conditions and we know we will win that case. That will show whether Uduaghan's position as governor is legal or not.
Nwaoboshi himself said that most of the primaries held in Delta State were illegal, null and void because what he wanted did not happen. He said the delegates' list was forged. The team that came, he said he didn't know whether it was the National Working Committee that sent it or not, the venue was not chosen by him. We have taken him to task, we are also going to court. Let him go and refute it that he didn't say so, he said so in paid advertorial and he signed it.
At what point did you fall out with Peter Nwaoboshi because you were said to have anointed him for that position during the harmonization process and after a meeting at Chief Godwill Obielum's house.
They are lying. Obielum phoned me, that Nwaboshi had approached him and Dr (Mrs) Ali to say  he would like to contest for the chairmanship of the state  chapter of the party. And I said 'if you know him,  I don't know him, you are very close to me. I have no objection if you people want him to be'. As a result of that, Nwaoboshi then came, was led by one Mrs Doris Nwakobia or so; they came with some other people. They brought kolanut, they supported the kolanut with how much?  N100,000, I don't lie against myself.  I said to him, 'I am meeting you for the first time, we will see what will happen'. The  Omu  committee was going on,  taking evidence. That was the only issue I discussed with Nwaoboshi. There was no harmonization.
Did you see Nwaoboshi later as promised?
No, no, even if I see him today, I won't recognize him. The only time I saw him was at Edewoh's daughter's marriage at Eku. They brought him to me, he was introduced to me by Mrs Grace Odili.  That  was the last  time I saw him. Even if I see him today, I won't recognize him.
After the emergence of Uduaghan as the party's candidate before the 2007 elections,  can you recall if he came to you as a 'father' to seek your blessing, and if there was, what did you tell him?
At the time, they were aspirants.  All of them visited me in my country home at Kiagbodo and, as a father, I blessed all of them.  I was not going to take sides. Uduaghan came, I gave him blessing, Ewherido came, I gave him  blessing, P.Z Aginma came, I gave him the same blessing. I never committed myself to Uduaghan. I replied him recently in the paper when they said that I said  there must be change. Uduaghan came to me and I said 'you are a good man'.  I have never at any time adopted Uduaghan as a candidate. I championed it (powershift from Delta central), that was how I became the leader of our group, from 29  January 2007. I have never supported Uduaghan's candidature. He was imposed on us.
You  said you are a national leader of PDP, but in Delta, you worked for DPP's gubernatorial candidate, Chief Great Ovedje Ogboru, during the last re-run election and even before the April 26 governorship poll. Are you not engaging in anti-party activities?
What is anti-party? Recently, did  Uduaghan and Dr Okowa not support a man under Accord Party against Doris Uboh? You are contesting election under PDP and you are supporting another man in Accord. Is that not anti-party activity?
During the presidential election, Ogboru worked for President Jonathan more than Uduaghan.
But Uduaghan was declared the winner of the election by INEC
He didn't win. Let me cite two cases. Warri north is made up of 10 wards, 4 wards are occupied by the Ijaws, 6 wards by the Itsekiri. Warri south-west 4 wards for the Ijaws, 6 wards for the Itsekiri. This was what brought tribal feudal war we fought in 1997 – 2002 when my house and my law chamber were burnt. We have forgotten all that. But imagine that Warri north, the 4 wards belonging to the Ijaws voted on the 9th during the National Assembly polls, voted during the presidential election on the 15th but they were prevented from voting because Uduaghan was contesting. No material was sent to them.
No ad-hoc staff was sent to that place, no voting took place. Can  you imagine excluding 40% of a local government from voting and you announced that result that the Itsekiri who were less than 3,000 voted 58,000? Can you imagine that? The people protested, they wrote a petition which I put in the paper. In Warri south-west, for the first time from 1960 to this day, an Ijaw boy from Ogbijaw, contested the election, he was not allowed; his agent was not allowed contrary to section 74 of the electoral law. They were not allowed, yet they declared the candidate. The petitions are there. What other evidence do you require? I just cited two cases whereas in Imo State, Oguta local government, some people voted and some did not vote, it was declared inconclusive.
So there was no election and you will see it. This time, section 134 of the Electoral Act says, electoral tribunal must give judgment  within  a period of 180days. Not three and a half years again. So Uduaghan will not be there for three and a half years. If it goes to appeal, 3months-90days. So before the end of the year, we will know who rigged the election.
As a father, if after all these, Uduaghan comes to you and says, 'forgive and forget, let us move forward', will you still maintain your position that you will never forgive him?
This is not Clark and Uduaghan issue. It is not a personal issue. Uduaghan is very respectful to me. I won't use the word loyal. For example, anytime I travel from Abuja to Benin in the plane, he will see to it that I come down before him. Two, when I was given an international award in Paris, he sent his deputy governor and a commissioner to follow me. So, when we were coming back, I became worried, I called the deputy governor: 'Why can't we all sit down, let us settle this problem, not just Clark and Uduaghan alone, we integrate. He is already the governor"  there is nothing we can do. We spoke for one hour. When we got here, I waited for about two  weeks. The deputy governor then phoned me to say he had spoken to the governor and the governor said he was discussing with Obielum.
The next time he came to me was when he sent Elue, the former deputy governor, Mrs Omu and others, Bozimo and so on. We agreed that there was a need for us to build a united Delta State. Let us integrate. Not Clark, you take me alone, what does that mean? I am not that kind of leader. A leader must be seen to be a leader of the whole people. If you don't want to settle with my people, then you don't want to settle with me. That is the problem. So if Uduaghan comes here to beg me today, I will say no, bring your people, we bring our people, let us settle. I told Mr. President that I have no trouble with Uduaghan as a person. It's a party matter.
It's a matter of principle. It's a matter affecting the whole of Delta State. The other day, they said he brought a car  for me. I went to the national secretariat (of the PDP) with 71 leaders including Boloko, two serving senators, Senator Osakwe and Professor Aferekaya,  and many others. On Wednesday, we went  there to condemn him. On Thursday, one Dr. Mike Oberabor came to me that Uduaghan sent me a car. I said for what? Is it in admiration of what I said against him at the secretariat or what?  Take the car away.
Few  weeks after, somebody came to me, he said he was  from a commissioner. I said what is happening? He said the commissioner  sent me a microwave, that it was from Delta State government; I said she must be a mad woman. If I rejected  a car, is it a microwave I am going to take? Send it back to her. I don't know what they want. They don't want to face the fact. I thought  that after the flag off by Mr. President in Asaba, when Uduaghan was calling grogrogo grogrogo, and we embraced, he  will use the opportunity to address the problem. Uduaghan is not ready to settle the problem of the PDP in Delta State. He is pretending to Mr President and to many other people.
What about the PDP National Working Committee, NWC?
The National Working Committee, as I have told you, was compromised.
What  is the condition for lasting peace in Delta PDP and you settling with Governor Uduaghan?
One, Uduaghan should distance  himself from Ibori and run  a government of his own. And not to be an Ibori de-facto government. Amori was nominated by Ibori to become a senator. Most of the people were nominated by Ibori from Dubai. Dubai became a Mecca for all PDP people in Delta state. Tell me one major project Uduaghan has started in Delta and completed.
You find out any major project Uduaghan started and has completed in four  years, I will support him. The airport has no fire service unit, has no tower, it has nothing. We are told the runway is not concrete enough. Who is he deceiving  when he got a plane to do the test run? And they spent over 22 billion naira. When Asaba people are carrying placard with our people, are they fools? They know what they are doing.
You are old and still busy, very active. How do you relax and what would you like to be remembered for?
When Mr President was invited, he asked me to see if me, Ibori, Uduaghan could come together. I said 'Mr. President, am I a wealthy man?' He said no. 'Am I holding any government position'. He said no. I said I celebrated my 80th birthday at the International Conference Centre, Gowon was the chairman, many people attended, prominent people attended and the hall was full and I am not wealthy, I am not holding any government office to influence them. There must be something in me they admire.
Do you want me to compromise those qualities they admire? I like telling the truth, when I see the truth. I believe that one must be upright, and I believe also that you don't harbour grievances against people. Tell them where they have erred and if they are ready to change. So, I live an open life, I live from day to day, nobody is my enemy.
You are my friend today, you are my friend tomorrow and that is what I believe in and, if a police man comes to my house, I won't ask him what you are looking for because I've done nothing wrong. I have a clean life. You can lie against me, but I will be able to answer you. I am appealing to all Nigerians. Nigeria is like a big elephant. There is enough for all of us to take from it, to butcher. We should have respect for one another, believe in the quality of human beings in this country.
And I will love to say that the idea of having north and south should be buried. Nigeria is one country which has now been divided into six  zones. Everything we are doing in this country must be based on these zones and not on the basis of north and south.
Subscribe for latest Videos