BY EMMANUEL EDUKUGHO
Regarded as a vacation after several months of electioneering campaigns covering all the geo-political zones of the country, President-Elect Goodluck Jonathan, accompanied by his wife, Dame Patience and some aides, are in Obudu Mountain Ranch Resort, Cross River State for a visit expected to last for over one week.
But from reliable sources, it was gathered that he has gone to Obudu to work and reflect, focusing on critical issues including education, infrastructure, agriculture, power, employment, security and transportation.
During his campaigns and public debates leading to the election, President Goodluck Jonathan touched on education, human capital development, ICT, infrastructure and adequate funding, promising to revitalize, and transform our education system to world standard at all levels.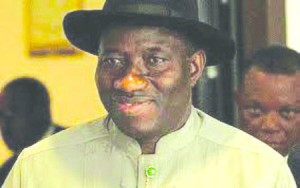 "His visit to Obudu will afford him the serenity and quietness needed to reflect and think about how the education sector believed to be on the verge of imminent collapse can be saved," one of the stakeholders said.
He had acknowledged that he came from the academia himself.
"I came from the academia and know first hand that you get from the system what you put in it and under my watch, this administration has started and will keep on investing in education as a way of investing in the future of Nigeria."
Jonathan had in my friends and I – conversations on policy and governance via facebook, said on education, drawing attention to Nigeria into the knowledge workers age which is why he personally made it a priority to see that our universities and academic staff get a fair treatment so that the era of truncated academic years is put behind us.
"Without stability in the education sector, our graduates will not have fully developed skills to enable them compete with their counterparts around the world."
At the grand finale rally of the PDP presidential campaign in Abuja, he declared.
"Because of the importance of education to our national development, I called a stakeholders summit to look at the inadequacies of our educational system and I have set up a task force that is empowered to carry out the summit especially as it affects our curricula.
"We will encourage the establishment of skill acquisition centres in all local governments of the federation. At the tertiary level, our government will ensure that every state of the federation that has no federal university gets one and we will work with the private sector to provide accommodation to decongest our crowded hostels."
He said that N900 billion has been provided for education in the 2011 national budget, promised good, functional education and employment opportunities for young people after leaving school.
It can be seen that education has virtually collapsed in Nigeria due to so much of neglect over a long period of years. There is urgent need for rehabilitation of dilapidated infrastructure especially in public universities, polytechnics, colleges of education, secondary and primary schools.
ciety.
The ratio of admission space in universities to the number of qualified candidates is very appalling with barely 200,000 getting admission out of over one million candidates who take JAMB yearly.
Even with Jonathan's policy of establishing a federal university in each state, where are the qualified academic staff to teach in these institutions? Where are the infrastructure, facilities, equipment, libraries, laboratories, hostels, electricity, water, etc to match? What is happening to science, technology and research which lacked adequate funding and grants? How about ICT penetration in the school system?
Provision of quality education is still a far cry as our tertiary institutions are producing graduates that are half baked while millions of them are jobless, roaming the streets, lured into crime.
These are some of the critical issues likely to engage the attention of President Goodluck Jonathan as he prepared for his inauguration to herald a four-year tenure.
Subscribe for latest Videos