By Emmanuel Edukugbo
Centre for Entrepreneurial Development Studies (CEDS), Covenant University, Ota, is setting the pace for other universities to emulate in embedding entrepreneurship education in their curriculum.
Based on the vision of the institution to raise a new generation of leaders anchored on "unique and custom built programmes," Entrepreneurial Development Studies (EDS) is one.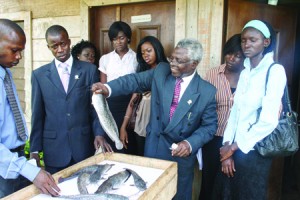 Dr. Abimbola Oluremi, Director CEDS, in an interactive session with the media recently, said entrepreneurship is a way of life and the first focus is for students to think entrepreneurally and change their mind-sets. Secondly, there is the vocational side — trying to figure out whether what they've learnt is practical.
"The peculiarity of our EDS programme is the business-savvy, enterprise-driven graduates that are being raised from Covenant University and the platform it has provided for network and linkage opportunities with the external context".
He explained that with this in mind, series of workshops, roundtable, seminar and exhibition were organised to engage the external context within the overall goal of the university's community impact initiative.
Among the events were founder's Day Roundtable with the theme: Driving Change and Facilitating Growth: Strategies from Entrepreneurial Studies in African Higher Education.
The objectives include to facilitate national development through entrepreneurial education that accounts for context and peculiarities; to propose an academic entrepreneurship governance framework for institutions of higher education in Africa; To foster the upgrading of entrepreneurial competencies in staff and student whilst preserving the traditional academic competencies and the provision of unique entrepreneurial opportunities to perform entrepreneurial tasks according to their area of responsibility.
Skills Development Workshop aimed at providing result-oriented skills development training for members of the community, promotion of local entrepreneurship; developing outlets for enhanced income; and maximizing the utilization of CEDS resources/facilities.
Faculty Women Advance (FWA) Skills Acquisition Workshop which is to provide result oriented skills development training for members of FWA.
Capacity Building Training in Entrepreneurship Education and Practice for Nigerian Polytechnics. The objectives, among others are to develop capacity to nurture the talents and ideas of students to create and sustain businesses; To enhance policy on entrepreneurship education; To be able to encourage the creative application of knowledge acquired in Higher Education Institutions.
Proficiency Workshop on Bottle Water Production, Fish Farming, Bakery and Pastries — meant to provide opportunities for skill acquisition for those who desire self employment.
Capacity Building for Entrepreneurship Educators in Nigerian Universities whose objectives include: Developing capacity to nurture the talents and ideas of students to create and sustain business; To enrich policy framework on Entrepreneurship Education; To set agenda towards maximizing entrepreneurship education for sustainability of Higher Education Institutions' funding profile; Inculcating in the students the ability to take advantage of venture capital for ideas generated by them; and Making higher education context the bedrock for developing, testing and actualizing creative and entrepreneurial skills.
The EDS programme is an all semester one and compulsory for all students of the university irrespective of the student's field of study. It involves both theory and practical, whilst all the operations of the programme are housed in the Centre for Entrepreneurial Development Studies (CEDS) complex.
Asked about the feed back concerning students who passed through the programme, the Director said:
"We have a data base of students who are practicing what they learnt here. A graduate now employs 200 staff, many of them like this, are job creators and they've come to tell us. Feedback is still coming."
He added: "The National Universities Commission (NUC) saw our curriculum and wants to make programme compulsory for Nigerian Universities.
We are even running a B.Sc programme in Entrepreneurial studies and produced the first Ph.D holder in Entrepreneurial studies in Nigeria."
Professor Dayo Ade-Turton, chairman EDS Taught Courses, said it is a unique programme, compulsory for all students.
Prof Ade-Turton, US-educated, who is in charge of theory, has published several articles in national and international journals and working on two other books on Entrepreneurship and Leadership.
He was recently appointed as the chair of the Entrepreneurial Development Studies Committee. Until February 1st, 2011, he was a tenured full professor of Management and Co-ordinator of Management at University of Arkansas, USA.
Dr. Chinonye Okafor, member EDS committee is the first to obtain Ph.D in Entrepreneurship education, describing her foray into this specialization as divine involvement.
"This is the course Nigeria needs to develop. Japan, USA, and others used it to develop their nations. It's the vision of the Chancellor (Bishop Oyedepo) to produce graduates who will be job creators, not job seekers."
Another member, Pastor Michael Oladun, now completing his Ph.D in entrepreneurship, said everything is happening here as graduates are becoming employers of labour, opening private businesses and creating jobs.
Engr. Okeniyi Olusegun, in charge of Engineering Entrepreneurship and Metal Works, fabricated some of the machines at CEDS. Students come here at 500 level for fabrication, innovation of machines for industrial use/production.
Olawoyin Biodun co-ordinates Film and Documentary Production, another specialization in EDS.
At the centre where students go for practicals, there are Bags and Leather works section, Fashion Design section with lines of sewing machines producing dresses, academic gowns on contracts from higher institutions of learning, shoes, sandals, bags, etc.
Other practical fields are water production and Pet Blowing, Printing and Publishing, Metal Works and Fabrication, Pastries/Restaurants Management (400 level only), Bakery, Fish Farming, Tie and Dye, Grass Cutter, Snail Rearing, Soap and Cosmetics, Beads and Wire Jewelry Crafting, Events Designing and Decoration (300 level).
Others are Beauty Enhancement Class, Public Speaking, Feature and Films Documentary Production.