For a little over four years — 1979 — 1983 — the late Chief Michael Adekunle Ajasin served as governor of the old Ondo State.
But for his children and even wife, there was little or no difference in the life they were living before Oct 1979. His daughter, Mrs Jumoke Anifowose, is  currently chairman, Ondo State Chapter of the ACN.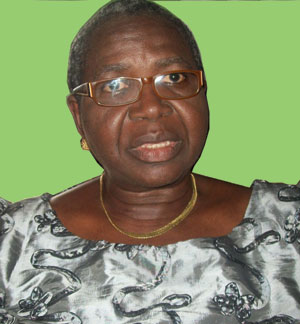 Prior to now she was Attorney General/Justice Minister of the state in the Adebayo Adefarati government. She spoke to Bashir Adefaka on why the late NADECO leader gave no room for the office of the first lady.
Recall the days of your dad as the first civilian governor of the Old Ondo State and compare with what we have now. What do you see?
I have to thank God that I had a father like Chief Michael Adekunle Ajasin.  His reputation in the state in respect of being a governor has not been surpassed in any way.  In all ramifications of governance in Ondo State, old and new, I think there hasn't been any one that has surpassed him because during his own time, there wasn't oil money like the state is having now. Yet he was able to perform to the extent to which he did.
And the very little resources that were coming then were judiciously administered and in all aspects of his administration in the state, he excelled.
It is not for me, really, to judge between his government and subsequent governments.  I think I will leave that judgement to the people of Ondo State and when you discuss with Ondo State people, they always have one good thing or another to say about his administration.
And like many people even outside the state would say, they have always found him true to his word.  They say he was accountable; he was transparent; and that he did what he could within the limit of the resources that were available at that particular time.
What difference did his being governor bring to his family of which you are an integral part?
We, as members of his family didn't enjoy what children of present day governors enjoy.  Even my mother as the First Lady of the state had just one small car and she was fueling that car with her personal money until it was brought to her notice that doing that was not supposed to be her responsibility.
All we witness today about that position of First Ladyship was not of interest then.  She was more into service oriented things than carrying in her head the ego of a First Lady.
Before she went to Akure  she was more of a philanthropist and she was a life member of the Nigerian Red Cross thereby becoming a national member, going to Lagos for meetings and so on and so forth.  And she brought Nigerian Red Cross to this part of the country.
Also in the Church, she became a very active member of the Anglican Communion and in the community services, she started the Cooperative Movement to bring women together for empowerment purposes.  She was doing all that even before she became First Lady.
So, looking back, within the limit of what was available to them, I would say they lived according to the norms of the society.  They were not flamboyant.
Did he by any chance, tell you, his children the reason behind not putting the office of the First Lady in the limelight?
Because he was the only one the good people of Old Ondo State voted into power.  My mother was never voted into power for whatever.  My mother's only and natural duty was to be a supporter to her husband, the governor, in successfully administering the state.  Not for her to become another second-in-command.
When groups like Girls Guild, Catholic Women Society came to visit her, she would entertain them and when they had events they made her special guest of honour, she would go.  That was all, nothing more.
Although you said you didn't enjoy what the children of today's governors enjoy,  as daughter of a sitting governor, did the position of your dad not get into your head?
I didn't feel any ego.  I was feeling like any other ordinary person in the street.  There wasn't any special thing about me or that I did and so, nobody was looking at me as such.  You know, I felt natural.  I, my sisters and my husband felt natural.
We lived and still live a very humble life.  We were trained to have courtesy for every person, to respect elders and not to look down on anybody.  But for what reason should we be disrespectful to anybody?
Because we you are a child of a governor? That shouldn't and didn't put me in an extraordinary stead.  Humility, respectfulness and Godliness: that was the way we were brought up.
Was the family ever intimidated by the events of the 1983 election that was a fallout of the disagreement between Papa and his then deputy — Chief Omoboriowo?
There was no time we told my father to step down because he never offended Omoboriowo who, until 1983, was his deputy.
But did to your father, did you – his children – ever fell disappointed?
We felt that my father had been stabbed in the back.  We felt that there was a breach of trust and I would refer you to his book, "Memoirs and Memories", where the whole story has been put in proper perspective.  Because at that time they said because of my father's age he wouldn't be able to perform.  But surprisingly he was even performing better than of younger people.
So, I think his deputy became disappointed at the successes of my father.  He had thought that my father, because of his age, would not be there for more than three years before dying and he would naturally take over as governor.  But when he saw that the man was getting stronger and stronger; that not only he was able to live beyond the first full term of four years but also that he still had the strength and sound knowledge capacity to want to vie to run for another term, he, Omoboriowo, became disappointed.
What was your own growing up like?
I'm the last child of the family and as I said, when I was growing up, I didn't lack anything and I didn't have to struggle for anything.  I had it all and very easy.  Unlike nowadays that you have to struggle to survive.  I have always been a happy person because my parents made sure that they made provision for all our needs and so we never lacked anything.
Was lawyer what you actually set out to be in life?
Yes.  When I mentioned it to my parents, my father encouraged me.  He had always advised us to be professionals because, according to him, it would be easier for you to set up and stand on your own as professional if you don't want to work under anybody any longer.
How did you emerge as Attorney-General and Commissioner for Justice in Ondo State?
I think it was because I was accepted as Attorney-General and Commissioner for Justice by the then governor, the late Chief Adebayo Adefarati.  He must have seen something in my ability that led to his conviction about me.  And when I took over the Ministry of Justice as commissioner, he was never disappointed because I performed very well even beyond his expectation.
The ACN that you lead did not perform well in elections held so far in Ondo State.  What is the problem?
Number one is that the Action Congress of Nigeria, ACN, in Ondo State before I took over was in comatose.
I took over late December (2010) as state chairman and about the time I took over, there was this feeling all over the state that ACN and Labour Party in the state were one, which made the people think that we had relationship with the Labour Party in government.
One would ordinarily think you are together being that it is generally believed leadership of your party helped the Labour Party to retrieve governorship mandate as it were.
That used to be the mood.  Not until recently, very late, when Ribadu came for his flag off campaign in Ondo State were the people convinced that there was no relationship between ACN and Labour Party.  We had just less than two months to preach the gospel that there was no relationship.
Even then, from what we have done so far, I think we have tried and have had some improvement over the past.  And I think subsequently, we will do better until we get there.
I am not complaining because I think everybody; all the members, the Local Government chairmen, the executives, all of us have put all that we have into it.  So I'm just hoping that the next election on April 26,  we will do very well and we will make our mark in the election to the Ondo State House of Assembly.
And so we are calling on the good people of Ondo State to vote en masse for ACN candidates in their respective constituencies accordingly.
In all, I must say in a matter of time, ACN will take it's place as controlling factor in Ondo State politics.
Profile:
Name:            Mrs. Jumoke Anifowose.
Date of birth:        January 27, 1951.
Place of birth:        Ondo State.
Present position:    Chairman, Action Congress of                          Nigeria, Ondo State.
Strength of character:    Humility, consistency and Godliness.