With Ebun Babalola
Bode Adediji is the National President, Nigerian Institute of Estate Surveyors and Valuers. He is also the Managing Director, Bode Adediji Partnership incorporating Estate Surveyors, Valuers and Property, Nigeria's Pioneer Multi-Disciplinary Professional Estate Firm. He is our guest on this edition of Celebrity Tummy Talk. He speaks on his feeding habit as a guide to his lifestyle.
Excerpt
What is the major traditional food of your people?
In Ada, Boripe local government of Osun State where I hailed from, I left my village about 30 years ago. As a citizen of that small village, we were noted for the hard pap (eko) and amala and ewedu and vegetable soup.
What's your favourite food while you were growing up?
I grew up in an environment where cow skin (pomo) and frozen fish (oku-eko) were the major food of the people because it was very difficult to have access to cow meat, except for the few privileged families. Most of the people depended on farm products. Pomo used to be the cheapest but for majority of the families , it used to be a weekend treat. And rice which is the staple food of most Nigerians now used to be available either during Christmas period or Easter period.
…And as an estate surveyor, how do you describe your feeding habit?
I watch my food, leisure and work because I look at the human being from a systemic perspective. A man must choose what he eats based on certain fundamental principles either in age or the nature of what you do to earn a living. The kind of exercise you do everyday should also be put into consideration. Perhaps, it is a leisure sport or highly aggressive muscular kind of exercise. One should be able to watch the time he eats.
I grew up in a village where carbohydrate was the key food throughout the day. But, with the intervention of education, I've switched over from a high carbohydrate consumer to vegetable eating. I also eat very light protein derivable from fish and other sources. Once a man or a woman clocks 40 years of age, he is expected to base his diet on a dietician's advise. This is coming on the heels that people indulge in excessive eating and drinking which hitherto reflects on their lifestyle. But an immediate intervention of a doctor would guide you on what to do.
So, how often do you go for check-up?
Twice a year. Both in Nigeria and abroad. All my family members do the same.
So, what's on your menu list?
In the morning I take fruits including paw-paw, orange, water melon as well as my cup of green tea in their proportions. In the afternoon, I eat very light depending on my ability. I might eat a little proportion of rice or rather go for salad. Essentially, I dwell on vegetable salad and a little proportion of fish in the evening. One truth is that my body system doesn't permit eating heavily for supper. And anytime, I disobey it, I will feel the consequences the following morning reflecting in sluggishness, inability to wake-up from bed as so on. The basic thing is that my dinner is selective. My dinner must be light and must be taken a minimum of one hour before going to bed.
How often do you observe this feeding ethics or are there times you go out of your way to eat African dishes?
I only eat African dishes in social gatherings, especially with my friends but amazingly, we do more of talking than eating. The basic thing is that I take cognisance of the measurement. I can eat pounded yam in the night but it mustn't be more than two to three morsels. I will descend heavily on the vegetable (efo riro) if it doesn't contain much palm oil.
What particular food would arouse your appetite that will make you salivate?
When it comes to food, nothing because I respond to food based on two things. Firstly, if I had anything in the morning and secondly, the kind of sport I engage in. Any good food is excellent for me once I know I'm hungry. Unfortunately, people still eat when their body system doesn't want. It's just because they must conform to the regular three meals.
That is why, we must learn from either dogs or lions. A lion eats ones or twice a week despite the fact that it has the power to consume any animal, but, it wouldn't eat unless it's hungry. I have three dogs in the house, I watch their eating behaviour. No matter how delicious the food may be, it wouldn't eat unless it's hungry. One hour after food, you will see them either fighting each other or running races. You wouldn't see them go to bed without exercise. My dogs exercise three times daily.
What is your choice of exercise and how often do you exercise?
I engage in all sorts of exercises. It is mandatory in my house that we must do gym everyday unless circumstances make it impossible. Secondly, I play golf. And whenever I travel out of the country, I make use of any available sporting facility in those hotels including swimming, jogging and walking round the compound. I also engage in boating as well.
Weekend Treat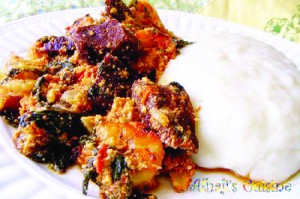 Egusi Soup
Recipe
Melon (Grounded, 1-2 cups)
Palm oil ¾ – 1½ cup
Bitter Leaf – freshly squeezed, or dried
Crayfish about ¼ cup grounded
Dried pepper
Seasonings
Salt
Fresh or smoked fish or stock fish
Goat meat (chopped to size)
Assorted meat
Fresh pepper, tomatoes and onions
Preparation
If you are using stock fish, be sure to have soaked the stock fish in water to make it soft and cook faster.
Put your goat meat and or assorted meat into a pot. Add cooking salt, onion, and a small amount of water (about 2cups), seasonings to taste and leave to boil for about 30 minutes until soft and tender to taste.
While that is cooking, blend tomatoes, pepper and onions together until it gives a smooth paste
Take 1_2 cups of grounded egusi and put in a bowl, add 2 parts of water to a part of grounded egusi in the bowl and stir to form a paste. Although some people leave the grounded egusi dry and stir fry it instead in palm oil.
Get a big pot. Place it on the cooker and allow it to be hot, with all residue of water drying out. Pour about ¾ _ 1½ cup (150 – 300mls) of red palm oil in the pot. Allow the oil to warm for about 1 minute. Pour the blended tomatoes, fresh/dried pepper, onion paste into the oil and stir fry for about another 10 _15 mutes.
Now add the cooked meat to this base of stew and cover the pot and allow to simmer for about 3 minutes. Stir intermittently to prevent burning.
The egusi paste (or fried) can now be added to the stew with meat in it. Add your vegetables here, salt and one or two maggi if still required to taste and bring to boil for about 10 minutes. Stir intermittently.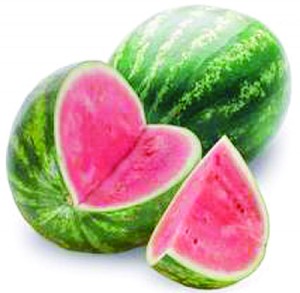 Dinning out with watermelon
Watermelon is a fruit in the melon family that can be eaten or made into drinks and smoothies. There are more than 1,200 varieties of watermelon with a large range of sizes. The flesh of a watermelon is usually red, but can also be orange, yellow or white. Do you know that dinning out with watermelon this weekend will reduce your chances of having excessive cholesterol as it is a good source of vitamins A and C.
Watermelon is naturally low in saturated fat and cholesterol, making it a heart_healthy food. It also contains amino acids that help maintain arteries and blood flow through the heart.
Watermelon contains about 92 percent water, making it a good thirst quencher and diuretic.
The rind of a watermelon can be eaten as a vegetable in a stir-fry, a stew and pickled.
Some people believe a combination of watermelon and green tea reduce a man's risk of developing prostate cancer.
The potassium found in watermelon can help to prevent muscle cramps.