ByVICTOR AKPA-FRESH
Nemesis has a way of catching up with evil doers. As it has finally caught up with a 50-year-old man, Akidele Omole, who lives at number 9, Oseyintola street, Command area of Ipaja, Lagos,with his wife and four children. The suspect, until his arrest by men of the Federal Special Anti Robbery Squad (FSARS), has been parading himself as an officer of the Nigeria police force. It was gathered that he promoted himself from the rank of a constable to that of Chief Superintendent of police, CSP, and then to the rank of Assistant Commissioner of Police, ACP, attached to the Force CID, Alagbon Close, Lagos. But luck soon ran out on him as he was arrested on the 11th of March at about 1pm as a result of a tip of from police informants.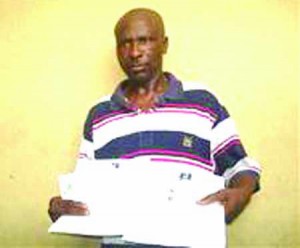 He was finally arrested at Obalende on his way from the Force CID at Alagbon close. At that point, a police officer ordered that his vehicle be searched and upon the search, forged documents belonging to the Nigerian police was found. The documents includes; fake police letter- headed papers, self- titled complimentary cards with the bold inscription "From the office of the Commissioner of police, Anti Fraud Section, Force CID Annex, Alagbon close, Lagos."
Upon his arrest, it was discovered that he already has an impeding case of impersonation at Alakukor police station where he has been parading himself as a Divisional Commander and an Area Commander, Sango. It was further gathered that on several occasions, Akindele had put calls across to other senior officers introducing himself as an Assistant Commissioner of Police(ACP).
Following the co-incidental meeting with men of the Nigerian police force who were on duty, the suspect introduced himself as an Assistant Commissioner of Police and put a call to the Officer in Charge, Federal Special Anti-Robbery Squad, telling him that his men were with him. Based on this, an order was given to the officers to accord him maximum co_operation as a senior officer.
After his arrest, Akindele confessed that he is not a police officer, saying that he usually impersonates anytime any member of his syndicate gets into trouble or falls into the police net.
He said that he normally writes a short note to the Divisional Police Officer of the station to release the person in order not to face the wrath of the law.
The suspect who claims to be a mechanic and a spare parts dealer at number 1, American Crescent, Ijaye, Ogba, said he drew inspiration from his friends who are police officers. "They usually dupe people of their goods after telling them that they will pay later. "They normally do this without police uniform," he said. Akindele confessed having a bungalow at Ajasa Command from the proceeds of his illegal business, adding that he has never killed anybody since he started impersonating the police.
The suspect begged the police and members of his family to forgive him while saying that he embarked on the crime out of greed and revenge. While speaking on how he was arrested, he said he was driving out with a friend from Alagbon close when some policemen stopped his vehicle, but unknown to him, his friend whom he gave his name as Bola Akinpelu had duped one Deborah Falae of the sum of N5 million and was being followed by the police who at that point, decided to search his vehicle.
He said he was earlier duped of the sum of N550,000.00 after which he decided to carry out his revenge on members of the public.