African 100m record holder, Olusoji Fasuba has predicted that Nigerian sprinters will continue to wallow in underachievement, unless they are adequately groomed and trained. Fasuba declared that Nigeria would have to spend money on the athletes to make this happen.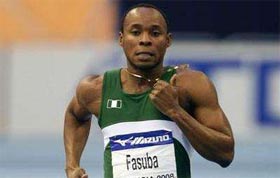 He argued that running under 10 seconds was the trend in the world of athletics and looking at the crop of Nigerian sprinters, not one could move into that bracket unless they get the prerequisite training.
"There is none that can match what is out there without support. To be honest with you it is not all about organising competitions, it is all about giving good money to these young athletes so that they can train to attain world standard performance. Not everyone can be fortunate like myself," said Fasuba whose 2006 9.85seconds run remains unbeaten in the continent.
However, he said the likes of Obinna Metu and Ogho- Oghene Egworo can make impact at the All African Games if they can overcome the fear factor.
"I haven't really watch their races of late. But if they can rid themselves of the fear of competing outside that would help a lot."
He stated that rival Metu must have to prove that his training with world record holder, Usain Bolt was not a fluke.
"If you put a Ford engine on a BMW, it will still move like a Ford. Metu must look beyond conquering the local scene and prove himself."
Fasuba stated that he would have love to make a strong comeback and defend his 2007 All Africa Games gold in Maputo, Mozambique, but the time was not ripe for a return to the tracks.
"Right now I've got things on my mind and once they are fulfilled I would be back.