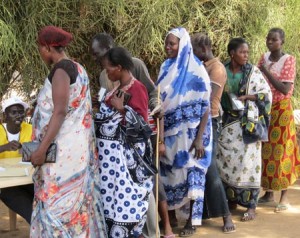 JOHN UDEMBA would be 25 years old on May 15, 2011. He belongs to the generation of Nigerians born seven years before the 1993 general elections. Apart from the 1999 and April 2007 elections, Udemba has not witnessed any other general election. Like many of his peers, the graduate of Sociology from one of the universities in the South East, studied the history of Nigeria's past elections at school. This is in addition to gory tales he got from his parents and other sources about how elections had been in the country before he was born.
One story that remains evergreen is the post election violence which forced his parents to relocate from Kano to Abagana. Since that relocation in 1993, his father's once thriving textile business never picked up-a reason his late father vowed never to participate in elections again.
Now residing in Lagos and works with one of the new generation banks, he has grown up to detest elections in Nigeria. But this perception changed in 2010, as he is one of the millions of Nigerian youths poised to participate in the forth coming elections for the first time.
"I made up my mind last year that I will vote this time, I have my voter's card. But I never knew that I would attempt it this early because we all know that participating in election has never been in the interest of the common people, but I am scared now, with all these bombings and all kinds of violence, I am afraid", he told VanguardFeatures,VF at the venue of a socio- cultural rally, where he had come to market his bank's products.
VF findings across the various corners of Lagos, confirmed that growing violence, may affect general willingness to vote in the polls.
State of insecurity
A trip to Ajegunle for instance during the Action Congress of Nigeria's, ACN, rally revealed the depth of enthusiasm for the exercise, just as not a few told VF that the rate of violence might restrict them to their houses during the elections.
"Yes Fashola is working and we will vote for him, we don't have any problem with that. Our only problem is all these killings going on. We have not experienced it in Lagos but we are all scared,"Wasiu Fasuyi said at the campaign rally in Ajeromi Ifelodun Local Government .
Both the man on the street in Maidugri, who is being hunted by the BokoHaram sect and the man in Akwa Ibom, who is yet to come to terms with the recent mayhem unleashed by party supporters at a campaign rally, nurse this fear.
To say that as the election starts in less than five days from now, fear is the word, is to say the least, which is why many fear the rising violence might affect voters' turnout.
"The manipulation of youth to perpetrate violence on behalf of political actors continues to be a significant threat to the integrity of the electoral process. Recent upsurge in pre-vote violence in Nigeria poses a challenge to Nigeria's April elections," US-based International Republican Institute (IRI) said.
Perhaps, this is why Project Director of Community Life Project,CLP, Mrs. Ngozi Iwere stated that, "Elections in Nigeria are known to have history of violence, and the rate of insecurity has got to the level of make or mar situation. That is why we have to prevent and report this violence, although we have seen some improvements like the headship of INEC and the determination for credible elections. But whether the promises of free and fair elections would be a reality is still yet to be seen."
This was also corroborated by the founder of the Odua Peoples Congress,OPC, Dr. Fredrick Fasheun. He regretted that Nigerians are indirectly killing their hard earned democracy.
"The first law of nature is self preservation, the current trend whereby Nigerians are going to war rather than going for election rallies, is regrettable. Some people would definitely stay at home because we are fast killing the democracy that we are aspiring for," he submitted.
Sanction govt agents in violent states
While Fasheun's position on how violence would shape the elections, appear to reflect the mood of many, Peoples Democratic Party,PDP, Senatorial candidate for Lagos Central, ChiefTola Animashaun, is one person who still believes that the election may not generally be a charade.
"I look forward to a free and fair election and I believe the elections would not be a failure. Yes,there is politics of violence and intimidation by the opposition.Maybe they have seen that they are going to lose, that is why they have resorted to violence. You can see that when their leaders speak, they talk and encourage violence. Why do you want to incite people when you are popular. You don't need all these "maim and kill them slogan," Animashaun said, adding "some of these people have their fingers in government resources, which is why they are using innocent children. I want to urge the youths to tell those, who are inciting them to prosecute political wars with their children. Lagos is a peaceful state and the people are so civilised, that is why we are free from violence. I have every confidence in Jega and technology that the elections will be free and fair despite the violence."
However,in the face of these, VF gathered that not a few believe that the spate of violence could be curtailed by relevant stakeholders in the days ahead.
For instance, Fasheun is confident that if relevant agencies and institutions saddled with ensuring peaceful polls, are sanctioned when found guilty of failure to prevent violence, others would be deterred from fomenting trouble.
"My advice is that in any state where political violence is fomented, the politicians concerned, the state chief executive, the commissioner of police and other related agents and agencies should be sanctioned,"the OPC founder added.
This is also the position canvassed by IRI. In a statement, the group maintaned that "For the benefit of the April elections, as well as the long term health of Nigerian democracy, it is recommended that those who engage in election-related violence in 2011 be prosecuted to the full extent of the law. There should be no tolerance for those who engage in violence."
Report electoral violence with social media
In addition to sanctioning suggested by Fasheun, Iwere argues that every eligable Nigerian should be involved in curbing this violence through reporting of violence or any form of electoral aberration.
As part of its contribution to a violence free election, the CLP boss disclosed that it has concluded plans for a platform that would monitor electoral violence incidents, through the use of phones and the internet across the 36 states of the nation during the elections.
She also encouraged Nigerians to ensure that the platform is utilised, by reporting cases of violence and other challenges by calling, Sms or reporting.
Iwere, who disclosed that feedbacks from the platform helped the Independent Electoral Commission of Nigeria, INEC, in troubleshooting areas during the just concluded voters' registration exercise, noted that Ushahidi was a success during the last Kenyan elections.
According to her, "Ushahidi means testimony in Swahili. It is a platform that involves the use of phones,Ipad, internet etc to report incidents of irregularities during elections. We are intensifying citizens actions by encouraging grassroots participation. We are encouraging people who queue to vote, to report any irregularity by sending texts to 08166662222 or call 07006662222 or email [email protected] or visit www.reclaimnaija.net.
"Through this process people can text the result announced at their polling stations by the INEC official to reclaim naija, people can also report if everything went well at the polling unit during elections. Do not let anyone deceive or intimidate you, you have the right by law to go back to ensure that the vote is counted at your polling unit and the result announced for you to record"
She further said the platform is very effective, in meeting with the electoral needs of Nigeria, adding that it carries all sections of the society along.
"With what is happening in the buildup to the elections, it appears as if the elections would be a make or mar contest. It is for this reason that we are encouraging people to vote and protect their votes", she said.
Subscribe for latest Videos