By Jacob Ajom
For two weeks, February 23 to 27 and March 2 – 6,  the Lagos Polo club was the centre of attraction as the 2011 MTN/Lagos Polo tournament took the centre stage. With the theme as friendship and fairplay, it was two weeks of high-class sports, entertainment and tourism all in one package put together by the tournament management committee, headed by Ayo Olasoju.
Teams from Kano, Kaduna and host, Lagos Polo Club made the tournament one of the most competitive, most entertaining and above all, most accomplishing in the club's long, rich history.
Organisers of the event which saw players from far and near compete for laurels are still looking back with pride at one of the memorable event which saw players from South Africa, Argentina and other parts of the country.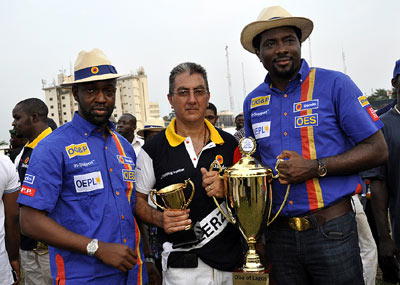 Ayo Olasoju who doubled as player and tournament manager said the first week featured competitions in the Dansa Cup which was won by Kano Yakassai, the Low Cup and the Oba Cup.
Other trophies competed for included the Lagos Open, the Independence Cup and the Majekodunmi Cups, which is th ultimate in the line of honours.