BY DAPO AKINREFON
ALHAJI Gbenga Ashafa is the Action Congress of Nigeria (ACN) senatorial candidate for Lagos East Senatorial District. In this interview Ashafa dismissed insinuations making the round that he was drafted into the Senatorial race to spite the outgoing Senate Deputy Minority leader, Senator Olorunnimbe Mamora.
He, however, explained that his entrance into the race was to offer purposeful representation to the area if elected in next month's election. The former Permanent  Secretary in charge of land in Lagos state also stated that his senatorial ambition is born out of a passion to continue to serve the state at a higher level. Excerpts:
How do you intend to fit into Mamora's shoes at the Senate?
If no one asks that question I will be shocked, the party I belong to is the party that can deliver. Shortly after the primaries the party gave us two days two study the party manifesto and the constitution. We were then told what was expected of us as members by the governor, the party in addition initiated an orientation exercise for us to enlighten us further. Very soon you will see me with the highest level of our party leaders going from state to state because we want to take the central government.
Everyone has his own style and he will bring his own style into the management and he will excel. Senator Olorunimbe Mamora is my teacher and friend so when we get there we will perform.
Lagos State, had during the Bola Ahmed Tinubu administration, embarked on the Independent Power Project, IPP, but failed What makes you think you are going to succeed?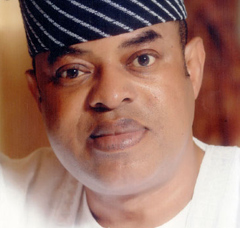 They told Nigerians what we are going to do, part of the things is to build one million houses every year, they rigged us out of other states and they are still saying they are coming to rig Lagos state we are waiting to see how they would do that with what is on ground because we do not harbour any fears about what ACN will do rightly against the wrongs that the PDP have done.
I should let you know that it didn't fail, it worked and it's still working and they are deducting so much money from the revenue of Lagos on what we produce because the state can go into partnership  paying for the installation but when the output comes you cannot distribute because it has to go through the national grid.
It is now left to them to give you, so what they are doing now we are not enjoying what we paid for, so when an ACN government enters the centre if another state enters into ally for that type of thing not necessarily an ACN state do you think ACN will cancel such a project?
We won't do it because we want prosperity for Nigerians. A change in the scheme of things doesn't have to go like Egypt or Tunisia because Nigerians always have the chance to use their votes every four years, the awareness is on now, if we had one government like we have in Zimbabwe for that long in Nigeria something would have snapped lets come together to fight this virus out of Nigeria.
We learnt that you never aspired for the senate, but that you were given the ticket as a form of compensation. How would you react to that  I belong to the Elemoro family in Ibeju Lekki, the last time a senator came from that area was during the time of Senator Adebanjo, which was 1999.
Other divisions had produced Senatorial candidates the reason adduced for this was that they didn't have anyone that strong because its predominantly a farming settlement. When that opportunity came with the ACN, I had to aspire and accept, the Ibeju Lekki agitated the crux of the issue was that PDP was able to win there and they didn't have anyone that strong.