By Chioma Gabriel, Deputy Editor
Frustration appears to be taking its toll already on Professor Patrick Utomi , the presidential candidate of Social Democratic Mega Party, SDMP, ahead of next month's elections. He is thus threatening to withdraw from the presidential race if the alliance of Progressives fails. He tells Chioma Gabriel why.
Some political parties have commenced their campaign rallies, when will SDMP commence?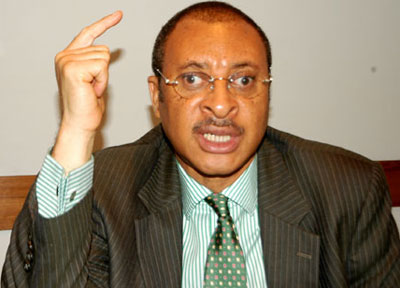 I have been campaigning. We have different ways of doing that. I was at Ilorin last week from where I went to other places. I don't hold open rallies where politicians clown around. My idea of campaigning is meeting with groups and rubbing minds with them. I met with three different groups in Ilorin last week.
I met with the Emir of Ilorin and from there, moved on to Abuja to continue meetings with other groups. I was in Delta, and Port Harcourt talking directly to groups of Nigerians and also using electronic ways to send our messages out.
Open rallies are more eye catching and make more impart.
Yes, open rallies are eye-catching and that is all there is to them. It is not a guarantee that politicians who engage in them would solve the problems of Nigerians. When I went to Ilorin, I was speaking with about 5,000 people and I was asked questions for about four hours in one event. At another event, it lasted for about one and half hours. That is the kind of campaigns I like to do and I personally don't like to engage in these rallies that have to do with people who are hired to fill the rally grounds.
With the way you operate, would you be able to cover the 774 local governments in the country?
In 2007, I was the only candidate who visited every nook and cranny of this country. I intend to repeat that this year.
This year is primarily to restore the coalition and alliance of the progressive forces. I spent most of my time in the last few weeks trying to settle the differences amongst the progressives. We have had several meetings of all the chairmen of progressive parties recently and we are still meeting.
When I declared my presidential aspirations, I made a statement that if three weeks or four weeks to the elections, we have not succeeded in building a strong alliance, I would personally withdraw my candidature because it is meaningless to just run for running sake.
We have a major national challenge in the ruling party, the PDP, which has hindered progress in our country. It is people's egos that have prevented them to work together with others to ease the PDP out of governance. When I set out, I had plans to do three things that will shock people. One, was through commentary and otherwise, to cause internal efforts for reform within the PDP. Secondly, to create an alliance of progressive forces that can metamorphose into one major mega party. Until Nigerians have just two major political parties, it is pointless to expect progress.
That was my primary goal and I will continue to push for it. It has not yet materialised because others have egos that are bigger than their love for the country. But I will try my best and posterity will judge all of us.
But the progressives don't seem to be ready for any alliance because when the idea of Social Democratic Mega Party was mooted, it was meant to be one strong party of all progressives.
It has not succeeded because of the ego of some people. In the last couple of weeks, we have not focussed on the kind of merger that the Mega Summit Movement started with . We are looking for a way to re-align so that all of us in the presidential race will step down for one person.
That is what we have been working on in the last four, five weeks we have been meeting and unless we all agree to step down for one person, I will withdraw from the race. My purpose is not to flaunt myself as a candidate but for the progressives to come together to forge a formidable challenge to PDP so as to salvage Nigeria.
What then is stopping this alliance?
One or two people have egos that are too big or bigger than their country. I think one or two people are holding up this country and the intention of the progressives. They will not live forever. Some progressives will outlive them and then, there would be more reasonable people who will move the progressive ideals forward.
So, what next for you if you cannot go it alone?
One thing I assure you is that there will definitely be an alliance of progressive forces. But I cannot say for sure if I will eventually get the nod to fly the ticket of all progressives and I'm confident we will work out something within the next week.
But if these "one or two people" who have big egos don't join the alliance, how strong would your alliance be without them?
There is nothing I can do. I can only do my best and I am willing to step down once we agree on somebody.
What's your take on campaign rallies now being disrupted by bomb explosions as we witnessed at the Suleja rally of the PDP?
I'm particularly sad at this development and you blame this on the politicians and their inability to secure the states that they govern.
If you look at the South-East today, the place is a complete mess. I don't know what the governors in the South East are doing because they are not serving their people well. If you look at the just-concluded registration exercise, you'd find out that people no longer live in the South-East. You can find the Igbos anywhere in Nigeria but not in their home states. It is because the governors of the South-East have not been able to do enough to secure their zone; to provide security, law and order.
Now, also, Jos has become a no man's land and prediction about what is happening in Jos today was made more than 15 years ago by a foreigner. If you look at Gombe, there is a reign of terror in that place. If you look at Borno State, Boko Haram has taken over and now, they are moving into Niger State.
The governor raised the alarm some months ago that Boko Haram is moving into his state. So, there is a complete failure of the system. And that is precisely what the elections are all about, but you see, the so-called powers that be have refused to deal with issues of national security which if not handled now, could lead to complete disintegration. They are unwilling to discuss the issues and they are unwilling to come out for debate.
So, what do we have? A country that has failed, a country that is falling apart. We have failed and even you in the media have failed. The civil society has failed too. If you have been reading about recent issues in Brazil, you will understand this.
Last year, the President of Brazil went to Rio de Janeiro on official visit. His political party was holding a caucus meeting and he attended it. What happened? Brazilian civil societies went to court and said the President used official resources, that is , the presidential jet to travel to Rio to attend his party's meeting.
The court ruled that he had to refund the cost of fuelling that plane. A similar thing happened in Ghana in its past regime. But in Nigeria, the country pays up to N100 million a day to pay Goodluck Jonathan's campaign bill. The civil society is silent on this. The media is also silent on this. So, we all have our share in the collapse of our country.
Do you think this election will be different and correct these issues you raised by the way we vote?
Nigeria needs strong institutions of government to be able to turn things around. The elections are coming and our focus is on Attahiru Jega but he is one person who cannot do much. But if we build a strong institution called INEC, we would be able to see improvements. In this country, in the 1960s when I was a young boy, things were relatively different. Institutions were very strong but now, we rely on individuals like Jega and Maurice Iwu and that is very wrong. They would not change anything but strong institutions would.
Now, if Nigerians were to trust you and vote for you, what difference would you make in the system?
I have a vision of a new Nigeria with an economic strategy that is set out to kill poverty. It begins with investing in massive infrastructural development and , provision of jobs. I will pay attention to agriculture and constructing global value change. I will bring in investors and create jobs and we will earn so much exchange from manufactured goods.
Nobody will pay much attention to oil as we are doing currently. We should produce and manufacture goods and make foreign exchange from it. I shared some of my ideas when I travelled with Aliko Dangote and one of the serving Ministers on the same flight from Abuja and I tell you, before this country moves forward, we need 200 Dangotes, not 200 rich men because there are so many rich men in Nigeria that produce nothing.
But people who provide jobs like Aliko Dangote are few. We need job creation if we really want to move Nigeria forward. We need a lot of people who can do what Aliko Dangote is doing in Nigeria, creating jobs regularly and creating room for economic progress in Nigeria.
So, what are you telling Nigerians who are used to being begged by politicians for their votes before elections and after elections they become the ones begging politicians to fulfill their promises?
You are absolutely right because some of these politicians make false promises. They tell you they would do this and that, without telling you how to do it or where to get the resources from. They have no timetable or plan on how and where from. That is a futile promise and Nigerians should watch out this time around.