By SAM EYOBOKA
MASTER Atete Akpobasa is a 20-year old two hundred level Medical Biochemistry student of Delta State University, Abraka, Delta State. Young Atete is nursing the ambition of becoming a surgeon but his caught off mark was said to be below the school standard, so he had to settle for Medical biochemistry. As at the first week of January, he was still nursing the hope of changing his course to his first choice, because he believes that Nigeria needs more surgeons than it currently can boast of.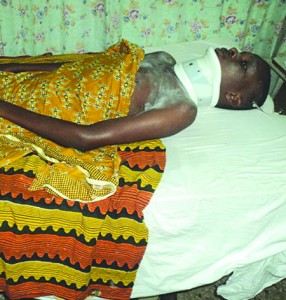 The dream of Atete Akpobasa of becoming a medical surgeon or even medical biochemistry, as the case may be, is currently being threatened because of an accident which has rendered him to be lying critically ill at the University of Benin Teaching Hospital, Benin since February 2, 2011. A visit to the Neuro Ward of the UBTH, revealed a grossly enmatiated Atete subbing profusely from the pains and crying for help from all public spirited Nigerians to keep his hope alive. A Guadener well traction was inserted on his head at 17 hours on February 9, and he is scheduled to bear that excruciating pain for, an initial period, of six weeks.
Between 4.00 p.m. and 5.00 p.m. on January 30, 2011, Master Atete Akpobasa had gone to the Abraka River to have a shower and cool off. The story goes thus: He jumped into the crystal clear river that afternoon not knowing the danger that was lurking ahead. That plunge had proved to be the deadliest in the young lad's burdgeoning life, as he may have hit his head against a hard object at the bed of the river. By the time he was brought out of the river, by onlookers, he was unconscious and more or less, lifeless. He was then rushed to the nearby hospital, Majoro Medical Centre, Abraka which couldn't do much and referred him to Eku Baptist Hospital, Eku.
It was at Eku, the state governor, Dr. Emmanuel Uduaghan, on a courtesy visit and after close examination of his case, ordered that Atete should immediately be transferred to the Delta State Unversity Teaching Hospital, Oghara. So, on February 2, the young lad who had eventually come to, but could not speak, was rushed to Oghara for further examination and proper treatment, but sadly, the authorities at the DELSUTH said they could not do much either and had to refer him to neighbouring University of Benin Teaching Hospital, Benin.
Atete and his father, Mr. Abel Akpobasa arrived Benin at about 3.30 p.m. on that same February 2 and immediately he was rushed to the emergency ward where he stayed for two days pending initial medical examination before he was moved to the Neuro ward three days later. The Guadener well traction was inserted on his head on February 9, and he was expected to carry that load for six weeks before his doctors would be able to ascertain the next step to his healing process. A little over two weeks to that operation, Atete quite understandably is finding it difficult to cope with the excruciating pain. He was said to be crying all night.
During a visit by our reporter, the younger was in tears, more for his dad who had borne the weight of the tragedy since January 30 when the accident occurred. He was profusely apologising to the dad for all the troubles, saying "you sent me to school to learn, but look what I have caused you. I pray that I can make it from this place and become a doctor. Dad, please forgive me. I know you have committed so much money to my medical expenses; I am so sorry."
Turning to the visitor, Atete said, "Sir, I need you to appeal to the Delta State governor, Dr. Emmanuel Uduaghan to further come to my aid. He came to my bed side at Eku and I know that this is a very critical period for politicians as they prepare for election, but I will appreciate if he can help to pick my bills now. My dad has not had a steady job for a long time now, but he is committed to seeing me through school. I need his assistance because I do not want to die like this. I also appeal to other public-spirited Nigerians to help a poor little boy who wants to make his contribution to the health sector in Nigeria. I don't want to die like this."
Also speaking, Mr. Akpobasa confirmed that he had been without a steady job since the crisis in the Niger Delta which had made working in the creeks a dangerous endeavour. According to him, since the accident, he had stayed with Atete, who eats and defecates on his bed, because he can't help himself. "So, far there is no way, I can tell you how much we have committed to his treatment, but like he said, I have not received help from anyone yet. I also appeal to Nigerians to come to our aid at this our hour of need,"Mr. Akpobasa said tearfully.
Subscribe for latest Videos