By Henry Umoru, abuja
TWENTY-one days to the general elections, the Northern Political Leaders Forum, NPLF says it remains unshaken in its position on zoning and rotation of public offices, while asking Nigerians to establish this during the elections.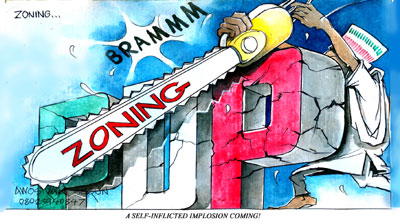 In a communiqué signed by its Chairman and former Minister of Finance, Mallam Adamu Ciroma, the group at the end of a meeting called on political leaders to insist that the societies they belong and the political systems within which they operate were built on enduring principles.
The NPLF and the North they said, would remain committed to the unity, stability and good governance of Nigeria as well as the peaceful co-existence of Nigerians regardless of sectional, ethnic and religious affiliations, adding, ''that it is only in an atmosphere of peace, trust, sincerity and good faith that Nigeria as a young and fragile federation can stabilize, thrive and develop to its full potential.
"In the light of the above and regardless of the outcome of the recent presidential primary elections, the Forum will continue to stand on the principles it has espoused, i.e. justice, equity and fairness to all, encapsulated in the principles and practice of zoning and rotation of public offices among the diverse peoples of Nigeria, as enshrined in the Nigerian Constitution and in the constitution of the ruling political party of today.
It calls on Nigerians to seize the opportunity of the forthcoming general elections to reestablish and strengthen these principles in order to secure long term peace, unity and political stability in the country."
On the arrest of its members by men of the State Security Service, the NPLF said it was taken by surprise by the sudden invitation extended to some members of its Secretariat by the Department of State Security, which has led to their inexplicable detention and called on the Federal Government to order their release without further delay.
"The Forum was saddened by the fact that just over a month to the general elections in April, an atmosphere capable of promoting the freedom of the electorate to choose their leaders was yet to emerge.
It called on the authorities concerned to give practical expression to the oft repeated commitment of the government to free, fair and credible elections or risk reducing the exercise to an avenue for the waste of public resources only to undermine the legitimate aspiration of Nigerians to make their votes count this time around.