By Kingsley Adegboye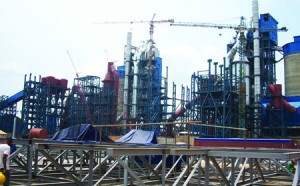 Dangote Cement Plant located in the mines rich area of Ibese near Ilaro in Ogun State will commence production in June this year. The six million metric tons per annum production capacity plant which cost is put at a whopping 620 million US dollars, will next month commence the production of clinkers on one of the production lines. The production of clinkers is a major requirement for cement production. The second production line is expected to commence a month after, preparatory to actual cement production in June.
Newsmen who were on a facility tour of the plant last week were informed that the kiln, storage house for limestone, silos as well as mine fields and other local raw materials needed for cement production are ready. The gas powered plant which is serviced from Itori Gas Plant, 24 kilometres from Ibese (to supply power to the cement plant) is equally ready while finishing touches are being undertaken on the plant and earth works.
The Deputy Director, Sinoma International Engineering Co. Ltd, the Chinese construction firm handling the project, Dr. Ved Prakash Sarkari, told the visiting journalists that work on the plant started about two years ago. According to him, the plant will hopefully commence production of cement in June as everything required for it's take off is now in place.
The Deputy Director of the engineering firm who disclosed that the Ibese mines will last for 90 years, added that 1.5 kilometres mines which will last for the next three yeas is ready for limestone while another one opposite is being developed. He stated that the process of developing mines for limestone excavation will be in phases.
Dr. Sarkari said only five per cent gypsum would be bought while all other raw materials would be sourced locally. He disclosed that 240,000 bags of cement will be produced per day at Ibese cement plant. According to him, with this daily turnout from Ibese plant and other Dangote cement plants at Obajana and Gboko as well as other cement manufacturers in Nigeria, cement scarcity in the country will be a thing of the past very soon.