By Lolade Sowoolu
She's the proverbial old wine that's gone better with time. She may not have the hit albums, singles, national honours or endorsements like her contemporaries or the younger generation of artistes. Yet Yinka is in a class of her own with her far reaching voice, having served on board of judges for the 2007 Nokia First Chance talent hunt and now Nigerian Idol – both musical talent hunts.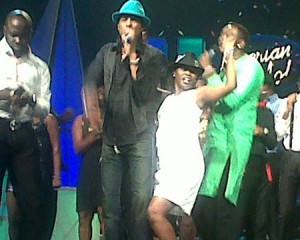 YD brought it down last Saturday at an exclusive gathering in Omole where finalists for the Idols show were unveiled. After the contestants' show off, YD stormed stage performing an old disco tune. She wriggled like a young lady, making theatrical gestures including checking her butts to see how much her short gown skipped when she raised her hands. The guests laughed and applauded the rare performer.
Excitement heightened that night when co-judge, Jeffrey Daniels joined her on stage performing his number and showing off the legendary Moonwalk dance which he choreographed the late King of Pop, Michael Jackson. Yinka and Jeffrey were soon flanked by their contestants and anchors, and together they danced and sang. It sure will be a night to remember!