By SOLA Ogundipe
AUTHORITIES of the Federal Neuro-Psychiatric Hospital, Yaba, Lagos have urged Federal government for increased budgetary allocation even as the Federal government has restated commitment towards improving facilities in Federal Teaching and Specialist hospitals across the country.
Speaking in Lagos recently during an official visit to the health institution by Minister of Health, Prof. Onyebuchi Chukwu, the Acting Chief Medical Director, Dr. Oluyemisi Ogun appealed for increased budgetary allocation because past overhead allocation has not been sufficient to take care of the increasing utility expenses.
According to her, "The Capital Appropriation for 2010 was revised from N444.5 million to N291.7 million out of which only N111.9 million had so far been released and this has greatly affected the level of desirable infrastructural development in the hospital."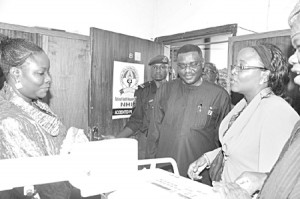 Ogun said a lot of funds were required to run the Federal School of Occupational Therapy located in the Oshodi Annexe and the School of basic Psychiatric/Mental Health Nursing on the Yaba premises. She urged the Minister to use his good office to ensure that there was special budgetary intervention in that regard.
She said but for good spirited Nigerians who have been augmenting the hospital's expenditure, the upkeep of patients, particularly abandoned patients would have been a bigger challenge.
Observing that psychiatry is part of medicine, Ogun called for a holistic approach to healthcare delivery in the country. According to her, and a mentally ill person may have physical illness and vise-versa. "People with psychiatric problems may develop trauma, even in the ward. Everything that should be done for someone who has physical illness should be done for the person that has mental illness," Justifying the need for expansion of the annex, she said it was the place set up for soldiers that returned from the 2nd world war. "Chronic patients were being sent there at that time, but it has to be developed much more now because of the expansion of Lagos.
On the need to boost medical tourism, Prof Chukwu said the move which is aimed at minimising the current trend of Nigerians travelingoverseas in search of medical treatment is essentially will also drive the concept of medical tourism in Nigeria.
Subscribe for latest Videos