By Jide Ajani, Editor, Northern Operations
F or Ndutimi Alaibe, it is time to  grab the bull by the horn. After serially scheduling interview sessions which were never held, last Tuesday presented an opportunity to finally break his silence.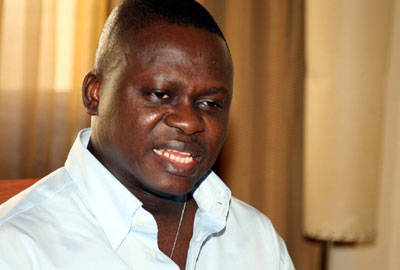 Perhaps, Alaibe, who is now seeking the governorship of his state, Bayelsa, on the platform of the Labour Party, LP, is an enigma.
Why?  He dumped his first love, the Peoples Democratic Party, PDP, which he helped to nurture in the state for the LP because he's having issues with the incumbent Governor Timpreye Sylva.  The latter insists that Alaibe is not popular and, therefore, can not even campaign in the state.
But Alaibe says such lies would not hold water because the question should be asked:
"The truth is that the man is simply scared. He knows that the game is up. Bayelsans desperately seek a fresh and better start. Typical of all drowning persons, he is seeking to cling to anything to stay afloat. He has resorted to name-calling and utter falsehood. But I think we should discuss issues and not nonentities.
"I am contesting to be Governor of Bayelsa State to lead others to free the President and all Bayesans from the embarrassment that the current State Government has become. Do you remember that when the president visited Bayelsa, Sylva was booed and stoned by the people, in the presence of the President of this country? Nothing could have been more embarrassing. He was stoned, booed and insulted. I don't have any iota of doubt in my mind that Mr. President wants his state to be better governed, to be developed, to be peaceful and habitable".
Alaibe explains in this interview that the people of Bayelsa State are about to be redeemed.
Excerpts:
What sort of amnesty campaigner are you.  Your own state, Bayelsa is manifestly violence ridden, such that bombs keep going off and even your own campaign has not been spared.  So, what is all these talk about doing well with the amnesty programme?
Let's get one fact clear here, the administrative rot in Bayelsa State is not a reflection of the success or otherwise of the Amnesty Programme. The violence in Bayelsa State is politically driven; the bombings and incessant attacks are induced and sponsored by the State Government.
Let me pointedly discuss this matter: There is simply no government in place in the State. There is no focussed leadership. What you see is an illusion of a presence of a government. After almost four years on the saddle, the so called incumbent governor has absolutely nothing to campaign with. No programmes, no projects; absolutely nothing other than the deception that you see on the front pages of some news papers that he calls his 'strides.' What strides? The so-called 'strides' have become a butt of joke even among children.
Imagine a State Governor listing as part of his achievements in four years, the fumigation of Okolobiri hospital! Or is it the huge fraud of unseen and unknown 'concrete roads and foot-bridges,' he has been listing as part of his 'strides.' A state government receiving derivation income in billions of naira every month priding itself as constructing foot-bridges and fumigating a hospital at this time and age!
Then, what would the local government do? He is just wasting Bayelsa money to embarrass himself on the front pages of newspapers. Because he has achieved nothing in four years, he has nothing to campaign with; absolutely nothing to tell the electorate, so he is determined to stop other aspirants from campaigning. Can you imagine the Governor of a State sponsoring and inducing cultists to plant bombs and violently disrupt the campaign rallies of other candidates; and at the same time shamelessly accusing the opponents of being afraid to campaign? We will not be cowed; we will not succumb to these dastardly antics of a rejected and drowning man.
So, do not use the Bayelsa situation to judge the Niger Delta region. When last did you hear that a bomb went off in other Niger Delta States? By the grace of God Bayelsa will turn a new page on May 29 this year. To further underscore the failings of the current Government in Bayelsa, baseline statistics during the disarmament phase of the Amnesty Programme, indicated that Bayelsa State has the highest number of militant camps in the Niger Delta.
These are patriotic youths of this country who, in the absence of care, resorted to militancy and other forms of self help. Over 9,000 youths of Bayelsa origin are currently enrolled in both phases of the Amnesty Programme, the highest number from any state. This throws up the nature of the challenge of unemployed youths in the state because the number mentioned here does not even include those who are not in the Amnesty Programme.
The so called current government meanwhile has no plans or programmes for the huge population of the unemployed in the State. It got its priorities wrong, or how would it budget in 2011, the sum of one billion Naira to construct golf course in the state. Golf course for who? Should this be a priority at this time? That man has no vision, even for himself. God will deliver Bayelsa from him.
Okay what is your candid assessment of the Amnesty Programme? Put in a different way, would you say that the problem of militancy has been solved in the Niger Delta?
You have asked a very direct question and I shall attempt to give you a direct answer. Over all, the Amnesty Programme has been a resounding success. I make bold to assert that the Programme will go down in history as the sincerest effort by the Federal Government to address the Niger Delta question. You will recall that the late President Umaru Yar'Adua had on June 25 2009, proclaimed a 60-day unconditional amnesty period for militants in the Niger Delta, as a step towards resolving the protracted insecurity in the region.
The terms of the amnesty included the willingness and readiness of militants to surrender their arms, and unconditionally renounce militancy and sign an undertaking to this effect. In return, the government pledged its commitment to institute programmes to assist their disarmament, demobilisation, rehabilitation and provision of reintegration assistance to the ex-militants. In other words, the programme was structured to have three broad components.
One, a security component dealing with the disarmament and demobilisation of the various militant groups in the Niger Delta; two, an economic component with commitment to provide access to reintegration opportunities for the ex-militants; and three, to promote the economic development of the Niger Delta. Flowing from this, we proceeded to execute what has become, perhaps, the most successful disarmament exercise in the history of DDR (Disarmament, Demobilisation and Reintegration) in Africa.
By October 2009, 20,192 ex-militants had willingly disarmed; turned in huge cache of arms and ammunition to security agencies and got enrolled in the Programme. Going back to your question, I insist that the Amnesty Programme has been a resounding success. Where we are currently would be better appreciated when viewed from the pedestal of where we were prior to the Amnesty Proclamation.
Please explain?
Let me take you down memory lane. By January 2009, militancy in the Niger Delta had virtually crippled Nigeria's economy. Investment inflow to the upstream sub-sector of the oil industry had dwindled remarkably. Exasperated foreign investors had begun redirecting their investments to Angola and Ghana as preferred destinations over Nigeria. At that point Angola surpassed Nigeria as Africa's highest crude oil producer. This dwindling investments in the critical oil and gas sector threatened Nigeria's capacity to grow its crude oil reserves as planned.
Like you may well know, Nigeria targeted 40 billion barrels proven reserves by end of 2010. Clearly, insecurity in the Niger Delta was identified as key reason why investors were leaving for more stable business opportunities in Africa. For example, due to militant activities in the Niger Delta, Shell Petroleum Development Company by early 2009 had declared force majeure on its operations, which caused a drop in its production capacity from one million bpd to about 250,000 bpd.
ExxonMobil also experienced increased insurgent activities in its Nigerian operations. Sabotage, oil siphoning rackets and kidnappings of oil workers by suspected militants further threatened the operations of the oil companies and exerted immense pressure on the Nigerian economy. Worse still, citing insecurity, union officials all too often called strikes to protest insecure working environment. It got to a point where Nigeria's export dwindled to as low as 700,000 bpd, compared with a targeted 2.2 million bpd for the first quarter of 2009. In 2008 alone, it was estimated that Nigeria lost over N3 trillion as a result of militancy in the Niger Delta.
So, how has this impacted positively on the oil sector?
Shortly after the October 4th, 2009 deadline for Niger Delta militants to accept Federal Government's amnesty offer expired, the government and other stake-holders began counting the positive results from the exercise: With peace restored in the Niger Delta, oil companies and associated companies reopened shut-in wells; Nigeria's oil production increased from 700,000 barrels per day to 2.3 mbpd; construction of East-West Road resumed; kidnapping in the core Niger Delta States drastically reduced; oil bunkering reduced; crime rate declined; signs that the process would succeed accelerated economic development across the nation;
With cessation of hostilities, government began giving assurances that Nigeria can once again fill its OPEC quota and be trusted by major consumer nations to meet its contractual obligations; the Nigeria LNG's reputation as a reliable supplier of LNG cargoes was restored; with renewed confidence in the international oil market, Nigeria began to exercise more influence in the supply and pricing of oil and of course, repairs of oil and gas infrastructures damaged during the unfortunate era of militant agitation speedily commenced while contractors handling development projects also were given lee-way to fast-track their efforts so as to assure the ex-militants of government's determination to ensure sustainable development in the Niger Delta.
Finally on this matter, let me clarify that while it is true that the late Yar'Adua initiated the Amnesty Programme, it is important to place on record that when it seemed that the programme was floundering, it was President Goodluck Ebele Jonathan that revved it up, gave it fresh impetus and provided all that was needed to attain the success that we are talking about today.
In what state was the Amnesty Programme before you resigned in December 2010?
Yes, as at December 2010, 12,917 ex-militants had undertaken non-violence transformational training at the Demobilisation Camp we sited at Obubra, Cross River State. For this demobilisation exercise in the Camp, we engaged experts from Nigeria, South Africa and the United States of America.
The transformational/reorientation activities in the Camp are tailored to extinguish the belief of the ex-militants in violence and provide them a more powerful alternative – non-violence. In Camp they are taught to promote non-violent method in bringing about a better Niger Delta. The concept of non-violence is a method that is non-aggressive physically but dynamically aggressive spiritually.
We inculcate in the ex-militants the fact that non-violence is for the courageous; that only cowards utilise violence as a means of conflict resolution. That the non-violent resister is just as opposed to the evil that he is standing against as the violent resister, but he resists without violence.
In the non-violent approach, the attack is directed against the forces of evil rather than persons who are caught in those forces. It uses the power of love. It is based on the conviction and belief from the long tradition of our Christian faith that the Almighty God is on the side of truth and justice. It is this deep faith in the future that makes the non-violent person to accept suffering without retaliation. The Camp also provides career guidance designed to assist ex-militants determine their career aspirations going forward in terms of education, vocational and entrepreneurial skills.
After the non-violence training and career classification in the Camp, the ex-militants are placed in skills acquisition or training centres both in Nigeria and offshore. As at December 2010, a total of 4,759 ex-militants who had passed through the non-violence training programme had been assigned to 57 skills acquisition/training centres in 13 States of the Federation while the 2,618 had been slated for training offshore. Indeed just before my exit, we had sent 38 of them to South Africa.
Another 200 delegates, as we now call them, are ready to leave for Ghana for vocational training. The overall reintegration agenda is to groom these ex-militants to become key players in the emerging economies of the Niger Delta – be it in construction, oil and gas, railways, tourism etc. Luckily, the Local Content Act and the Petroleum Industry Bill currently in the works in the National Assembly, support this aspiration to get transformed and properly skilled ex-militants play key roles in the nation's oil and gas industry. The final objective of course will be to get the trained ex-militants to be gainfully employed.
Your state governor sees you as an irritant with not electoral value; and even asserts that the Labour Party, LP, on which platform you are seeking the governorship makes your case worse?
You know, I find it rather time-wasting joining issues with Sylva. I did not read this interview you are talking about but my associates and aides drew my attention to it and excerpts were actually brought to me. The truth is that the man is simply scared. He knows that the game is up. Bayelsans desperately seek a fresh and better start. Typical of all drowning persons, he is seeking to cling to anything to stay afloat. He has resorted to name-calling and utter falsehood. But I think we should discuss issues and not nonentities.
Overcoming the daunting, albeit embarrassing, challenges Bayelsa faces today requires a new vision. Bayelsans are determined more than ever before, to move forward together, for the challenges we face are bigger than party, and bigger than politics. It is not about Labour Party or PDP or any other party.
Sylva's government has no sense of direction. Look at all the governors in the South South, from Rivers to Delta to Akwa Ibom to Edo to Cross River; they are opening up roads, building over-head bridges, hospitals, introducing and sustaining quality free education and free health projects, empowering their people. Sylva is busy advertising his failure in the media. Do you know how much he spends a week advertising those failures on the pages of newspapers? Add this to the regime of indebtedness he has thrown the state into.
The Governor should please tell the Bayelsa people, the specific development projects that accounted for about N100 billion debt profile he has accumulated for the state. He should be worried about mismanaging the financial and general goodwill of Bayelsa people. Bayelsans are much more concerned about rescuing the State from his mediocre administration.
A political party is a mere platform to contesting elections. When elected, it is your duty to provide leadership. When you achieve results, nobody cares about your party platform. Sylva has every reason to fret; his cup is full. He is going. He is simply seeking to obfuscate the facts of the politics in Bayelsa today. All Bayelsans support President Goodluck Jonathan. Indeed, I chose the Labour Party because I support President Jonathan.
The Labour Party is not fielding a presidential candidate in the April elections. Therefore President Goodluck Ebele Jonathan is my presidential candidate. He is the candidate of all well-meaning Nigerians and by the grace of God, he will emerge resoundingly victorious in the presidential election.
So, the current Governor of Bayelsa State has no escape route. He cannot blackmail Bayelsans to re-elect him, to reward him for crass ineptitude simply because he is of the same party as the President. No, no it will not happen; our situation is peculiar and urgent; the collective mission of Bayelsa people is to, first and foremost, rescue our state from the grips of failure.
This your defection to Labour Party, and coming from the state of President Jonathan, don't you see it as an act of embarrassment and it was also said that you meant it?
I'm sure the president himself must have laughed when he read that because he knows the truth. I have been told that Sylva is using that as a campaign issue. The man is recklessly desperate. I really don't think I need to comment on this because when my attention was drawn to that false and manipulated report, I quickly issued a corrigendum which was well published by the same paper the following day. That cancelled the previous publication.
My relationship with the President is well known. It is unthinkable that I would say such a thing. When I wanted to leave the PDP for obvious reasons, as a mark of respect, I informed the president and other senior party leaders. Permit me not to disclose the details of our discussions.
I acted based on the advice of the political leaders of Bayelsa State. I left PDP to seek a neutral platform for the actualization of the peoples' vision. With our deep knowledge of the delegate system of voting in the primaries of the PDP whereby a sitting governor decides who should vote, we knew clearly that Sylva would rig the process to his advantage. I am in the Labour Party to fulfil the aspiration of overwhelming majority of Bayelsans who desperately desire that the State be rescued from the claws of its current clueless leadership. Never in my life would I contemplate embarrassing the man who gave me the opportunity of implementing a programme that has turned around the economy of Nigeria by bringing peace to the Niger Delta.
Are you saying that your aspiration under the Labour Party enjoys the support of the President?
My brother, for about one year, I worked very closely and directly with His Excellency, President Goodluck Ebele Jonathan, as his Special Adviser on Niger Delta. He is a man intensely focused on success; he abhors embarrassing situations, he hates failures and he loves peace and peaceful environment. I am contesting to be Governor of Bayelsa State to lead others to free the President and all Bayesans from the embarrassment that the current State Government has become. Do you remember that when the president visited Bayelsa, Sylva was booed and stoned by the people, in the presence of the President of this country? Nothing could have been more embarrassing. He was stoned, booed and insulted.
I don't have any iota of doubt in my mind that Mr. President wants his state to be better governed, to be developed, to be peaceful and habitable. I can assure you that from 29 May this year, President Goodluck Ebele Jonathan will be spending his weekends in the new Bayelsa of our dream.
The state government calls you a political ant!
Let's discuss issues. He is not worth any decent discussion. I'm not into name-calling. If I were a political ant in Bayelsa State, why is he panicky? Why is he sending people to attack opponents every where they go to? Why is he running an illegal security outfit called Famutangbe in Izon language means kill and throw-away!
This is the extent Governor Sylva loathes our people. Maintaining a security outfit with a name reminiscent of a declaration of violence against the same people he swore to protect.  Why would a governor set up a killer squad under the guise of maintaining peace and security in the state? The same squad supervises the pulling down of billboards of political opponents of the governor without anybody calling it to order.
Look, let's get serious, Bayelsans know me like the back of their hands. All my working life, I have done all I can, all that was within my powers, to bring development to the State. Today, a substantial chunk of the development projects in our state is attributable to my previous service in various spheres, including my service in the Niger Delta Development Commission.
I am talking of infrastructure and mega developmental projects, particularly road and bridge construction, shoreline protection, reclamation and canalisation. The excerpts of his interview that I saw, he was talking of uncompleted NDDC projects; what is that supposed to mean? Has NDDC folded up? So, simply because some NDDC projects are on-going or pending in Bayelsa State, Timi Alaibe who left there some years ago, should be blamed?
Other Governors among the Niger Delta States are busy piling pressure on the NDDC to initiate projects or complete on-going projects in their States; Sylva obviously hates NDDC projects because they remind him of Timi Alaibe. That's pettiness! He spoke also of the Niger Delta Master plan, which he said we executed at the cost of N25b or N45 billion.
You can imagine a Governor descending to the level of peddling rumours for lack of what to do. For the avoidance of doubt, the master plan did not cost this amount. Unknown to people, the two lead consultants to the master plan (GTZ International/Wilbahi Engineering Consortium and Norman and Dawbarn Consortium) were companies sponsored and lead by two prominent Ijaw personalities, both of them incidentally from Governor Sylva's senatorial district.
More interesting is the fact that Governor Sylva's company, Sylvasky Nigeria Limited led the group that provided sector consultancy on tourism. If the project cost the amount he has announced, then NDDC must have paid the money to the lead consultants and himself.
I am waiting for him to publish his facts. He is a confused man. Like I said, Bayelsans know me; I have always given the State and indeed the entire Niger Delta region my best and my all.
As the Special Adviser to the President on Niger Delta, I worked round the clock and even took risks to rid our state and other states in the Niger Delta of militancy and I am proud to say that today we have paved the way for a better future for these our brothers and sisters who are currently in first class skills acquisition centres across the country and abroad.
As Governor of Bayelsa State, I shall, by the grace of God, do much more. We will invest in major critical infrastructural development that will involve the construction of roads and bridges that will open up our land-locked communities, villages and towns. We shall reclaim lands from the sea, rivers as well as creeks and protect our shores. We shall diversify the economy of Bayelsa State to empower our people and create jobs opportunities.