BY IFEANYI OKOLIE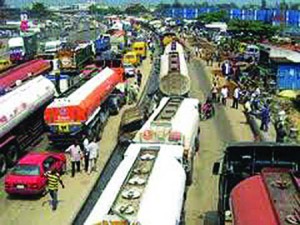 IN 2007, when Chinedu Uzorma , moved into his new apartment in a remote part of Kirikiri Town Lagos, he had no reasons to regret, giving the kind of security and the cozy nature of the area . But soon, his comfort and joy were overridden by the huge presence of some oil firms, who invaded the town with giant tank farms, for storage of liquid petroleum products, turning their lives into a nightmare, as residents could no longer sleep with their eyes closed, owing to the fear of a massive explosion that could raze the relative community into ashes.
Meanwhile the tank farms, situated some few metres away from residential homes, is currently causing panic following the massive influx of trailer tankers who do not only haul petroleum products, including fuel along some little tight streets, where local women, openly vend fries with fire, but their prolong stay on these roads, have become a big problem grounding the flow of traffic completely, could some day attract fire and explode. Residents now live daily in fear of an imminent fire explosion, either from the tank farms, constructed with adequate fire fighting equipments or from the trailer tankers hauling the product.
The most excruciating issue on the mind of every resident of the area is the activities of tanker/ truck drivers Giving the manner these drivers go about their business; one would not hesitate to call on the authorities to put a stop to these illegality.
Uzorma and other residents of his area told Vanguard Features, VF that life is no longer fun since the tank farms began operation. " We can no longer go about our lawful business peacefully, since these tank farms began operation. They block the access to our streets, such that we can no longer move about with our cars as in the past. I now park my car at Mile2 and in the morning when I am going to work I rush to Mile2 to pick it. If I don't do, so the chance of taking it out from my street would be impossible."
So far, Kirikiri town, which houses some of the nation's largest prisons and provides link to a high grade military facility, where military equipments are stored, has been taken over by the tankers as they now parked on both sides of the street as they wait for their turns. Thus, leaving residents trying to gain access into their homes in pain, as small vehicles and motorbikes can no longer access their streets in the area.
According to Uzorma, who was obvious frustrated about the situation: "It is a terrible situation and we don't know when it will abate. When I moved into this town in 2007, there was nothing like this, then the roads were free, except for some small vehicles parked along the street, but now it has been taken over by tankers. Since the other tank farms began their operation, this town has been turned into a truck park. Formerly, they parked on one side of the street but now they are everywhere, without even allowing little space for motorcycles or pedestrians. This is a residential community not an industrial one. I wonder why government is allowing this," he lamented.
But Johnson Effiong who resides, somewhere in Ilaje Street Kirikiri, appealed to government to come to their aid before the situation goes out of hand. "It is so alarming and no one is talking about it. These trucks block the access to our street and there is no away we can move around with our cars, even at night. These drivers block these street without a sense of care of emergency. Just last week a pregnant woman was in labour and she needed to be taken to the hospital immediate. Her husband and some other neighbours, who rushed her into a awaiting car got to the entrance of our street, but it was completely block with horrible looking tanker trailers, laden with petroleum product. Drivers of these trucks who were stuffed in a queue that stretched down to the Kirkiri Bridge could not move their trucks off the road. They watched helplessly while the pregnant woman groaned in pain. But for a nurse in the neighbourhood who came to her aid, the worst would have happened,"he recounted.
Johnson Effiong's experience, is one out of many other cases confronting the residents of the Kirikiri town. The influx of these truck has also affected commerce and the range of insecurity it attracts, is what government has to address. Local traders are wailing as a result of low sales as their shops and stalls are now blocked by trailers, preventing customers from coming in.
A local grocery retailer who simply identified as self as Mama Preye, said she no longer makes as much sales as she does when the traffic are free. "Since this 'thing' began we have experience low patronage. Some of our customers who come from other areas, no longer stop by to patronise us due to the heavy tarrfic they would encounter if they come this way. Now that our sales have dropped I wonder how I would make enough money to may my tax and other levies," she complained.
Traders at the popular PROWA Shopping Complex in Kirikri, also recount their tale in anguish. The Chairman of the Complex Dozie, told VF that traders at the Complex are presently the worst hit. He explained that the Complex which is dominated with restaurants and bars from start to end, now suffer terribly as a result of these tankers. Said he: "As you can see they've blocked all entrance to our shops and our customers cannot even gain access to the bridge how much more close to our shops. You know the nature of our trade, customers come in mostly in the evening but since this started, the story has being different. If you come around here in the evenings, you'll see the kind of terrific we experience then you'll will understand what I mean. Government needs to come to our aids because it is becoming messier. The people are making their own money, they are so at the expenses of other people's comfort and time. I can't tell them not go about their business, but they have to do it with a human face because this place is a home for millions", he stated.
Subscribe for latest Videos