BY Laide Akinboade
ABUJA – In order to combat the problem of deforestation in Nigeria, the Federal Government has allocated five billion naira (N5B), to plant seedlings to help in combating deforestation challenges in the nation.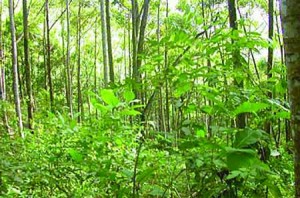 Permanent Secretary, Ecological Fund Office (EFO), Mrs. Ibunkun Odusote stated this when the agency had a consultative meeting on the Presidential initiative on afforestation programme, she said one million seedlings in each 36 states and Federal capital Territory (FCT), are expected to be raised. She noted that the money has been released and the contract has already been awarded.
According to her, "Nigeria is experiencing an annual rate of deforestation of about 35% resulting from illegal and uncontrollable bush burning, overgrazing, unsustainable fire wood gathering, oil spillage from exploration activities, inappropriate agricultural practices and disjointed infrastructural development programmes.
She continued, these have caused environmental degradation in alarming magnitudes in different parts of the country. Deforestation also results in soil erosion sand other climate change effects causing the drying up of the nation's water bodies, siltation, water table reduction, flooding, disruption in rainfall patterns, sharp increases in atmospheric temperature as well as increased emission of carbon dioxide and other green house gasses."
She stressed the benefits of afforestation that it would help in reducing poverty in the country; it would provide jobs for youths and also address the challenges that are facing deforestation and climate change.
20 consultants were appointed as the programme kicks off immediately. The deadline for raising the 37 million seedlings by the various contractors is by May 2011.
Odusote, wo warned the contractors to ensure that they are in site by 14 of February 2011 and any defaulter will lose part of his fund on the contract.
Meanwhile, the Permanent Secretary of EFO, also had a meting with consultants to the South East soil erosion control projects and the executing agency, said the project is worth N7 billion naira with 11 consultants.
She noted that it is expected that the project will help in reducing the challenges the South Eastern part of the country are facing on the issue of erosion.
She said though the projects is still at the procurement stage but assured the project consultants that they will give them enough time to ensure that they deliver the project on targets.
"Your co-operation and understanding is paramount for us to redress the various ecological problems confronting our people, restore the environment and deliver the benefits of the whole exercise to our communities."
Deputy Director, Soil erosion Mr. J Mekwunye, in his welcome address said the success of the project depends largely on the level of commitment on the part of the consultant. He also urged the consults to ensure that the right strategy is used to ensure that erosion problems in the Southeastern part of the country are a thing of the past.