By Ime Bassey
The superlative performance showcased  by the weightlifting athletes during last year's Commonwealth Games in New Delhi, India, has aroused more expectations from Nigerians from the weightlifting federation.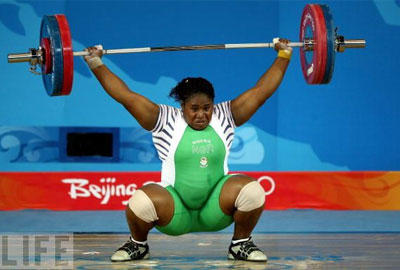 In an interview with Sunday Vanguard Sports, President of the Weightlifting Federation of Nigeria (WFN), Chief Chimdi Ejiogu, highlighted the fortune of the federation, its ambitions and strength which brought her accolades  from all quarters because of the athletes' performance in Delhi 2010.
What are the programmes lined up for the federation this year and how prepared is the federation?
Our major concern and programme for this year is geared towards the All African Games in Mozambique some time in September. It is important that Nigerians put their money where prospects are high, our intention is to put up a better performance as compared with the last Commonwealth Games in India. It is good that Nigerians support sports that would give them more medals at the Games.
You see Kenyans, they concentrate on their long distances which they know they are very strong in, that's why you see them sometimes coming first, second and third in competitions. They have taken it to be their constituency and give high attention to it even as they still organise youth competitions for more young talents to come in as the older ones are leaving.
On our own part, the WFN will continue with our series of competitions which we started last year to get more fresh talents so as to get them in camp early and prepare for the All African Games.
Interestingly too, next year is the Olympics in London, this we want to prepare seriously with the various competitions and in full at the All African Games.
It is also our plan to have athletes in all the weight categories, in both junior and senior so we can expose them early enough before these tournaments come. It matters a lot for them to be exposed because some of the equipment that were used during the last Commonwealth Games were the first time most of our athletes were seeing them and they had to use it; so, we shall expose all our athletes before hand at international tournaments to put them in the right frame of mind. It would make them better prepared than their counterparts.
We are also going to work towards the eradication of dope, making sure that it becomes a thing of the past in weightlifting. It has been the federation's major challenge for almost 16 years not until the last Commonwealth Games.
I am sure that it was surprising to everybody that none of our athletes was caught with a banned substance. It was due to hardwork on our part as the board discovered that if we do not solve it nobody will do it for us. We made sure that all the athletes trained with all they needed, so there would not be any room for the usage of performance -enhancing drugs. We intimated the athletes more on the kind of meals and drugs they needed to take.
All these I have articulated gave us the needed edged above all the other federations. We stayed in camp longer than all others; we paid the price of success, so, it came our way.
There are always competitions spread out for the year but we will attend the ones that are mandatory and necessary for us with an expectation that experience would be gained.
Fund has always been the challenge of other sports, how have you been able to cope with it?
I can tell you that as the president of the federation, that the National Sports Commission has been very supportive in our cause . They have given us a platform with which we can run the sports. In all parts of the world, there are sponsors loitering around to sponsor other sports beside football but in our country, the reverse is the case.
You have said so much about  weightlifting, how many medals can it give Nigeria in a sporting event?
Weightlifting can give us 30 gold medals in the All African Games but football can only give us one. We should ask ourselves this question that how many gold medal has Nigeria won in sporting events like the Olympics and the All African Games?
So, when it comes to sporting events of this nature, we should understand the number of medals available for grabs and the funds needed to put the athletes in shape compared to football.
I have told the NSC the need to support our federation because our potentials are high, we have proven ourselves.
What would you say went well for the federation last year?
First and foremost, I want to say here categorically that our springboard for last year's success was the total support given  us from the sports commission, precisely, Chief Patrick Ekeji. He had gotten a lot of experiences of our federation doing badly because of doping and  knowing the full potentials of the sport, he decided to give us all the support. So each time we met him, he was ready to listen with assistance.
Besides, before I came in as the president, what was done by the secretary before my regime, he used to just pick athletes from the file based on past form and glory. After the first two months, I was not satisfied with their performance as the tournament in Korea was a disaster.
This made me to wade in with an open competition for everybody and coaches. The fairness of the competition gave birth to the athletes you saw at the Commonwealth Games. Those who were fit enough to go into camping were those selected.
I sat my technical committee down, told them how I wanted the team to run, they picked those that were good. But unfortunately for us, we had no funds as at that time so we could not sustain the tournament for more athletes to come in. This affected us at the Commonwealth Games as amongst the 11 athletes we went with, two were injured and could not compete while the rest won medals. Moreso, one of the girls who was injured would have won a straight gold as her record was not attempted.
So how did you manage to help keep the athletes from performance enhancing drugs?
We managed to keep the girls intact with discipline so as not to allow any of them to be found in any drug related issue. We stayed in camp as one family as we recognized the fact that the federation has not been able to compete in a major competitions without being banned for performance enhancing drugs in the last sixteen years.
I made sure that every international conference or competition organized by the international body, I attended in other to know the politics of the sports, get information on new developments and intimate with the who is who in the sport. I was fully supported by the sports commission. This enabled me to know those who have been in the sports for years.
How can our sports administrators learn from their international counterparts?
This is a culture that we in Nigeria do not imbibe. When someone is in a position and is doing well, he should be allowed to continue in other for that particular game or sport to grow. I am not saying that when someone is not doing well, he should remain in office. When leadership changes hand in sports administration, it takes time for the person and his/her subordinate to get along so that the particular sport will move forward.
What are the challenges facing the federation?
Our challenge in the mean time is equipment. We have made a submission to the former Minister sport to help us in this aspect so we can have it in all the states of the federation. We do not want a situation where the only place a weightlifter can train is at the national level.
Which kind of achievement you think if you achieve, would make you be satisfied with yourself?
The only thing that I feel would make me completely satisfied and accomplished is when our athletes win a gold medal at the Olympics. Be it any amount, I do not care because that is the dream I have for the sport in the country.