By Japhet Alakam
Princess Tessy Iyase-Odozi is a painter, curator and prime mover of the moving art exhibition who has made name for herself in the art industry both within and outside. She is the CEO of Green House Art Gallery, located in Olambe, Ogun State and one of the few women slugging it out in the male dominated art business.
In this interview, the University of Lagos trained painter speaks on the passion and creativity that have made her stick to art amidst other jobs, the location of her gallery at the outskirts of Lagos, the motivating factor behind her success, her latest project the moving art exhibition that has taken her to three schools in Lagos, among other issues. Excerpt
Tell us about yourself?
I am Princess Tessy Iyase-Odozi, the CEO of GreenHouse Art Gallery (GHAG), a subsidiary of GreenHouse Plaza Limited. I am an art-collector, with many works of art by renowned and promising Nigeria Artists, a Curator, a painter and the prime mover of the Moving Art Exhibition.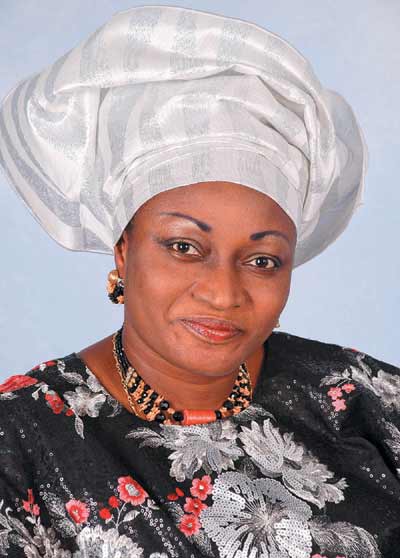 I studied Creative Arts (Painting) at the University of Lagos. I started painting professionally since 1984. I lived for about 10 years in Germany and returned to Nigeria in 2002. I have participated in several group exhibitions, both local and international, had a solo exhibition titled "ARRIVAL" in 2009 at the National Commission for Museums and Monuments, Onikan, Lagos. I have also been involved in several Workshops as facilitator and participant.
Why did you go into art ?
I went into art business simply because I am an artist and my husband who is an art lover and collector encouraged me. As we know, Art is a very jealous profession; you either use it or lose it. As a professional artist, the desire to promote Nigerian art and artists and the strong passion for beautiful things inspired the establishment of the Gallery. For me, art is a calling and not just a business.
The GreenHouse Plaza Limited is made up of 3 divisions: the GreenHouse Art Gallery (GHAG), the GreenHouse Book-Club and the GreenHouse Laundry/Dry cleaning business. The Book Club is essentially a philanthropic endeavour designed to serve the community by promoting the reading culture and enhancing the quality of life among the Olambe people. Our location within the community makes us easily accessible to those we endeavour to serve.
Art Galleries are mostly located in the Lagos Island, why the choice of Olambe in Ogun State, which is the outskirts of Lagos?
That is true. Although our main base is located in Ogun State, it is really part of the Lagos metropolis. We entertain visitors from the city. Besides, we have locations in other states, including Abuja. I should also reiterate that promoting art and Nigerian artists are our over-riding purpose and not just money making. Meanwhile, we are pleased with the impact we have made in creating art awareness.  There is an aphorism that states "to conquer the world, you must first conquer your home". Presently, Olambe is a home and that is my first port-of-call. Olambe has a bright future, it is a place of great promise and we hope to grow with it.
GreenHouse Art Gallery was established in 2009. Since that time, how are you fairing in the business?
In just 18 months the GreenHouse Art Gallery has come a long way and become firmly established. We successfully participated in the 2009 and 2010 International Art Expos, sponsored the solo Art Exhibition by our CEO, titled "ARRIVAL" in 2009 at the National Commission for Museums and Monuments, Onikan and mounted Moving Art Exhibitions in 3 schools namely Peaklane Private school, Caleb International School and Caleb College.
The GreenHouse has become a household name in the Olambe/Akute and Alagbole axis of Ogun State. We collect works of art and promote the individual artists and our stakeholders are impressed with the achievements of the Gallery.
From our experience in Olambe, we have come to realize that Nigerians are beginning to appreciate a0rt. In general, we are encouraged by our achievements so far and know that we are on track to fulfilling our corporate mission and vision.
What was the motive behind GHAG Moving Art Exhibition?
The Moving Art Exhibition is an on-going programme to foster art education and appreciation within our host community by mounting art stands during the schools' special events and occasions.
The series of Moving Art Exhibitions was tagged "ART IN ACTION". In pioneering this medium, we sought to reinforce the relationship between Arts and Sports since they both belong to the field of recreation. Indeed, Sports and Arts complement each other. Thus, while Sports provide the subject matter and a platform for showcasing works of Art, Art is able to capture rare and fleeting moments of sporting feats or disasters in permanent form.
How far did you achieve your aim in that regard? This initiative has certainly benefitted all concerned. Thus, many people were exposed to arts and crafts as well as the world and possibilities of Art while the schools benefitted through the variety, colour and sophistication that showcasing of works of art added to the events as the works displayed were masterpieces in terracotta, paintings in oil and watercolour, metal works, copper foil, etc of some renowned Nigerian Artists, in addition to some limited edition prints rendered in treated paper.
These limited edition prints were designed to make art appreciation and acquisition of quality works of Art affordable by the masses. The parents were in the process enlightened on Arts and the children felt fulfilled in being privileged to associate with renowned artists through an established gallery. Most of the parents and children showed their appreciation and encouraged us to sustain our efforts. We were excited by the opportunities and benefits which this type of collaboration generated and we intend to pursue it with vigour.
What are the challenges of doing art business in such an area?  Nigerian Galleries face numerous challenges, irrespective of their location. These challenges include inadequate government support, poor infrastructure which increases the cost of doing business, lack of dedicated staff, and low patronage by the public, etc.
These constraints are made worse if you are not located in a highbrow or commercial area. However, since we are not driven by the sole desire to make money, we are able to accommodate these challenges. Meanwhile, we are making progress in creating art awareness and appreciation in our local community. Our major challenge is the bad roads which are dotted with huge pot holes and navigating the roads during the rainy season is quite discouraging. We do hope however that the authorities would do something about this long standing problem.
What other plans do you have for the year?
Having achieved a good measure of visibility and respectability in the Nigerian art scene, we are focused on enhancing our institutional capacity. Thus, we intend to initiate the GreenHouse – Art Empowerment centre (GHAEC) which would organise various training programmes in the field of ART, seminars and workshops, including some very technical aspect of crafts.
We would offer training for various self-employment skills in Arts and Crafts. This will also create an opportunity for our skilled/professional Artists, who wish to empower our youths, and adults through mentoring and coaching. We also look forward to collaborating with relevant institutions and other stakeholders to promote art education and appreciation within and outside our neighbourhood.
In the last two editions of Artexpo, GreenHouse Gallery was the only gallery that came with their own brochures apart from the general one, why?
We at the GHAG decided to give complete visibility to the selected artists registered with us, in keeping with one of our main objectives at GHAG which is to promote Nigerian Art and the Artists. Thus, all exhibited works and the artists needed to be properly packaged and documented through a brochure. The general brochure printed by the National Gallery of Arts (NGA) was a commendable effort.
However, it only accommodated 3-5 works of art per gallery.  I should also note that the last NGA brochure contained some "printer's devil" as it gave wrong addresses of some galleries, including ours. Thus, our Gallery's brochure saved the day for us as it contained the right information and served the best interests of our individual artists. We at the GreenHouse Art Gallery are poised to be a pacesetter and good role model in promoting Nigerian Art and Artist.
What is your comment on the state of art appreciation in the country?
For long, Art and Artists in this country have not been truly appreciated by the larger society. This inadequate recognition manifests in poor funding for the sector, low patronage of artists and relatively poor attendance at exhibitions.
However, things are gradually changing through the various activities of key art stakeholders, such as National Gallery of Arts (NGA), Art Galleries Association of Nigeria (AGAN), Society of Nigerian Artists (SNA), Visual Artist Society of Nigeria (VASON), Guild of Professional Fine Artists (GPFA) etc to promote art. Also the on-going efforts of restitution, restoration and reparation in respect of looted Nigerian art works indicate that there is a new realization that works of art are national assets that should be treasured.