By Sam Eyoboka & Olayinka Latona
For unto Ifewara a child is born, unto Nigeria a son is given: and the church government shall be upon his shoulder: and his name shall be called Enoch, Adejare, Adeboye, the Great Evangelist, the Apostle of Humility and One of the 50 Most Influential Individuals in the Universe.
WHEN Enoch Adejare Adeboye was born naked like you and I, in a tiny village called Ifewara on March 2, 1942 there were no comets seen and there are yet no records that certain individuals, either from the East or from the West, approached the Palace of Oba Sir Adesoji Tadeniawo Aderemi, the then Ooni of Ife, who was reputed to be the spiritual father of the Yoruba Nation to pay obeisance for a new king that was born in his kingdom. It was not clear either if the said Enoch Adejare was born in a manger or a pig sty but what is clear by his own account is that he was born without a spoon.
Born to the family of Mr. and Mrs. Moses Adeboye, young Enoch grew up lacking the good things of life. The family was so poor that the poor inhabitants of sleepy agrarian Ifewara dared to call them poor. Indeed, it would shock many to know that the humble man, who today presides over the affairs of the largest African indigenous church, with over six million members, had attended both primary and secondary schools barefooted. He did not also begin formal education until he was about 11 years old, because his parents could not afford it, as they were hit by abject poverty.
According to him, nothing special heralded his birth to suggest that he would become what he is today. In fact, he said, life was brutish to him as a child because he hailed from a family of 10 siblings.
For the first 17 years of his life, Enoch Adeboye who was raised in neighbouring Ilesha, never wore shoes; not because he did not want to, but because the parents couldn't afford one. "Despite our dire condition, my father inculcated the spirit of hardwork in my siblings and me; as such that even as young children, the old man never gave us any breathing space.
He drove us just the same way he drove himself—hard! Consequently, hard work has always been a part of me just as it was the heritage of everyone in the Adeboye family," Pastor Adeboye recalled. "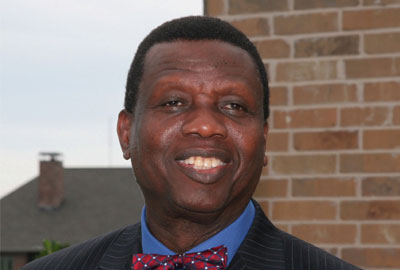 His education was a struggle
The family, however, managed to send the tiny boy to school. His education was a struggle. Adeboye's father was an illiterate farmer who opposed formal education for any of his children because he could not afford the fees. Therefore, for Adeboye, he had to put up a very stubborn disposition to force his father to enroll him in the only missionary school available in their village at that time.
His rebellious act was inspired by an encounter he had with a smart looking African colonial teacher, whose suave appearance in short sleeves suit and shorts, created a burning desire of being educated. It was in pursuance of this ambition that Adeboye decidedly went on a three-day hunger strike to convince his father that he was ready to starve to death if denied enrolment in the missionary school.
Adeboye had to do this because his stern father was unyielding to his mother's pleadings that their son's humble desire to be educated be granted. The old man had stuck to his guns, spitting fire, despite Adeboye mother's tricks to goad him to change his mind. He was to sell his only goat and jewel then, to get few shillings for his son's enrolment in the primary school. Eventually, he got him enrolled with the money he got from the sale of his prized goat. Through the help of God and the unshakeable commitment of his mother, Mrs. Esther Adeboye, he was thus educated even to the tertiary level, graduating at the age of 25 in 1967.
For his primary education, he attended St. Stephen's Anglican Primary School, Ifewara; Ilesha Grammar School, University of Nigeria Nsukka, University of Ife (now Obafemi Awolowo University) and the University of Lagos.
Once in school and apparently the oldest among his classmates, Adeboye displayed an uncommon brilliance and maturity. He learnt fast and led his class. In no time, he was given accelerated promotion. His teacher, who had inspired him, found out that he was specially gifted in mathematics and greatly encouraged him.  Determined to stay in school when his father could no longer sponsor him, Adeboye began to fend for himself. He began doing some odd jobs that fetched him peanuts. One of these was fetching firewood from the bush to sell.
During one of such adventures, he was stung by a swarm of bees. Blood gushed out from his eyes and he ran home abandoning the wood. It took the timely intervention of his mother, who quickly applied local herbs, to prevent him from becoming blind as a result of the attack.  Indeed, the Adeboyes, in Ifewara village, an outskirts of Efon Alaye town, Osun State, knew and lived in abject poverty.
The six of them, father, mother, three girls and a boy, were farmers who often trekked for hours from their mud house to the farm daily. They depended only on the proceeds from the farm for livelihood. It was so tough that there was wild jubilation on a fateful day their father bought a small umbrella during the rainy season. Amid admiration and prying eyes, every member of the family was anxious to touch the 'strange and wonder' thing first.
Adeboye's father was a pagan, although, he later became a member of the Anglican Church in the village. This did not stop him from observing idol practices, as other villagers did. Thus, Adeboye had an upbringing in some kind of Christian doctrines. This must have implanted some Christian virtues in him at adolescence.
He recalled in a movie, entitled: The Covenant Church, which dramatized his biography: "I am from a family of idol worshippers. They were Ogun (Yoruba god of iron) worshippers because they were warriors who led other warriors to war. My father later joined the Anglican Church in our village. This ensured I had some level of Christian upbringing. But it cannot be said that we were really saved then as we were still involved in idol practices." This meant that Adeboye was not yet treading the clerical path destined for him.
What his parents lacked in material wealth, he made up in academic excellence. With an M.Sc in Hydrodynamics and a Ph.D in Applied Mathematics, the soft spoken pastor started his teaching career at Okeigbo Ifetedo Grammar School, where he taught Mathematics and later moved to the Anglican Girls Grammar School, Lagos. He thereafter lectured at University of Ilorin and the University of Lagos. His dream then was to become the youngest vice-chancellor in Africa, but, God had a better plan in the offering for him.
Adeboye's wedding in 1968, at 25, presents another interesting episode. There was no cake, no refreshment nor any meaningful party. Dressing was very humble. He was only a fresh graduate then with a bright future ahead, but it was also a tough time.
Recalling how rough he had it then, Adeboye said: "There were times we lived from hand to mouth. Times were when my wife and I watched each other mischievously for the first person to take the only meat in the soup. If I picked it first or if she did, so be it. The first to pick ate all the meat because it was so small that it was unthinkable to share it."
The young couple also faced caesarean operation by which they had their first two babies. The medical diagnosis was that birth by natural means was impossible because of the formation of his wife's pelvic bones and they were advised against having more children. The couple searched seriously for a solution to this problem. They combed all parts of the country, visited herbalists, spiritualists, and many medical doctors to no avail. It was while seeking solution that led them to the Redeemed Christian Church of God in 1973, headed by the General Superintendent, Pastor Josiah Oluwafemi Akindayomi.
"My wife delivered all our children by caesarean operation and medical practitioners advised us to stop having children. Soon after that our third child, still a baby, became afflicted with a strange disease. Sleepless nights, and days of consulting orthodox and traditional practitioners, and spiritual healers yielded no relief," he recalled.
God works in mysterious ways and that was how his uncle, Rev. Chris Fajemirokun invited Adeboye to the Redeemed Christian Church of God which was then obscure and dominated by old men and women who were mainly illiterates, to seek solution to a particular problem. Adeboye had sought solution to the problem from the academic community, and every imaginable place without success.
The Redeemed Christian Church of God founded in 1952 was led by Rev. Josiah Olufemi Akindayomi as the General Superintendent—a stack illiterate. Naturally, Dr. Adeboye was initially scornful, protesting the rowdy mode of worship, noisy prayers and the derelict environment; but because he needed a miracle he endured. He soon fell in love with the sermon, though he could not understand why a bunch of illiterates were telling him, a senior lecturer at the University of Lagos, to surrender his life to Jesus Christ in order to overcome his woes and afflictions.
It was here, however, that he heard that if one does not change from his sinful ways, the person will end up in hell. With this in mind, when the altar call was made, he wasted no time in giving his life to Jesus. Thus, he became a born-again on July 29, 1973 and two months he was baptized by immersion.
Ordained pastor Sept 14, 1975
He was ordained a pastor on September 14, 1975 alongside four others. Before joining the church, Adeboye was a mathematics lecturer, and worked at the universities of Lagos and Ilorin. After he joined The Redeemed Christian Church Of God he began working to translate the sermons of its then Pastor and founder, Rev. Josiah Olufemi Akindayomi, from Yoruba into English until the man passed on in a London hospital on November 2, 1980.
In 1981, by Divine Providence, Adeboye became the General Overseer of The Redeemed Christian Church of God on January 21, 1981. For three years, he combined his church responsibilities with his academic duties at the University of Ilorin but as a result of the enormity of the responsibility he had to throw in the towel for a full time ministerial work. And so at the age of 38, Pastor Adeboye dropped the chalk to become the leader of the church, a move that has changed the face of Christianity in Nigeria, Africa and the rest of the world but left many elders of the church surprised.
The church, which was not well known before Adeboye took charge, now has branches in over  130 countries, including more than 14,000 parishes in Nigeria. Adeboye has stated that his aim is to put a church within five minutes of every person on Earth.
In 2008, Newsweek magazine named Adeboye one of the 50 most powerful people in the world. He is married to Foluke Adeboye, also a pastor, with whom he has children.
Pastor Adeboye is widely respected for his humility and simplicity among most Pentecostal preachers in Nigeria. He introduced the model parishes in Nigeria and first Friday monthly Holy Ghost services. On December 18, 1998, he birthed the annual Holy Ghost Congress when he took millions of Nigerians to a virgin sandy land in the Lekki area of Lagos for an all night spiritual extravaganza tagged Holy Ghost service  Lekki '98.
Theme of that programme was 'Divine Visitation' with a record attendance of millions of worshippers where millions of people were said to have made a decision to accept Jesus Christ as their Lord that night. From those wooden structures at Ebute Metta in Lagos, The Redeemed Christian Church of God now has over 7,000 parishes in over 120 countries of the world. They are involved in establishing schools, hospitals, rehabilitation centers and other support centres.
Known as the pastor of pastors, Pastor Adeboye, who has transformed an erstwhile forest along the Lagos-Ibadan Expressway to a major city of its own with every infrastructure a town can boast of, married Pastor Foluke in 1968 and they are blessed with four gifted and lovely children namely Deolu, Bolugbe, Dare and Gbemileke and many grandchildren. He was conferred with the Officer of the Order of the Niger (OON).
The National President of the Christian Association of Nigeria, CAN, Pastor Ayo Oritsejafor described the RCCG General Overseer as a colossus that had contributed immensely to development of the country and Christendom in Nigeria. In a telephone interview, Pastor Oritsejafor also used the occasion to extol the virtues of the founder of the Redeemed Christian Church of God, Rev. Akindayomi, who he said was a true man of God because at the time he made his choice of successor he may have offended several persons in the Church.
"You know, people often make the mistake of equating the Church with any other secular business enterprise. When we look back now to when Pastor Adeboye came in as the general overseer and how God had used him to accomplish extraordinary feat in the church, one cannot but agree that Pa Akindayomi was a true man of God who heard the voice of God and obeyed. It is obvious that God commended the founder to pick the young graduate and he obeyed the command and that is why you see what you see today.
"There is this thing that people always fill about succession in the church. They believe that the head must at any time groom somebody that would take over from them. That is good, if you ask me; but people must remember that church is a spiritual thing whose headship is determined by God. Do you know that Jesus Christ never appointed a successor even when He knew that He was going away. Against popular choice of Peter, it was James who emerged as a pastor of the church.
"The founder was definitely a spiritual man and look what God had done with this man. As the president of CAN today, I can tell you that this man had done tremendously works for God and has singularly taken the image of the country to higher level. We celebrate the man. The Church in Nigeria celebrates him and we pray that God will continue to use him for the benefit of the country and the Kingdom of God," Oritsejafor stated, adding that Pastor Adeboye was indeed God's choice for the church.
Spiritual Head of St. Joseph's Chosen Church of God, SJCCG, Apostle Hayford Alile also congratulated Pastor and Pastor (Mrs.) Adeboye, saying "it is just like yesterday you mounted the pulpit as the General Overseer of the Redeemed Christian Church of God, and these three decades have seen the RCCG experience great positive transformation from the struggling multitude to a major voice of evangelism in the propagation of the gospel of our Lord and Saviour, Jesus Christ not only in Nigeria but also the globe.
"My brother, in life you will be remembered for the problems you solve for mankind and the ones you create for Satan. Your positive contributions to the Pentecostal Movement today and the Christian Community as a whole are indelible and speak volume of the grace you enjoy in our Master's calling.
"It is my prayer and belief that the esteemed values and guiding principles that have brought you this far in the ministry of the gospel and also fetched you admirers and proselytes globally will continually be upheld and sustained by you. As you keep in remembrance the solid foundation upon which the RCCG was established, may your shadow never grow less in Jesus Mighty Name," he prayed.
The  LAWNA Territorial Chairman and National Vice President, The Apostolic Church Nigeria, Pastor Gabriel Olutola thanked God for the life of Pastor Adeboye "because when he started 30 years ago, he was very young and people think that as a young man in the ministry he might not be able to perform and naturally looked down on him. But to the glory of God, he has been used mightily by the God who called him to the ministry and he has also achieved a lot to the dismay of people. He started very well and I pray that he will end well in Jesus' name."
Continuing, the TAC helmsman said Adeboye submitted himself to the call and the purpose of his calling has made great changes in Christendom both here in Nigeria and internationally, "my congratulatory message to him is that he should keep the flag flying, not relent in its efforts and I prayed that the Lord will continue to use him more for His glory. There are other important  things that he is still going to embark on in The Redeemed Christian Church of God."
Subscribe for latest Videos