By Sam Eyoboka
PASTOR Joseph Ayodele Oritsejafor, the National President of the Christian Association of Nigeria, CAN, and the Pentecostal Fellowship of Nigeria, PFN, is a preacher, pastor, evangelist and author with a unique anointing of God upon his life.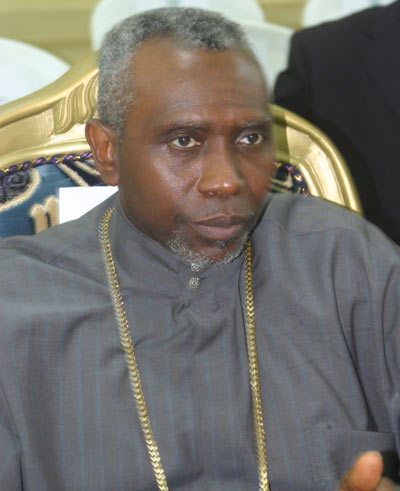 In 1972 he gave his life to Jesus after he was miraculously delivered during a crusade in Sapele, Delta State. Almost immediately, he felt a call of God on his life and enrolled at the New Covenant Bible College, Benin City. He is also a graduate of the Nigeria Baptist Seminary, Ogbomosho, Oyo State and Morris Cerullo's School of Ministry, San Diego, California, USA.
While in Bible College, he had visions of himself preaching to countless thousands of people with great power and authority, and heard the Lord say: 'I will give you what to say at the right time?' Today, his anointed messages have brought salvation, deliverance, revival, healing and outstanding miracles to countless thousands across the world as God's power is demonstrated with signs and wonders accompanying his ministrations.
The story of the man recently described by Pastor Enoch Adeboye as, the Number One Christian in Nigeria, is intriguing as it is inspiring.
Excerpts…
Growing up
I am from a responsible home but unfortunately I didn't know my father as such, because I was very young when he gave up the ghost at the age 35—but the family is responsible and everything was okay. Growing up was very rough for me. But one thing I would love to be highlighted is children growing up without a father figure. I think it is a serious issue, because I remember my mother remarried and had to move out of Nigeria with her new husband and I hadn't a place to call my home.
I was going from one uncle's house to another uncle's house. Some of the relations making gari with lukewarm water and all kinds of things I experienced. It was like I was training myself; that is not to suggest that I was paying school fees instead I should say I was just surviving, any way I could just survive. In fact, there were times when I didn't know how long I was going to stay in a particular house; so my little belongings were always ready because the
next morning they could just say; 'get into the car, you are moving.' I wouldn't know where I was being taken to next until they would say to me, 'this is your uncle so and so or this is your auntie so and so…you are here now.' Growing up like that was not a good life for me because that exposed me to a lifestyle that was not good. But, you know I just had to survive. So, I mixed with the wrong crowd, got into drugs, alcohol and ran around with the wrong crowd doing all kinds of things at that time. That was the lifestyle I got into here in Lagos.
The Turning Point
I was walking down the Marina in Lagos one day…I think I was praying; sincerely I really didn't know what I was doing…but I overheard myself saying aloud 'God, change my life; just do something.' That lasted for a few minutes and I was back to my usual self, but I think that petition registered in heaven, because a few months later I was bundled again to Sapele. So, I got back home. One day I went out to buy Indian Hemp somewhere when somebody gave me a handout inviting me for a crusade in the town.
I thought he was out of his mind; how can you invite somebody like me to a Christian crusade? I felt he must be crazy because I used to wear a very dark sunglass at night because my eyes were not good to look at. When people look at my blood red eyes, they are afraid. So, I removed the glasses and I expected the young man to be afraid and run away, but he just looked in to my eyes and smiled. Before then, I never saw anybody with such courage and
some how I read the handout but I threw the handbill away shortly because I was thoroughly drunk. But somehow I didn't forget the date of the crusade.
I wouldn't be able to tell you how it happened but I found myself at the venue of the crusade. I used to take all kinds of drugs that time. There were no cocaine, heroin but we took tablets, Indian Hemp and others like that. I had all that stuff in my pocket when we got to the crusade ground, but when the altar call was made I got up and my friend who was with me held me, to prevent my decision, saying boldly to me that I couldn't have appreciated what I was going into.
But I taught him everything he knew about drugs, so how on earth could he be educating me on what to do. 'There is nothing you can say to me that I did not teach you. If you want to stay, you can, but I am going.' So, I took the step and gave my life to Christ that day and at the end of the service I brought out all the drugs from my pocket. Nobody told me to do that. I did it myself and the next day I bought a Bible and everybody who knew me was surprised because it is
unbelievable. Some said it could not be true. It is not possible, they argued, because they could not comprehend how somebody could transform like that.
The Beginning of the Dream
There is a part of my story that preceded all that that you must hear to be able to appreciate where I am coming from. For the first five years of my life I could not speak. Doctors said nothing was wrong with me. I just cry and make some inaudible noise when I was hungry but just couldn't speak. After my fifth birthday, I just began to talk. I didn't go through the normal process of learning how to talk.
My mum forgot to tell me the story of how it all started, until the day I walked in to tell her I was going abroad on a preaching engagement and she broke down and started crying. The reason she was crying was because; she was now saying to herself how she had forgotten the real beginning of the real story. Like Anna in the Bible, my mum had made a vow to God that if she was given a male child she would dedicate him to Him; but she forgot that pledge until I came to her to say I was going abroad on evangelical mission. She broke down in tears and
that was when she remembered the real story of how it all started.
Lesson from the Experience
One thing I must highlight is that many of these young men, it affects women too, that look tough and talk tough are not really tough. Deep down, you will discover that it is a function of how they grew up. Most of them grew up with their father and mother at home. When you like at our society today, you discover that many parents just bring forth children without actually taking responsibility for their upbringing.
They don't really care. These children feed themselves. They grow up on their own. There are parents you would ask about the whereabouts of their children and you will be shocked to discover that they don't know. Some parents don't know when their children wake up in the morning; they don't know when they go to bed at night. Such a child is supposed to be living with his/her parents. A lot of these young men you see that are hardened, are merely responding to what I will call reverse psychology. They are actually looking for
attention. They are protesting and seeking for somebody who will recognize that they are there and deserve the good things of life. If you take a look at the militants who surrended their ammunitions, they were saying that they wanted so and so to be there before I can come up to give up my arms. When you really look at it, you will find out that, apart from the fact that they were agitating for the emancipation of the Niger Delta, there are certain people they want to tell that they were there.
I am telling you that many of them are as productive and if more productive than many people we see in our society today, if only we commit ourselves to preparing them for leadership roles in future. My heart goes out to them. Yes it is true, you grew up without love; that happened or this happened but at the end of the day it is still your life and you have to take responsibility for your life. You cannot spend your whole life making excuses. You cannot spend
your whole life blaming everybody else…when will you take the bull by the horn and make a decision to carve a niche for yourself? I think that time must come when young people must make decision for themselves because, whether you like it or not, if you don't, life will make decision for you.
And you will end up where you never imagine to end up. I pray that what I am saying now will be appreciated by people who are going the valley that some of us went through. Some of these things are real and are happening. I have my own experience. I have not forgotten an uncle's wife who was always giving her children good food but reserving the spoilt gari often made from cold water for me.
I will also use this occasion to caution parents, uncles, aunties and adult generally to be careful how they deal with children. God will hold you responsible. If nobody else does, God will. If you don't deal with the young ones with caution, you may end up painting a wrong impression in the mind of the young person that this is life; that this is what love is. Then, also what you may not know is that that child may turn out to be somebody in life you never thought he could be. If Portipher's wife had realized that Joseph was going to become a prime minister in the land of Egypt, she probably would not have done what she did. Could you imagine if Joseph was not a God-fearing young man, what would have happened thereafter.
Humanitarian work
Pastor Oritsejafor's humanitarian disposition which is predicated on his past experience led to his giving full scholarships to over hundreds of indigent students in different parts of the country to study in Nigerian universities, polytechnics and colleges of education for four years. He does not even have the record of the number of persons who have benefited from his scholarship scheme which has become an every year event.
Up till date he has given out over 500 motorcycles, 1,000 grinding machines, 1,000 sewing machines, 100 tricycles and five brand new cars to be used as taxis in Warri, his home base, as part of his poverty alleviation programme.
As part of his social responsibility to his local community, he has single-handedly donated several water boreholes to various secondary and primary schools across Delta State including two water boreholes, a new generator to the Warri Prisons, and also refurbished the Warri Prison 911 Green Maria Vehicle for the conveyance of prison inmates to courts. He had also commissioned water projects at different markets in Warri including the Igbudu Market for the use of traders and their customers who had been without water for several years.