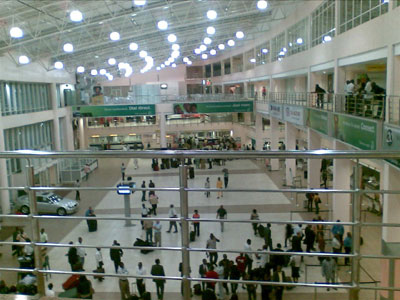 EVEN the blind would  know all is not well with most airports across the country.  The reason for this is not far fetched. Infrastructural  decay due to lack of maintenance of facilities.
From every indication, it does seem as though the agency in charge of our airports is either helpless or handicap as decay slide from bad to terrible. Obervers are of the view  there is  no reason for the agency to allow the situation to get so bad before facilities are fixed.  But the question that begs fro answer is: How did we get to this sorry path? Charles KUMOLU reports.
THE building looks modest, without the supposed glitter of a structure of its status.. Upon entering the down floor of this thirty-year old structure, people are seen queuing and randomly scattered within this boxlike hall. At various corners of the of  the hall are used  recharge cards.
Out of every ten people who come to the various counters, two leave unhappy. The cause of their anger is not in doubt. This reporter sat on an iron seat that could barely take 10 people, a visibly sad man came out of a door on the right and was mumbing to himself. As he sat dejectedly beside this reporter, he decided to open up a conversation. He was a traveller and had just made use of the airport convenience.
"Inside that convenience is rubbish. How can the management operate a place like this? Can you imagine what that place looks like?," he asked as he fired these questions. This reporter provided no answers but made way to the 'offending'convenience. Indeed , it was an unsightly place to do'business'.  Yet, there were two ladies  at the door way asking everyone who walked if  they need  toilet paper on one hand while they asked for tips on the other.
This was the scenario at the local terminal of Murtala Mohammed Airport,MMA1. Lately, Nigerians have had to contend with sad stories about the state of airports across the country.
For instance, in May this year; there was power outage at Nigeria's premier Airport, the Murtala Muhammed International Airport for three hours. Air travel was completely brought to a halt for this period.
That incident however, corroborated the position of many that the Murtala Muhammed International Airport and others across the country have failed. VanguardFeatures,VF investigation, revealed that MMA is overcrowded and poorly managed, while some across the country may not be said to be overcrowded, age and a lack of maintenance are now tell signs of decay.
Apart from physical infrastructures, it was gathered that equipments like fire tenders across the country are as old as  twenty five to thirty years.
This situation, put the fire fighters  under undue stress and risks to their personal lives, as the fire tenders are being used against international best practices.
Same  sad story can also be  told of the absence of Airfield Lighting System which makes it impossible for planes to take off and land at night at the local wing of MM1. Following this, planes usually taxi down to the International wing for night operations, thereby resulting to waste of aviation fuel.
Beyond these, VF checks revealed that there are visible problems like  poor maintenance culture, maladministration, inconsistencies in government policies, poor funding of the industry and the dearth of professionals among others.
Given that this infrastructural collapse is happening in the face of Federal Airports Authority,FAAN, which is saddled with the responsibility of maintaining the airports, has raised a lot of questions on the agency's ability to carry out its statutory functions.
Little wonder VF can authoritatively reveal that not a few, see the situation at the airports as an indication that FAAN is yet to justify past and present allocations it had received.
"This situation, shows that the airports are not being maintained. We are battling with a  case of total neglect because some of these maintenance needed are not capital intensive, what does it cost to even have regular water and power supply, lets be honest to ourselves," an aviation expert Engr. Emma Afubero said.
But Mr. Benjamin Okewu, of Air Transport Services Senior Staff Association of Nigeria (ATSSSAN), would not accept that.
He is ready to tell anyone, who cares to listen that FAAN is cash starved. As far as Okewo is concerned, the agency can do better, if the need finances are made available.
"When you don't send maintenance allocation to the airport mangers, what would they use to maintain the airports," he asked, adding that " airport managers know that airports are sensible places and as such needs constant maintenance. But they are handicapped in terms of maintenance funds. So it leaves them with no alternative. They are always ready to maintain the airports, but they can't do otherwise in the face of little or no cash."
For him, the noise about FAAN's alleged ineptitude, would not have come up if most airports were viable.
"There are about five viable airports in Nigeria and it is the money generated from these airports that is used to maintain others across the country. We use money generated from viable ones, to service non viable ones,"Okewo argued.
Okewo's argument implies the agency appears to maintain the airport mainly from what it generates
For instance, records have it that with an average annual revenue of N25billion from FAAN requires more than the amount to service personnel and overhead costs, including the maintenance of physical assets and facilities such as tarmac, landside, and terminal buildings.
Same report also indicated federal allocation  for capital projects, can barely take care of the increasing financial challenge FAAN would require over N3billion to facelift a runway of about 3,000metres.
VF also reliably gathered that the agency pays an average of N45m monthly on electricity bill on Lagos airport, just as it spends an average of N17.4m monthly on diesel and petrol.
To some extent, this seems to present the dilemma of FAAN, yet it is still believed that alleged meager resources from the  Federal government, should not justify the mess that airports in Nigeria have become.
And President of Airlines Operators of Nigeria, AON, Dr. Mahouhu shares the view of those, who argue that infrastructural collapse in the airports should not be seen as a product of alleged absence of federal grants.
Sounding passionately, Mahonwu asked, "What have they done with the ones that were given to them. They should explain to Nigerians what they did with what they receive fromFederal government"
Continuing, he said, " I am not holding brief for government, but we want to know. My younger brother is there as a managing director, that does not mean that I will not speak the truth. Let them tell us how the ones they receive are being managed and redistribute."
Beyond the issue of funds, further checks by VF  revealed  that non viability of most airports contribute to the infrastructural decay we have today.
"We have few viable airports but that does not mean that others can not be viable. It is just that they have not been able to develop in a way that non aeronautical revenue, outweighs the aeronautical revenue. Presently what we have on ground is a situation where all the revenue generated are all from aeronautical revenue" Okewu noted.
While Okewu's position appears to be the stand of many in the industry, investigations revealed that public  opinion is  not in support of construction of more airports in the face of unviable ones. This is hinged on the believe that it amounts to waste of funds.
Interestingly, Senate President, David Mark, recently dismissed airports in the country as embarrassing, saying that the state of the airports could hamper the realisation of Vision 20:2020.
Senator Mark, made this remark at  the end of a debate on the report of the investigative hearing on the power outage at the international wing of Murtala Muhammed International Airport, Lagos, on Sunday,  May 9, 2010, submitted by the Senate Committee on Aviation.
Mark said: "All our airports are major source of embarrassment. Even the Nnamdi Azikiwe Airport is becoming an embarrassment. I was in South Africa for the World Cup and none of our airports here is up to the standard of what I saw there. I do not know whether those who run our airports travel.
In addition he said, "Something seriously needs to be done about the state of our airports if we need to develop as a nation. We talk about 20:2020, but these are the variables that can make that possible.
"The environment at the airports is dirty, everything is wrong with our airports, it is either the conveyor belts are not working, or the lift not working or even the air conditioning not working. We need to really improve."
Overhaul FAAN
Chairman of the Committee, Senator Ayim Udeh, while presenting the report to the Senate, attributed the power failure at the Murtala Muhammed Airport, Lagos, to obsolete equipment and poor management of airport facilities by the Federal Airport Authority of Nigeria, FAAN.
He said "the main reason for the outage was  insulation failure of the short-circuiting. This short-circuiting was as a result of the degradation of the cable insulating medium. The cables had witnessed natural ageing, bearing in mind that the installations were more than 32 years old."
The report also accused the management of FAAN of gross corruption and mismanagement of funds and recommended to the Federal Government that it should be overhauled.
It also traced the failure of FAAN to properly manage airport facilities to the N17. 9 billion owed it by government agencies. and concessionaries companies.
The report reads, "The total debt owed to FAAN has risen to N17, 939, 543, 233. Maevis Limited one of the concessionaires failed to collect a total debt of N4, 579, 404, 567 owed by other concessionaires. Bi-Courtney Air Services Limited, owed it a total sum of N1, 002, 124, 883."
Senators in their in contributions to the debate attested to the decaying infrastructures in Nigerian airports, which they said posed serious threat to the growth of the economy.
Senator Victor Ndoma-Egba, PDP, Cross River in his contribution bemoaned the poor states of Nigerian airports, noting that there must be a comprehensive government policy to address the problems in the aviation sector.
"The outage in one airport speaks of negligence, decay and corruption in all our airports. It is only in Nigeria that our airports have remained the same since they have been built. Murtala Muhammed Airport was built 35 years ago with two conveyor belts, nothing has changed."
The Deputy Senate President, Senator Ike Ekweremadu who also decried the poor states of airports in the country, said the singular power failure in Lagos Airport is a reflection of the general power problem in the country, which must be tackled headlong.
"This is another time for us to reflect on the power problems in our country. If we have sufficient energy supply in our country, I do not think what happened would have happened. We need to do whatever it takes to increase the power supply in our country," he stressed.
The Senate at the end of deliberation on the report recommended that "The Federal Government should carry out a total overhaul of the management of FAAN in order to deal with the corruption and incompetence in the operational system of the organisation.
"That FAAN should dispense with the services of Maevis Limited since it was unable to add value to its revenue."