By Dapo Akinrefon & Gab Ejuwa
CHIEF Great Ovadje Ogboru contested the April 14, 2007 gubernatorial elections in Delta State on the platform of the Democratic Peoples Party, DPP. In this interview, he said among others that the 2007 governorship elections in Delta State was fraught with irregularities.
He also maintained that Dr. Emmanuel Uduaghan was never governor of the state owing to the nullification of the 2007 polls.  Excerpts:
How do you see the Court of Appeal verdict nullifying th election of Dr. Emmanuel Uduaghan as Delta State governor?
It has been a very hard fought battle. We fought against one of the most powerful governments in sub-Saharan Africa, if not in Africa for that matter.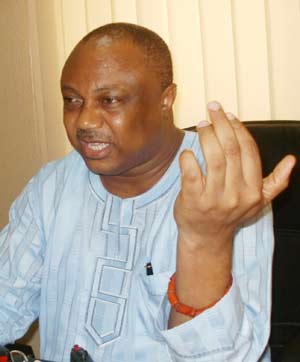 Our opponents happened to come from the school of do-or-die politics, using any means necessary, legal and illegal to vanquish their opponents. With that type of background, you can see that in a way, it is poetic justice and we are very happy.
I believe that all Deltans, irrespective of which party they belong to, are also happy because justice, at last, has come.
What was your experience like during the long legal battle?
As a candidate and as a person, I felt robbed, but my personal loss is nothing compared to the injustice and fraud that were perpetuated against our people, our nation. The experience can be equated as crime against humanity; especially against the backdrop of the 2007 elections and the huge atrocities that went with it.
When you take the right of the people to decide who to govern them, you take away from them the essence of their living. That's why I'm saying it is a crime against humanity. For me, it is a more painful thing from a societal perspective than a personal hurt and injustice that I experienced.
Why didn't you plead to be declared the winner of the 2007 elections?
I could not have pleaded to be declared the winner in an election when there was no election. If there were elections and I felt I won the lawful votes cast, I would have asked to be declared the winner of the elections.
But where elections did not take place, it would have been impossible for me to say 'swear me in.' On what basis is that? You can only be sworn in as governor of a state through an election. Unfortunately, the likes of Emmanuel Uduaghan became governor without an election, which is rather sad.
Now that the Court of Appeal has ordered for a rerun within 90 days, is there a possibility of you going into alliance with the Action Congress of Nigeria, ACN?
We will seek support of all Nigerians and all interest groups that have a stake, one way or the other, in Delta. So, if the ACN happens to have a stake in Delta State, we would seek their support. I don't think there is anything wrong with that.
It has been a trend that whenever a rerun is called, the PDP usually emerges winner, how prepared are you for the rerun?
If it is as we have been told that there will be one man, one vote, then I can tell you that we are more than prepared, even if we are to conduct the elections now. Because the people of Delta State know that there is a new order and they have vested in me their confidence to come and govern them.
The (James) Ibori-led PDP at that time realised that in the contest, they had no stand and so they made sure that there was no election in Delta State, they contrived the result, declared themselves winner of that election and of course, used all illegitimate means to make people believe that Uduaghan was governor.
People like us have always said that he (Uduaghan) was not a governor, had never been a governor because he didn't win an election.
In 2003, you had a lot of support but immediately after the elections, you were no longer seen in the political scene. Now that you are contesting how do you intend to convince the people to vote for you?
People are still jubilating, as a we speak now, in Delta State. That is to tell you that the popularity of Uduaghan is zero. In an election, Uduaghan knows that he would not get 10 per cent of the votes of the people of Delta State. Unfortunately for him, the opportunity he had with a stolen mandate to endear himself to the people, he just could not do that, if not, we would have had a task before us.
At this point in time, I am telling you that the people of Delta State have spoken, Uduaghan cannot be governor of Delta State in any shape to come. No matter how contrived the elections will be, he will not be governor. He has left office and he won't get back there again.
What are your expectations from the Prof Attahiru Jega-led Independent National Electoral Commission, INEC in the rerun polls as we are still likely to use the old voters' register?
It will be difficult to use the old voters' register because of the number of persons that have become of adult age or voting age between 2007 and today. To use the old register will be to disenfranchise them, whereas the incoming government will be a government that will affect their lives. So, they will not accept to be disenfranchised, to that extent, there will be a new voters' register for that rerun elections.
Do you think your candidacy will be in line with the equation of zoning in the state?
Zoning in Delta State has become a means to disable competent and better candidates.
There was no issue of zoning the governorship until 2007 when Ibori was looking for a hireling to cover his bad track and so, he came up with this idea that the governorship has to be zoned.
There was never any meeting in which the people of Delta State said they wanted to zone or share power among the senatorial districts, there were never such meetings at all.
But Ibori imposed it on the state. I actually see the Delta people as been one because of our shared paths. We are more homogenous than any other state in spite of the fact that we have different languages.
The people of Delta State have been united by the pidgin English they speak, so we see ourselves more as one and we look at the more competent persons among us to be able to lead.
Even if you were to zone and you come with a candidate that the people consider inferior, people will vote against him. What I'm trying to say is that the zoning thing will work only as far as we can have credible candidates who are better.
What is your relationship with foremost Ijaw leader, Chief E.K Clark?
He is our father, he is our political leader in the state. Don't forget, he was among those who made my candidacy in 2007 a consensus candidacy in Delta State and even as we speak, I believe we have good understanding as to the issues and interest of Delta State.
What are the things you will be doing that will be different from what Uduaghan did?
Look at where we came from and look at where we are. Our value systems were those that encouraged hard work, integrity and honesty but today, where are we in Delta State? There are some value systems that must change and those are the things we need to address first before talking about development.
How do you view comments that you might decamp to the PDP, if elected?
We will like to have a good working relationship with all political parties including the PDP, but to as to jumping ship, I see it as political exigencies that time only can decide.
At this point in time, we are very content with going with the Democratic Peoples Party, which is our party, strengthening that platform and using it for elections now and in the future.
Hopefully with a good ideology and good philosophy, we can have more people come in there. In fact, we can convince the PDP to come into the DPP. I don't see anything wrong with that.
But the leader of your party is aspiring to become president on the platform of the ACN, Will that not affect the fortunes of the party?
I think part of the problem is that there are so many political parties. If we have two or three parties, things would have been better managed. People are cross carpeting because the platforms are too many; we need to have three or maximum of four political parties and then use those parties as ideological formations.
What is your message to  the people of Delta State as they prepare for the rerun polls?
I want to use this opportunity first to congratulate the people of Delta State for their massive support all these years, for their show of solidarity, for the pains and perseverance which they had to undergo all these years because they believed in what we are doing.
I dedicate this victory to them, it is their victory, it is not mine. We also need to thank the judiciary for their objectivity.