By Laja THOMAS
Recent indications appear to suggest that all is not well with the National Poverty Eradication Programme (NAPEP) established in year 2000 by former President Olusegun Obasanjo. The agency under Dr. Magnus Kpakol is believed to be crumbling because it has been turned into a house of insidious intrigues and infighting.
Speaking on when NAPEP got it all wrong, a civil servant in one of the Federal ministries based in Lagos, who simply identified himself as Joseph said: "The idea behind the setting up of NAPEP is laudable, but you know that in Nigeria, the issue of bad leadership often destroys our policies.
NAPEP as is presently constituted  has been turned into a personal estate. The NAPEP officials operate as if they are tin gods, dispensing favours to their cronies and proxies. Look at the case of KEKE NAPEP, the tricycles are sold at higher prices against government approved rates by the NAPEP officials to allocate them to politicians who in turn sell them to the general public. One thinks that NAPEP needs to be reorganised and restructured to allow for efficiency and effectiveness".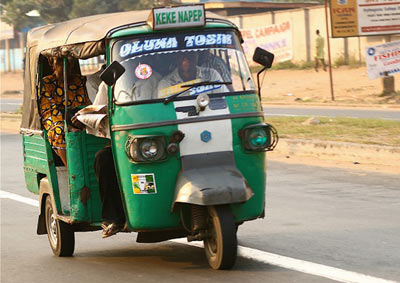 In the same vein, an operator of the KEKE NAPEP in Lagos, Mr. Eugene Adeola says NAPEP has bastardized the KEKE NAPEP programme by sidelining the real operators of the scheme and dealing with middlemen whose motive is to make abnormal profits. Moreover, these middlemen hoard the tricycles and later sell at abnormal rates while NAPEP which is supposed to monitor such sales keep mum.
"Also, there is a conflict of interest as Keke Owners and Riders Association of Nigeria (KORAN) seems to have usurped the powers of government approved contractors in the supply of the tricycles. We now have Keke NAPEP painted in national colours and the ones painted all green; we are now at a loss and confused on which one is the authorised KEKE NAPEP. KORAN which is supposed to be an umbrella body is presently fractionalized. All these have rubbished the NAPEP programme and made it look like a fruitless venture. To show that all is not well with NAPEP, the Senate committee on National Planning, Economic Affairs and Poverty Alleviation, after being flooded with petitions on the activities of NAPEP investigated the agency and found it wanting in the discharge of its responsibilies. The Senate Committee headed by Zaynab A. Kure in February scrutinised all the programmes embarked upon by NAPEP in the fight against poverty from 2001 to 2009. It also looked into how funds appropriated or given to NAPEP to execute
such programme were managed amongst others.
According to the Senate report which is still not released, but made available to Vanguard Metro, the Senate committee noted there was breach of Memorandum of Understanding (MOU) and operational guidelines by NAPEP and some micro finance banks. It added: "Every NAPEP programme has guidelines on how it is to be run. However, findings reveal that in most cases, these terms and conditions and operational guidelines were fraudulently circumvented".
The committee noted further cases of abuse of office by NAPEP officials diversion of funds to beneficiaries patronagesm, etc. Also the committee was particularly piqued by lack of proper monitoring by NAPEP, adding from the investigations it was established that despite the sum of N1.850 billion only provided between 2008 on monitoring and evaluation, this aspect of the programme was very weak and ineffective.
Most of the anomalies identified in various states of the federation were as a result of the nonchalant attitude of the monitoring unit of NAPEP at the national and state levels. In the same report, the committee noted that NAPEP in their submissions to the committee provided fake names and unverifiable addresses.
These anomalies are most noticeable in the Capacity Acquisition Programme (CAP) and mandatory Attachment Programme (MAP). The Senate committee indictment was more damning in terms of NAPEP funds management and it wrote on paragraphs 6.10 of its report "the committee established that relationships between NAPEP and Intercontinental Bank Plc and Oceanic International Bank Plc were skewed in favour of the banks.
It also noted that the funds for Village Economic Development Solution (VEDS) and COPE programmes0- N5 billion and N2.265 billion respectively were managed to the disadvantage of NAPEP and poor Nigerians".