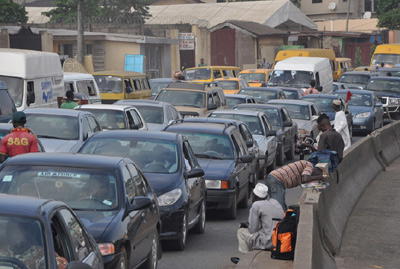 By Bose Adebayo
The gridlock lasted for several hours, with the traffic stretching from Oshodi Under bridge to Ilezik on the ever-busy Lagos-Abeokuta expressway.
That was around 5.30 in the evening when workers have closed from their various places of work. Consequently many stranded  commuters were seen moving from one bus-stop to the other in search of commercial vehicles to take them to their respective  destinations.
But it was a search that proved fruitless and they had no choice but to trek  as far as Sogunle to board a train to Ijoko-Otta at a fare of N120. Those who missed the train  were left to trek several kilometres.
Although many motorists were willing to assist some stranded commuters, but the presence of some uniformed security and traffic officials in strategic places obviously discouraged them from stopping and offering these individuals a lift.
This aptly captures the ordeal that commuters and motorists go through everyday on the Lagos-Abeokuta expressway. Unfortunately the situation is worsened by reason of the fact that alternative routes in Lagos are no better, especially with respect to the condition of the roads.
For instance, the long stretch of roads from Oshodi to Iyana Ipaja are very bad and have over time become a nightmare to both commuters and motorists who have continued to lament over this everyday.
From Mangoro to Ile-Epo, the adjourning streets to the expressway are completely inaccessible as residents are having a hard time moving from one point to the other due to the deplorable state of the roads.
The roads which are still begging for attention are marked by crater-like potholes particularly at the various bus-stops. The situation has been blamed for the frequency at which many office workers now arrive late to their offices. Most affected are those who live Sango-Ota.
It is said that even though many of them leave home as early as 5.15am, they usually find it difficult getting to Ikeja-Along or Oshodi early enough to meet up with their official appointments due to the traffic jam which usually stretches from Toll gate to Kollington Bus-stop.
Some weeks ago, some remedial works were carried out at Ladipo Bus-stop. But the expected positive effect is yet to be felt on the road as it still remains under the grip of gridlock daily. Also, the arrival of some engineers at the Iyana-Ipaja Bus-stop has instead of bringing relief  increased the agony of commuters and other road users.
Some commuters who spoke to Vanguard Metro said the gridlock usually starts from Dalemo to Amje bus-stops and continues from Abule-Egba to Iyana-Ipaja, Dopemu Under-bridge to Ikeja and finally from Alasia to Oshodi Under-bridge.
While some people believe the contractors who rehabilitated the road about four years ago did a shoddy job, others said the potholes on the road were the handiwork of some road hawkers who sell confectionaries, handkerchiefs, bottled drinks, water and so on.
The idea, it was alleged is to deliberately slow down the traffic so that the hawkers will be able to sell their wares to those trapped in the traffic jam.
Vanguard Metro saw a large army of these hawkers on the expressway a couple of days back and did not fail to notice the chaos their  presence engendered on the road as motorists were forced to maneuver dangerously while trying  to avoid hitting them. VM learnt accidents had in fact resulted in some cases on account of the excesses of these hawkers.
As at now, fares have increased beyond measures as a trip from Oshodi to Sango-Otta now attracts between N250 and N350 depending on the size of the vehicles, especially at the peak periods.
At Iyana-Dopemu and Ladipo, the gridlock is usually caused by unlawful driving by some motorists who navigate from the expressway to Dopemu and the Government Reserved Area.
That at Iyana-Ipaja is caused by indiscriminate parking by commercial drivers who stop to pick or drop passengers as members of the Lagos State Traffic and Management Authority, LASTMA, usually abandon their duty posts at this bus-stop once it is 6pm.
At some of these bus-stops, Vanguard Metro investigations revealed that commercial drivers are allowed to park indiscriminately due to the fact that some of them pay daily toll to some LASTMA officials at these bus-stops.
Some motorists who spoke with this reporter  blamed both the Federal and the Lagos State governments for their plight. Many of them said the gridlock subsided some months ago when LASTMA officials took it upon themselves to control the traffic at Iyana-Ipaja. "This road is a nightmare; only God knows when things will get better.
I regret packing to this area; I would not have moved in with my husband if I knew how bad this road is," said Mrs. Ngozi Badmus.
"There are no alternative routes in Lagos, all the roads are bad. Unfortunately the Lagos State government is not constructing new roads. I wonder what Fashola is doing that some people are  hailing him and calling him Action Governor when most roads in Lagos  are in a deplorable state, with traffic jams everywhere everyday.
Imagine how long it takes one to get home everyday with all the suffering,"  lamented one Lamidi Jayeola.