By Daniel Idonor & Emma Ovuakporie
ABUJA — AS incumbent Head of Service of the Federation, HOS, Mr. Steve Oronsaye, bows out today after attaining the retirement age of 60 years. President Goodluck Jonathan has approved the appointment of a Professor of Chemistry, Oladapo Afolabi, as a successor.
The new appointee, was until his appointment, the permanent secretary of the Ministry of Education.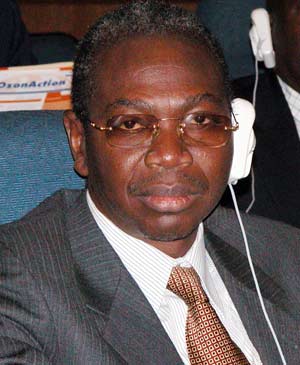 A statement by Mr. Ima Niboro, Special Adviser to the President (Media and Publicity) said "President Goodluck Ebele Jonathan has appointed Professor Oladapo Afolabi as the new head of the Civil Service of the Federation".
According to the statement, "Professor Afolabi takes over from Mr.  Steve Oronsaye, whose tenure expires tomorrow (today)".
The statement said, "the new head of service is a professor of applied chemistry, and was until his appointment, the permanent secretary of the Ministry of Education. He will be sworn in on Thursday".
"The President thanked Oronsaye, the out-going head of service, for his stewardship, and wished him good luck in his future endeavours".
Prof. Afolabi, new HOS
PROFESSOR
OLADAPO Afolabi, who obtained his Ph.D in Applied Chemistry in 1981, began his public service career as a Graduate Assistant in the Department of Biochemistry before transferring to the Department of Chemistry, Obafemi Awolowo University, Ile-Ife.
He also worked at the University of Zimbabwe and Ladoke Akintola University (then Oyo State University of Technology), Ogbomoso.
He was also the Permanent Secretary, Cabinet Secretariat in the Office of the Secretary to the Government of the Federation, OSGF.
He joined the defunct Federal Environmental Protection Agency, FEPA, in June 1991 and was absorbed as one the pioneer staff of the Federal Ministry of Environment in 1995. He was appointed Permanent Secretary in October 2006 and has served in the Federal Ministries of Labour and Agriculture and Water Resources.
He is a member of several professional Societies including Biochemical Society, UK, Biochemical Society, Nigeria, Nigerian Chemical Society, Science Association of Nigeria, New York Academy, Nigerian Institute of Food Science and Technology, Nigerian Institute of Public Analysts.
He has also served on many Board/Councils including Chairman, Board of National Social Insurance Trust Fund, Member, Board of Michael Imoudu Institute for Labour Studies- Ex-Officio, Member, Board of National Directorate of Employment – Ex-Officio, Member, Board of National Productivity Centre – ex-Officio, Member, Institute for Tropical Agriculture, Member, Nigerian Agricultural Cooperative and Rural Development Bank, NACRB, Ltd and Member, Board of Salaries and Wages Commission.