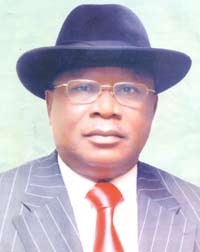 By Charles Kumolu
Dr Itekina Abel-Tariah is gunning for the governorship of Rivers State come 2011 on the platform of the Action Congress of Nigeria, ACN.  He spoke to journalists recently on his ambition, Rivers politics and other issues. Excerpts:
What informed your aspiration to rule Rivers State?
Mine is a divine injunction. It is true that governments have come and gone. It is true that many have ruled the state and left. But the underdevelopment of the state still remains with us.
We have sat on the fence all these while, criticizing and complaining about the way things were done. Now, I think it's time for those of us who have always sat on the fence to come and help develop the state and ensure that the proper things are done.
We owe it as a duty to the Rivers people to ensure that they are liberated from bad governance.
Running on the platform of the ACN, do you think you have what it takes to oust the incumbent governor?
The party is only but a platform. The personality of the candidate is far more important and critical. People are tired of this one_party system that has pervaded the state and the country. Any alternative will do as long as the personality has integrity and sincerity of purpose to deliver.
On your other question, a sitting governor, who has no platform to contest an election is going nowhere. A sitting governor who has the credentials of Governor Rotimi Amaechi cannot compete with someone like me. He may be the governor now, but outside Government House, he is no match for me in any aspect of life.
Could you react to comments that Asari Dokubo is sponsoring you?
Asari Dokubo cannot sponsor me. He doesn't have that kind of money. That he is sponsoring me is a blatant lie. He may come from the same place with me; he may have some sympathy for me, but that doesn't mean he can sponsor me. After all he has more sympathy for Sekibo than me and he said it on air, as well as in the print media that he is sponsoring no one.
How would you assess the Governor Amaechi_led administration after three years in power?
To be candid, Rotimi Amaechi meant well for the state. He wanted to write his name in gold. People fell in love with him for a very long time. But I tell you – his policies, even when well articulated are badly executed. His mode of policy implementation is flawed.
Therefore, his projects do not deliver on targets as they are meant to. His projects are most times white elephant and are abandoned due to bad policies. It is only the school building that has some quality. Besides that, I don't see anything else he has been able to achieve.
For the period he has been there and the amount of money he has spent, obviously, he has performed very poorly.
Could you compare Amaechi with former Governor Peter Odili in terms of performance?
I wouldn't say that Amaechi has obviously done better than Odili. But the point there is relativity between what he has received and his output? And what did Odili receive and what is his output? If you compare that, Amaechi would be said to have excelled.
Unfortunately for him, he brought sentiments in and that has masked many of his projects, leaving them the way there are. In three years, he would have commissioned lots of projects. But they have been abandoned because of his approach. The approach is the same and it has to do with output and finishing.
What the people want to see is not just projects; they want their lives to be impacted upon. The question is: what you are doing, how does it impact on the lives of the people?
There are some critical projects he ought to have embarked upon to impact on the lives of the people. But these are not the things the government is doing. You can build a million kilometers of road that has no impact on the people.
So every government needs to synergize with the people before embarking on any project. That way you would be touching their very lives. When we come in, we intend to impact on the lives of the people and not embark on irrelevant projects. We want to change the lives of the Rivers people. We want to make a difference in the standard of living of the people. We want to make them lively again and improve the condition of living of the people.
How would you  improve on the security situation in the state if elected?
The problem with Rivers is not policy; it is administration and management of available resources. I will give you an example: Asiwaju Tinubu ruled Lagos State and if you recall he said it would take trillions of dollars to make an impact in Lagos because it is a mega city. Compare that to the present government of Fashola.
He didn't have trillions of dollars and he has made a difference in Lagos State with the resources available to him. It is all about how you manage the resources available to you.
When you put the resources you have to make an input on the lives of the people – that is what matters.
If you come to Abuja, the roads that were built 15 years ago are still in existence without pot holes. But the roads in Port Harcourt are still riddled with pot holes. Roads built in Rivers State don't last a season because there are sub-standard.
We ought to do things the right way. We shall put the right standard procedures in place and do things the way there should be done. When people see accountability, integrity and equity there will be peace. What creates violence is injustice. Once there is justice and fair play, everyone relaxes.