*Says Jonathan, being from the minority, would help Nigeria stabilize
*'My problem with legislators' pay'
The concluding part of the first part of this interview last week dwelt on a group of Northern leaders. The question asked was: "Yes! This issue of coming from the North, some people might say, well, Dalhatu Tafida is not a good Northerner that is why he is heading the Jonathan Campaign? And for a dose of mischief, the name of Sambo would not appear when they mention the campaign team? Well, if people come out and say I am not a good Northerner, they should come and tell me what they have done that will make me a bad Northerner and they, good Northerners. I am thinking of this country, its future and its prosperity". And the next question, was: "But who are these people?" You have the answer to that question in this interview. But Tafida gave more insights into quite a number of other national issues, speaking on the following: .
His thoughts about past leaders, almost all of whom he knows at close quarters. How he became DG of the Jonathan/Sambo Campaign Organisation. The lessons Obasanjo learned as President. What he thinks of Second Republic President Shehu Shagari whose personal physician he was. How he coped with the Yar'Adua crisis of succession as Nigeria's High Commissioner in London.
We leave you to read the thoughts of Amb. Dalhatu Sarki Tafida. Excerpts:
By Jide Ajani, Deputy Editor
But who are these people?
You asked the question so you should know. But they know themselves. My interest is in Nigeria and how it should be developed for the good of the millions of people. This is the time for us to do good for this country and move it forward
Having known most of our leaders from close quarters, I want you to say I am not correct, the consensus out there is that Nigeria as a nation is not there yet. What, in your own view, would you say is responsible for the problems our leaders almost always confront in dealing with issues of governance, progress and prosperity of this nation?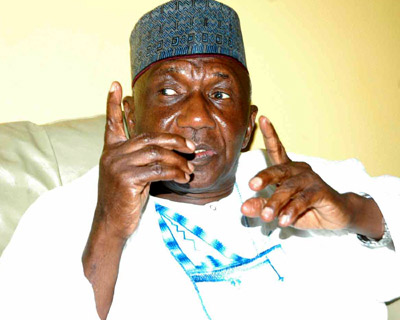 The truth is that we've had leaders who, as leaders in themselves, were very good people, very patriotic and very nationalistic. We can start from the top: Nnamdi Azikiwe, Ahmadu Bello, Obafemi Awolowo, Tafawa Balewa. Very nationalistic! They were there to develop their country and region and they were not corrupt in the sense that they died and left properties and money that when people hear the quantum, heads would spin. They just served. Then the military came, that was the beginning of the problem.
The military came but may have come with their own agenda for development but because they did not have the experience of governance, they made use of civil servants who also later on came to imagine that they had no security of tenure and, therefore, they were prepared to do anything for the military in order for them to work for their masters so that if they were sacked, they would have something that they could hold on to. That was another level of the problem. And because we had more military regimes than civilians from independence, this type of arrangement prevailed.
It was not that the military in itself set out to mess things up but the civilians saw an opening and took it for security of tenure. In the modern day world, in terms of development, for you to even be acceptable to the international community, you need to cherish democracy. The military leaders were not democrats. And there is no way, if you are not a democrat, that you would have the sense of development. Development is not just about building roads. Development is not just about waking up one morning and saying that you want to build an international conference centre in a few months.
Development is all encompassing. It involves your own discipline as a leader. It involves the way you behave. It involves the way you run public resources. It involves the way you behave as an individual
It involves the way you behave to your fellow country men. In short, even that idea of War Against Indiscipline, WAI, was an affirmation that the country had gone rotten and that somebody wanted to put it right but it couldn't have happened by just words alone.
Buhari was around for 20 months and merely scratched something on the surface and nothing lasted as such. The same thing with all the others! That way, you can see that those who came tried to do something but they were overpowered and overwhelmed because they did not have the necessary credentials to build the country the way it should be built. They did not have the necessary credentials to come and build a country that was poised for development. This is why all these years and even Obasanjo was part of that scenario when he came the first time. He came in and he merely followed what Murtala Muhammed started until when he finished in 1979. But when Obasanjo came in in 1999, he realized that that thing was not in vogue anymore – just issuing orders and expecting people to just follow.
How do you mean?
Obasanjo came in as a civilian in 1999 and discovered that there were better ways to follow in order to take Nigeria to the promised land and he brought in a series of reform measures in 1999.
To be fair to the old man, he brought in a series of reforms that we are now implementing.
He brought in far-reaching reforms.
Even this issue of corruption, he brought in the idea of the Economic and Financial Crimes Commission, EFCC, and the Independent Corrupt Practices Commission, ICPC, to reinforce the normal Police criminal investigation and court process. He did all that.
Okay, what assurances would you want to give Nigerians now that President Goodluck Jonathan would not go the way of past leaders?
Well, the assurance I will give is that he is not a child of the military. He is a civilian.
He has his own psyche as a civilian right from the beginning. He has worked with another civilian and his boss, the late Yar'Ádua and now with a deputy, Namadi Sambo and they have a programme which they will follow and from the pronouncements he has been making since he became Acting President and now President, Goodluck Jonathan is not prepared to fail and people around him will not allow him to fail, that is the assurance I can give.
What would you say is unique about him that you think should sway the minds of those against his aspiration?
The good and unique thing about him or any Nigerian from such a minute minority becoming President, Commander-in-Chief is that even if he tries to over-patronise his people, there are a few of them.
That is one unique thing about a President, Commander-in-Chief from a small ethnic group.
So, we are sure he will not derail and that is why I am part of the project.
You talked about him being a child of circumstance. I know that some people actually lobbied and worked, using all manner of contacts to try and get this job of DG of the campaign organization. So, how did it happen that you were recalled all the way from the UK where you were ambassador?
Well, I don't know!
You should know! A-m-b-a-s-s-a-d-o-r T-a-f-i-d-a! I think you should know?
Okay, all that I know is that I didn't even know that President Goodluck Jonathan was trying to get some people to come and run his campaign and as you know, I was working in London.
I did not know and nobody consulted me.
But you were eventually consulted?
Yes. Let me tell you, there was a day, two weeks before my name even appeared, they were mentioning names of people who had been lined up.
To God in Heaven, my mind was not even there and I did not even follow what was going on.
If my name came up, I didn't look for it and I was just busy working for the government of Nigeria, appointed by the president, who am I not to accept the job. It is an honour for me.
It is an honour for my credentials. So, to me, an addition to my CV

You were the personal physician to Alhaji Shehu Shagari. When people compare the level of corruption in the Second Republic and for which the military came, to what now obtains, there is always a feeling of nostalgia. Now, knowing Shagari from close quarters, how would you describe him?
As far as I am concerned, I found President Shehu Shagari to be very simple minded. He was also very honest. He was a very hard working President.
I found him to be, in my own judgment, as one of the closest persons to him – I wouldn't say I was the closest – I have no reason to suspect that he was corrupt. He did everything he could to work within the rule of law.
That was why he was able to, in terms of membership in the National Assembly his party, the National Party of Nigeria, NPN, had just about one third of the total number and yet he got many of his bills through. He was prepared to follow the rule of law and due process.
By contrast, your own time in the Senate was very turbulent and when you look back now, what are those things you would say you observed that led to the crises in the National Assembly. You were majority leader?
You should understand that we had problems and there is no question about that. We had problems with the Executive arm of government. The first, the President himself was new. We, as legislators, too, were new and we were all learning. Obasanjo came from a military background and not just that he was a military head of state in charge and now he found himself in the same position as leader, President, Commander-in-Chief but as a civilian so he couldn't operate the way he operated before so he needed to learn the new ways of democracy. We, as legislators on the other hand, were also new.
We were just, for the first time familiarizing ourselves with the new Constitution of the Federal Republic and a lot of grounds needed to be covered by the legislative arm of government (mind you, whenever the military strikes, it is the legislative arm of government that suffers because the executive and the judiciary continue to function but the legislature is always scrapped).
So, you could say we were all learning during that first period especially for him as a military leader.
He came from a system where if he decided to have a law he could have it within 24 hours.
All he needed to do was to prepare the draft and call a meeting of the Supreme Military Council, SMC, where the members would discuss and agree that it has become law the following day.
But here was a situation where he could send a draft that would be torn to pieces and even when it is sent back to him it does not look like the original thing anymore. He couldn't imagine that we could do that. Both of us were learning and we rarely agreed. But after that time, we settled.
Again, don't forget that he put a senate president that didn't last.
I was coming to that?
Yes! The senate president he put didn't last!
What happened to Chuba Okadigbo?
Chuba Okadigbo was removed and let me tell you; we thought that Obasanjo was part of the removal of Okadigbo. He didn't like Chuba Okadigbo. Both of them had their memories of one another.
After that was Anyim Pius Anyim. Anyim worked with Obasanjo up to a point but both of them parted ways towards the end.
Would you say Obasanjo learned?
Yes! Be that as it may, Obasanjo learned a lot during that first term. When we came in during the second term, he did a lot in the areas of reforms and the processes he introduced. He was instrumental to several of the reforms that are on ground today. Economic reforms, anti corruption war, Central Bank of Nigeria, issues of revenue generation and so on, amendment to the processes of tax collection, Internal Revenue Services, IRS; he was responsible for the fiscal responsibility bill that most of the states are now copying.

But unfortunately, the way Obasanjo carried himself and his negative aura people just write him off as having wasted eight years?
People can say so. This is because people either do not know or because they just want to be mischievous. Have you seen any former president in Nigeria, living or dead, who has been praised after leaving office? There is none.
We like to run down people in this country. When they are there we say they are the best and that they are doing well. Once they leave that office we say they haven't done anything.
When you look at the PDP as a political party with its overwhelming control of the polity and yet, people say Nigeria has not done well in the last 11 years, what comes to your mind?
I think we have done what we could within the last 11 years. But to be honest, we could have done better. There are areas where I think we could have done better. There is no question about the fact that corruption is a major factor retarding our progress as a nation in terms of development.
There is no question about the fact that once we can get that right, Nigeria will be on the path of sustainable growth and development. But people are shying away from that. Let me tell you the truth.
The truth is that the National Assembly should be in the vanguard of that crusade.
I know that the President – from Obasanjo, YarÁdua and Jonathan – that they themselves did not encourage or get involved but I am not very sure about the National Assembly – I'm not very sure.
And they alone can sit down first of all earn a living allowance and not something else.
Look, it is not a matter of competition (between what the executive earns and what the legislators should earn). It is the issue of looking at the nation and agreeing on what they should be entitled to and be given.
What you have said presupposes that undue allowances are being earned and former President Obasanjo said that much recently?
Well, I do not know what Obasanjo said but what I am saying is that I know what we were earning when we were there during our first term and I know what we were earning during our second tenure and I know what they are earning now.
You were in the United Kingdom when the crisis of succession hit Nigeria, occasioned by the illness of late President YarÁdua. How did it feel that your country was in the limbo, at least in diplomatic circles in Britain?
Well I didn't like it and it was totally unnecessary. I sympathized with YarÁdua the way I knew him.
YarÁdua was a man of due process the way I knew him and may be he was not in any position to do anything about the situation or about what he ought to do in terms of a constitutional order.
But somehow, again, we came to be looked at as if he was being controlled or run or manipulated by a group of people. Nobody can tell you the truth about that. I was away. I had no contact with the President. I never spoke to the President. From the time he became ill up till the time he died, I never had any contact with him.
Should the events of that time have happened?
No! I thought we shouldn't have allowed that to happen. The simple reason is because Yar'Ádua was a very nice man. He was a man of 'due process. Between Yar'Adua and Jonathan, there was no friction.
Subscribe for latest Videos