Ibiyemi Ajakaiye is a hearty Soul singer and songwriter who hails from Umorkpa in Kogi state. She discovered her singing talent at a young age but was so shy she insisted on singing backstage in her early years. From joining the church choir and then a band, her confidence built.  Today, she's a recording and performing Soul artiste, writes Lolade Sowoolu.
Growing Up
Growing up was back and forth because my father was a diplomat and so we were travelling a lot. I was born in America but was there for only six months. My dad had stints in India and then Trinidad and Tobago so we moved twice. When I was six, we moved back to Nigeria. We were in Lagos till 1995, when we moved to Abuja because the seat of government moved. Now my dad is retired and my family still lives in Abuja. I moved to Lagos two years ago.
Why?
This is the entertainment capital of Nigeria. I feel the best possibilities for marketing my music is here.
Let's talk a bit about schooling.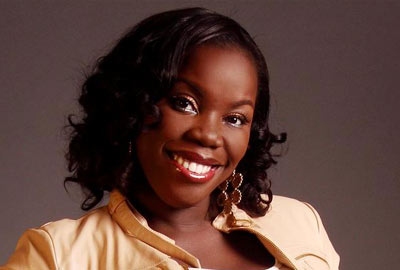 I read Economics at the University of Abuja. Before that I went to Yaba College of Technology for an OND (Ordinary National Diploma) in Business Administration. My secondary school was at Federal Government Girls' College, New Bussa.
You didn't consider music seriously enough to be studied in school?
To be honest, I didn't think of music like work (as an occupation) at the time. It was just a vocation.
In what ways did you express your singing talent before you began recording professionally?                         In Yaba Tech., once I got to class and there wasn't a lecturer in class, subconsciously, I'd begin to  sing and people would start clapping. In secondary school, I used to sing at social nights but I was very shy. A lot of times I sang from back stage.
They'd only hear my voice but not see me. In Yaba Tech, the way I started singing was very random. We got a new P.A (Public Address) system for the girls' hostel. I was passing by and people were stopping to sing into the microphone, then I thought I should try. I sang and next thing, my hall chair said I'd be singing to the hall every night.
So every night, I would sing and the guys would come banging on the door of the hostel asking to see the person singing but I was so shy I'd hide. It got to a point I said I wasn't going to sing anymore if they didn't tell people to leave the window. I used to face the wall to sing.
Where did you eventually find courage to record?
It was a friend of mine who asked me what I was doing with my voice. I told her nothing and she suggested I joined my church choir. So I went to church (House On The Rock) about two Sundays later and there was an announcement for auditioning. I went for the audition and was convinced I failed and so didn't bother going back to check the list if I passed or not.
One day, one of the Church leaders saw me and accused me of not coming to the choir after auditioning. I said I didn't think I did well at the auditioning but he said my name was on the list. And that's how I joined the choir.
That's where my confidence started building.  I realised music was the only thing that gave me joy, so I started hanging around studios. I also knew I needed to overcome stage fright so I joined a band. I sang with the band for almost two years.
What role did you play in the band and what was it called?
I was the singer and had my instrumentalists as company. It was called the Obaf music band and was based in Abuja. We were playing four nights a week at the Le Meridien Hotel now called Nicon Luxury. When I joined it was so easy to get along because most of the songs I had to do were songs I'd been performing over the years.
There were times that when the attention got so much on me on stage, I would freeze. But with time I got better and people started inviting me for solo performances. I learnt a lot with the band. By the time I started out to studio recording I'd already been singing in a live band for over a year so I was used to the sound of live instrumentation other than all the digital studio sound.
Can you do a bit of comparison between the live and digital world of sounds.
There is no comparison. Computer generated sounds and use of softwares to influence the voice is so different from the sound of live music. In fact it's (the former) killing music. And that's what the older generation of singers mean when they say 'we (the new generation) have killed music'.
I don't completely agree with them but I agree to the extent that some of the essence of music is lost when it goes electronic. The quality and sound can't be compared. It's one thing to do it in the studio and it's another to do it on stage. There's the eccentricity that comes with live stage performance that's missing when you mime to CD or lip-synch.
Even abroad, Hip Hop music and the likes are recorded electronically except for Rock and Pop genres but when you're performing, it's live. That's one challenge we're yet to surmount here.
And who's responsible for the disparity in performances here?
In my opinion, it's not entirely the artiste's fault. Rather it has a lot to do with the show promoters. I've turned down offers to perform simply because they want me to perform with a DJ. Right now I only do live performances.
My music is Soul and a lot of it is based on instrumentation, arrangement and emotions. My voice rides on the wings of the instruments. Singing to CD could be likened to just singing on my bed.
Let's talk about your musical influences.
When I was growing up, the people I loved were male. I loved Sam Cook, Marvin Gay, Stevie Wonder and the likes. My dad had their records so I'd play them over and over again. As I got older, my music library expanded and I'd listen to Mary J Blige. I still think she tops the list of vocalists I respect. She has a powerhouse voice.
Lauren Hill's 'real' song-writing inspires me to write. There was a huge gap between when I recorded my first single and when I eventually recorded my album. And while I had only that single people kept saying I reminded them of Tracy Chapman. So I got all the materials of Tracy Chapman that I could lay my hands on and I could hear strong similarities. She's such a deep and emotional singer.
Let's talk about your new album.
It's called 'Love always wins'. It came out last August and the response has been great. It took six years to come since my first single was released in 2004. People say it's (the album) worth the wait.
Why such delay?
I wanted to graduate from school before  my first album would be released and I was a part time student. So that's what happened.
What informed the title? An experience?
There's a song on the album so titled and for me that's the song most heartfelt to me. I just believe true love is triumphant over anything and the album is a collection of love songs. The title is just apt.
Is there anyone else in your family into music and how do they see your choice of career?
I think I represent us all. My house is one that always has music jamming. My dad used to belong to an Acapella group – a quartet back in his school days. We're all music lovers and they've been supportive.
At the beginning they were a bit wary of me doing music but I was careful not to put it to them until I was very sure and had a plan on how to go about it.
So is it music full time?
Right now that's what it is although I do event planning on a small scale by the side.
Did your voice range or texture ever bother you while coming up considering the fact that it's low and almost masculine?
(Laughter) Oh yeah, a lot. There was this group I belonged to while young and I almost never sang. We'd start off singing a song together and half way, nothing would come out of my mouth. I couldn't understand it.
Years later I realised it was because the songs were high pitched. I remember my very first studio session when I went home crying. I told them at home, very excitedly, that I was going to record and bring home my first song. That was 2004. I had never heard my voice recorded but I knew I liked what I heard each time I sang.
When I finished recording and the producer played back my song to me, I started crying. The producer asked if I was okay and I said 'just continue'. When I finally spoke amid tears, I said I hated my voice that it sounded like a man's. He was shocked and asked if I'd never heard my voice recorded before. I said no but that people said I had a nice voice.
I was shocked my voice was so deep when recorded. I took the CD home and couldn't play it for the next one week. It was that bad and nobody asked for the song when I got home because they could see the look on my face.
After a while I listened to it and started talking to myself that it wasn't so bad. When I played it for some people they couldn't believe it was me singing and it was then they told me about Tracy Chapman. That's how I started to accept my voice. Before then I thought my voice was regular. Now I've come to love it so much I can't imagine myself having the tiny high pitched voice.
Subscribe for latest Videos