By Ishola Balogun
Precious Ikechukwu, 20, is one of the hundreds of victims of the ravaging floods at Ajegunle, Ikosi-Isheri, Lagos State.  She is really not strange to the occasional flooding in the area, but this latest incident is likely to live with her for a long time to come.
As she was busy removing her belongings from the seizure of the flood and coming to terms with the harrowing experience of homelessness, the pain of labour sets in. It was the time the baby in her womb chose to come.
Amidst that devastating condition caused by the overflow of water from the Oyan dam that reached her knees right inside her living room, she cried for help.  Some of the experienced mothers in the neighbourhood rushed around her to help her out of the flood.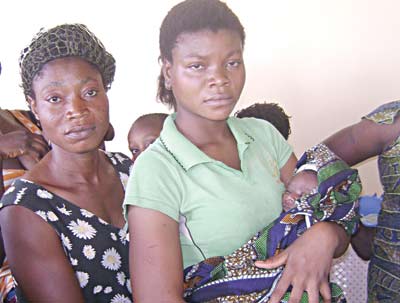 But, in a jiffy, the baby in her womb proved that he was so much in a hurry to come. Precious was however packaged out to a nearby traditional maternity home in the neighbourhood.  The joy of the arrival of a bouncing baby boy subdued her anguish caused by the flood. For her, it was a marvellous story. The little boy was immediately named 'Marvellous'.
Narrating her experience at the Agbowa Relief Camp, Precious told Saturday Vanguard that "it was a marvellous experience for me, this is my first born, I was practically inexperienced about the management of such situation especially in a devastating condition.
I never thought I will be alive today, the pain came all at once, and I didn't know what I was doing. It was my first experience and because I had  exhausted myself battling to save our properties from the flood few days back, it made it very agonising."  She said.
Precious stressed that prior to the day she gave birth, her house had been submerged by flood and her husband had made some compartment on the wall to save some of their belongings which were already afloat the water. She said couldn't sleep but busy packing and arranging them all through the night.
"You see on the 27th of September when the flood came, my husband and I were overworked for three days, we usually sleep with our legs dipped in the water up to our knees after fruitless attempts bailing it out. And on the third day when the water came like it never did before, I had my baby.  It was a marvellous experience, that was why we named him Marvellous," she said.
She revealed that after the birth of the baby, they had no other place to go to, adding that several attempts made by her unemployed husband to secure a temporary accommodation failed; hence they spent three days in the flooded room with the baby.
They seemed to have consigned themselves to fate by living in it before  they were informed about the temporary relief camp opened for flood victims by the state government.
When asked on how she coped with the baby in the flood, she said, "we spent about a week in the flooded house before we moved out.  There was nothing we could do, my husband tried to relocate us, but no friend and family were able to help.  All our friends were living in the same area and also affected by the flood.
So, they couldn't help.  But it was agonising, I cried and cried watching over my baby all through the night in the flood.  I had to carry him on my back through the night and sometimes, on my hands with my legs dipped in the water."
She said it was her sister-in-law, another victim of the flood already in the relief camp that came and convinced them to move to the relief camp.
The young family however sought refuge in the Agbowa Relief Camp, an initiative of Governor Babatunde Fashola of Lagos state, being supervised by the Lagos State Emergency Management Authority, LASEMA, few days after the baby was born.
Speaking on life at the camp, Precious said, "Initially we did not want to come to the camp here because my husband had tried to get an accommodation for us elsewhere but it didn't work out.
The money involved was too much, we could not afford it." She stated that a room apartment in Ajegunle area goes for about N24, 000 or N36, 000 per annum aside the huge amount of commission and agreement fee slam on it by owners."  She added that few months ago, they renewed their tenancy by paying some money and now they were left with nothing to get a new place.
"We came here with nothing, except this dress I'm putting on. The few things we saved from the flood, we couldn't wait to take them along. I thank God for everything," she said.
Precious affirmed that all necessary medication required for post-natal attention had been administered at the camp. "It was here we cut the umbilical cord, and other required immunisation, but there are still lot to be done, we want government to assist us," she stressed.
As at the time Saturday Vanguard visited the camp, her husband, Steven Ikechukwu was said to be away to eke out a living just as other several men who were bored by idleness.
A total 1053 were living on camp when we visited.  These include 206 men, 278 women, 519 children and 50 officials of LASEMA.