ASTUTE journalist, politician and former Governor of Ogun State was an active facilitator of the affairs of the Alliance of Democracy, the party which held sway in the Southwest between 1999 and 2003. The AD upon some, yet to be fully disclosed, political machination lost its dominion in the 2003 election with Governor Osoba being one of the notable victims.
In this interview with Vanguard's BASHIR ADEFAKA, Osoba narrates, in ways never before, the events and political scheming by former President Olusegun Obasanjo ahead of the election and affirms that, the Progressives in the Southwest are long distance runners.
THE proposal by President Goodluck Jonathan for amendment of Section 87 of the Electoral Law has been described as a repeat of  President Obasanjo's Third Term agenda, sir what is your take on that?
I do not see any comparison between the two.  Actually I am even against the original Electoral Act itself in the sense that the Electoral Act describes the mode of selection of candidates by all parties in the country.  That is against the fundamental right of each association to determine the mode of selecting their candidates.
For example, we may decide in a particular party that we want Open Ballot where members will queue behind the pictures of their candidates.  Some others may decide on Secret Ballot; others may decide on a mode where delegates that will elect candidates will emerge right from their wards to a congress at Local Government level, state level and then at the national level.
That should be a decision by each party.
So, as I told somebody, the whole arrangement is a PDP arrangement, which is very, very nauseating and insulting to all of us in the different political parties.
With the increasing spread of what is described as the progressive movement from Lagos, Ondo and now to Ekiti State, what do you think is the possible destination of the Awoist Southwest?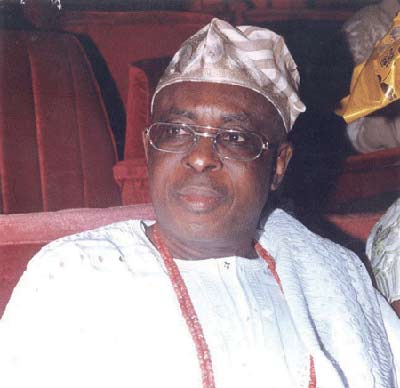 I expect that by now, discerning observers should know that we, who are genuinely disciples of Awolowo are long distant runners.  They must now know that we are marathon specialists in terms of political war.
Papa Obafemi Awolowo till he died, believed very much in due process.  He believed as a matter of principle and as an eminent lawyer in the rule of law and in the judiciary.
Even though at every turn he was disappointed; he never gave up.  In every election he would go through the due process.  He would go through all the laid down rules by the Constitution of the country, at the end of which, in most cases, he was always short-changed.  But he never gave up.  So we have learnt from him and I drank directly from his hands that you don't give up; you must continue to fight.
For example, Papa Awolowo never believed in boycott of elections even where he knew that the result was already concluded.  Therefore, we did not give up since 2003 when the do-or-die politicians, the garrison commanders rigged and seized the whole of Southwest through fraudulent means.  We are at it and by the grace of God, we will regain every inch of the political space in Southwest.
But in Ogun and Oyo states, we discover that the judicial dust raised earlier has settled.  Is there any more hope?
You wait till when the campaign starts.  I promised the progressives in Ogun State that I will return home and lead them to regain and redeem the image of Papa Awolowo in Ogun State.
I deliberately left Ogun State when I was rigged out in 2003 in order to give the government a free hand and a free space to operate.  They have had eight good years of heavy allocation of money; deluge of allocation unprecedented since Nigeria was founded.  Now we know what they have done with the money.
We know what we did with the money in the four years that we were there.  We will go into the field and make comparison.
It will be a political war of ideas, issues, debates on the aspiration of our people and expectation of our people.  We are going to have interesting days ahead in Ogun State and Oyo State.
I am confident, as I told you, the whole of Southwest; we would regain those states through political due process.
Former Oyo State Governor, Lam Adeshina gave a brief account of how President Obasanjo rigged Southwest governors out of office in 2003.  What is your own account of how it started, I mean the friendship that the former President seized to remove you from the Government Houses?
It was the then President Olusegun Obasanjo who invited us into the residence of former President Shehu Shagari, which was also used by Heads of State at various times, in Dodan Barracks.  It was inside the presidential office in Dodan Barracks he invited us in July 2002 to a meeting and only himself, AD governors and the then head of SSS (State Security Service), Col. Kayode Are (rtd) were present at that meeting, where he came to lobby and beg us to help him.
And our reply at that time was that we could not take decisions on our own and that he should go to our leaders led by late Papa Abraham Adesanya and discuss the issue.  That was how the whole thing started.  And we reported back to the Afenifere caucus.  I don't want to go on bemoaning what happened.
For example, in Ogun State, he (Obasanjo) wrote a figure of 1.2 million votes for himself.  Then the votes scored by all of us; gubernatorial candidates which they wrote was six hundred thousand.  So there was difference of six hundred thousand votes between total number of votes scored by all the gubernatorial candidates compiled and that of Obasanjo.
Till today, Obasanjo has not been able to explain how, when the elections took place the same time, two ballot papers were given to every voter; one for presidential election, one for gubernatorial election.  Did six hundred thousand voters throw their votes for governorship away?  Were the votes voided?  Did they destroy the ballots?  When these questions were put to him, he had no answer.
And at the Court of Appeal Tribunal, Ogun State was not part of the votes that made him President.  Even the Court of Appeal threw out Ogun State to show you that they did not win anything in Ogun State.
Therefore, I don't want to go back to it.  I mean the issue has settled itself.
Today, Obasanjo, who undermined us, is himself out of office.  In Yorubaland today, if we the progressives, the governors of AD and himself meet at a public function, you will get the verdict of the people on the spot.
It had happened before.  There was a ceremony at St. Saviour Church, Tafawa Balewa Square, where the funeral ceremony of a Judge of the Supreme Court, Justice Ejiwumi, was being held.  Obasanjo was in the Church and the progressive governors were in the Church before eminent Nigerians, highly placed Judges, lawyers.
We got the verdict of the people right inside the Church when his name was announced and we got the verdict of the people when all of us, former governors of the AD including former governor of Edo State, Chief John Odigie Oyegun were announced.
The people gave their verdict on him that day.
Despite the claim that you won the 2003 election but denied the mandate, you never went to court to seek redress.  Why?
We, the AD governors, then resolved that we would not bother at all.  In fact, Lam Adeshina, where we held the first meeting after the rigging of the election in April, 2003 before we left office, said that in Islam, the God that he served was God of vengeance and that He would rule in vengeance on perfidious characters and that we should leave it to God to decide what to do with anybody who committed perfidy against us.
Verdict of the people
There and then, all of us agreed that nobody should go to court; leave everything to God, leave Obasanjo to the verdict of the people and I am happy today that the judgement of the people is very, very heavy in the air.
There has been this persisting rumour that President Obasanjo visited you on the day of the 2003 elections as a way of distracting you from the alleged plans to rig……
(cuts in) No, no, no. Forget.
He did worse than that. That one is inconsequential.  The Commissioner of Police in Ogun State, Mr. Israel Ajao, a first class, decent officer, was deliberately transferred out of Ogun State on the eve of the election purposely to create fear in the entire police force in Ogun State and to show to them there was a presidential power, which was ready to be used to whip everybody into submission.
And what was the offence of Israel Ajao?  A petition was written that the PDP had organised thugs and hoodlums in a particular place to disrupt the elections.  He got the petition from Senator Okurounmu and, as a decent officer, he sent his men to go and investigate whether it was true or not.
That was the only offence he committed!
Obasanjo threw him out of Ogun State: He called Tafa Balogun and told him that Israel Ajao should be withdrawn to Abuja.  And Israel Ajao had to travel almost all night to get to Abuja and was kept out of reach throughout the first….  What else do you want to talk about?  He brought out army personnel, all Immigration personnel, all Civil Defence personnel; all institutions that had anything to do with Federal Government.
In fact, the rigging was perfected at the University of Agriculture, Abeokuta, UNAAB, by a very top officer of that institution, who wrote all the figures and the whole thing was done in UNAAB.  We knew a lot.  I don't want to go back.  Let's put it behind us like Lam Adeshina used to say.
Today I work freely anywhere in Nigeria.  I want Obasanjo to do the same without any security.  Let him just go out alone in Ota, in Abeokuta, anywhere in Ogun State and see whether the security of the people that I enjoy will give him cover.