Bashir ADEFAKA
Former governor of Oyo state, Alhaji Lam Adeshina lives in a bungalow devoid of opulence, with hardly a parking space for his two simple cars. Adeshina, a  progressive of the Obafemi Awolowo's school, speaks with BASHIR ADEFAKA at his residence in Ibadan, Oyo State, recently.  Excerpts:
Coming to your house, I was looking for a skyscraper named 'Lam Adeshina Villa', but found not befitting a former governor.  Don't you like worldly materials?
All along my life, I have been living  a simple life.  I don't like or tolerate anything flamboyant.  That's me.  I like to live among my people; I have been living among them and I enjoy living with them.  I have no reason, whatsoever, to go and live inside GRA.  And since I know that it is only one room I will occupy when I want to sleep, why should I build a skyscraper?  That is why I designed my house the way you see it-a bungalow.
Perhaps, your teaching background influenced your lifestyle.
Teaching background? No, my family background and the religion that I practice? Yes.  My family background is such that we believe in discipline and honesty.  We believe in service to humanity.  Like I said, I don't believe in any flamboyance because that does not  accord with the religion of Islam that I practise.  Islam does not permit flamboyance but simplicity.
It enjoins you to live a simple life and be a good and shining example for other people to follow.  The time you have attained greatness in life is not the time for you to show flamboyance. That is the time you need to show serious humility.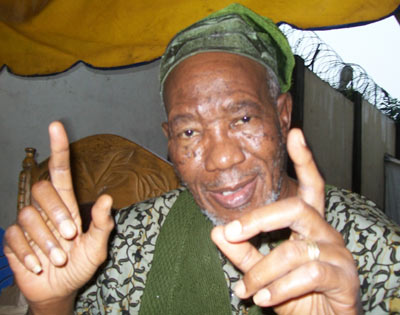 I also acquired  discipline, perseverance, honesty, integrity from the institutions of learning that I attended because they added to all these qualities that you observed about me.
I attended a Catholic institution for my primary and secondary education, and from there I went to the University of Nigeria, Nsukka (UNN), where I also acquired the courage in doing things and that was why we were called Lions.  Anybody who graduated from the institution is called Lion.  If you are a woman, you are Lioness.  And then also, with my tutelage under Pa Obafemi Awolowo, all these things were complete.
Is that why you rejected Governor Alao-Akala's jeep gift ?
You see, the whole thing did not follow due process, I insist.  What do I mean by that? I was the fourth Executive Governor of Oyo State and by the time I ended my tenure, the House of Assembly passed it into law the pension scheme for governors and deputy governors, who were able to complete their tenures.
That law was passed on the floor of the House of Assembly on the 7th of May, 2003 and what was there was about the remunerations of former governors and former deputy governors;  that upon their exit, they should be paid, provided their exits were not by impeachment.  And as soon as I left, I requested that I should be paid my pension, which I was given and my deputy also took his own because it was our right.
The only amendment after that, that I knew, was the raising up of the salary and pension as directed by the Revenue Mobilization and Fiscal Commission, which brought about increment in the salaries of sitting governors and their deputies, as well as our own.  There was nothing like amendment to give cars to ex-governors.
So, that is where you are coming from?
It was not included, and I still found out from the House of Assembly, at least, we have some members there, and they told me that they never passed anything like that.  How then do you say you are giving us vehicles and expect me to take such gifts?  I'm not somebody like that.  Anything that must come to me must pass through due process and it must be lawful.
So, when they said they gave us BMW, I asked the present governor himself, Alao-Akala.  I asked how come?  He said all of us were given and the thing was passed by the State Executive Council.  I said it's wrong, that the State Executive Council has no right to give cars to ex-governors.
It is provided for in the Constitution of the Federal Republic that ex-governors who were not impeached should be given certain entitlements.  In order states, they have made provision for cars and other things as package with the pensions.  But if it has not been passed into law in Oyo State, why should the State
Executive Council give us these things?
Do you sense any problem coming with that later?
At least, I had been a Member of the Federal House of Representatives before, and so I am not alien to law-making.  I was a Member of the 1999 Constituent Assembly and so I know what I'm saying.  And I functioned as governor for four years and so I know what the executive could do and what they could not do.
In replying when the governor was even telling me on phone, he said, 'but we have been paying salaries to former governors like Dr. Omololu Olunloyo and Chief Kolapo Ishola'.  I asked, why? and he said they were paying them on pro rata basis. I asked, ' is that right again because the Constitution does not say, pay these people?
Their tenures were terminated by the military, not even by impeachment. I asked is it constitutional?  And these are the people again who took houses from you! So, that is why I say anything that does not follow due process, till I leave this world, I will not take it.
How did your father influence your life?
What I do remember is that my late father was an Islamic scholar.  He was also  a dutiful as cocoa farmer, a kola-nut seller and he was very industrious.  He taught me to be industrious and also to be God-fearing in life.
He advised me not only with his word but also his actions because I saw in him that he never ran after property.
So, your disinterest in amassing property is from him?
Yes.
But wives are said to influence governors or presidents against their wishes to live selfless lives.  How was it in your own case as governor?
The truth is that God gave me my wife. We are like twins and she has nothing to do with property amassing.  Other wives of governors or wives of powerful people could be building houses here and there. My wife never built any one, neither did she ever influence me to do so.
The beauty of it all will be in your ability to impact such a selfless lifestyle in your children.
By and large, you don't see any of my children acquiring property beyond their needs, at least, there are some grown-ups among them,who have not been doing so and who should not be seen as doing so.  The only thing I always tell each of them is that he should have his living house.
The eldest of my children is in England.  He is a Director of Medical Traffic in England.  He has been building one house for a long time now and he has not completed it.  My children have imbibed my manners.  I can see that in them and they are always very generous, always very willing to help people.
They imbibe those things from me.
You don't even always need to sit your children down to tell them what to do and what not to do.  Apart from telling them, you do it yourself,  how you want them to do or not to do and they will follow suit.  So, I'm very happy that all these things are found in my children.
What were your achievements and challenges as governor of Oyo State?
I think I ran an open administration.  I ran a very honest administration to the satisfaction of even my enemies.  Even long after leaving office, they still say Governor Lam Adeshina did this, that and that they are very proud of him.  There was no aspect of life that my administration did not touch when I was governor.
If you look at education today,  it has irretrievably collapsed in Oyo State and you can see that from the performances of the children; you see that from the way private schools- primary secondary and tertiary- are growing up in Oyo State.
That's an admission of failure of the educational system by the government in Oyo State.  When I was governor, we saw only very few private institutions around.  But today, they are everywhere, and in almost every house, you have private institution.  That is to tell you that the public schools have collapsed in Oyo State.
Also, in the health sector, almost everywhere you find private hospitals, private maternity centres.  This again shows that the health system in Oyo State has collapsed.
That was not the case when I was there!
During my time as governor, I was able to raise the intellectual attitudes of people in Oyo State, and I think by and large, in this modern time when population has overgrown almost to a level that is uncontrollable, I made sure that during my administration, every Oyo State indigene in all higher institutions of learning in Nigeria was given bursary.
Everyone! Go and find out.  So that every one would be able to settle down properly with his studies and come out in flying colours from his institution of learning. That ran to several millions of naira. The only thing this administration in Oyo State did was to say that they were awarding scholarship to about 864 persons in the universities in Nigeria.
When I talk about the higher institutions of learning, it means that every Oyo State student was taking bursary and I don't mean universities alone. I am also talking about the polytechnics, the colleges of education, the institutions like Petroleum Technology Institute (PTI) in Warri, the School of Fisheries like in Lagos and then the Advanced School of Nursing.  All these institutions, during my four years in office, every student there was given a bursary.
You see, scholarship awards are meant for special students who excel very well in their studies.  And we were about to institute Scholarship Award Scheme in Oyo State when I was driven out.
By who? How?
By the riggers; they rigged me out of office, and I maintain that.  I won election in 2003, neat!
All the South West governors, except of Lagos lost out.
Oh yes! That's what Obasanjo did to us.  That's what he did to us.  We won! We won! We won!  All the Southwest governors won but they rigged us out by writing figures and so on and so forth. And mark me, before Alhaji Lamidi Adedibu died, he disclosed that I won the 2003 governorship election in Oyo State.  He said it.
But the same Adedibu had a way of influencing sitting governors.  How were you able to keep him silent?
We had one connection from the First Republic.  Alhaji Lamidi Adedibu was an Action Grouper, I was an Action Grouper.
That tie did not cut and so when I was in office, he respected me and I used to even pay him visits at that time to say that you are part of this government.  I did not serve the Alliance for Democracy (AD) alone. I served the People Democratic Party (PDP). I served the All Nigeria Peoples Party (ANPP).  I served the entire people in Oyo State; everybody!
To the extent that some of my party leaders were querying why I should be helping other parties, and I said no, that's what we should do. So, definitely, Alhaji Adedibu was not ungrateful because he was really a very grateful person and he would not cause any problem for me.
Not until Obasanjo decided that we should leave, otherwise, Alhaji Adedibu would not have wanted to do anything that would push me out by rigging.  But it was Obasanjo who said we should leave.
Somebody described that Chief Obasanjo's attitude as an evil by a Yoruba against Yoruba.  Is it right to put it that way?
Oh yes! Because we supported his presidency to go for second term. But on the other hand, he just played the trick on all of us that we would not go back; that he wanted his party to control the South West.
And has his party been able to control the South West?
Well, in actual fact, he couldn't control the South West and up till now, he hasn't been able to control the zone.  Look at all the South West states. Look at all the governors there. Their people are not happy with them.
Even anybody, I mean a blind man can say today that Alao-Akala is no longer wanted in Oyo State.  That ineptitude on the part of the PDP government in Oyo State is very clear.
If Chief Obafemi Awolowo were to wake up from his grave and queries you, his followers, about your preparedness for re-capturing the South West, the country and restoring his legacy, what would be your response?
We would tell him that the struggle he left behind is still continuing today- the struggle to enthrone proper democracy, to bring in very good government, transparency, accountability, integrity in government and also to make sure that the ideology of our party, which is tending towards socialist ideology,  is brought to play in Nigeria.
You know, Awolowo left behind the four cardinal programmes among which were free education, free medical service delivery.  Unfortunately, today, in spite of the money we have, no free education, no free medical services.
The people are suffering and then, some people are stealing the money and there is no gainful employment. I will tell you, gainful employment again, we are struggling for that.
Then we are struggling for Integrated Rural Development whereby the rural areas will be developed so that people will not troop from rural areas to the urban centres, where there are no employments, no security, nothing.
We'll tell him all these things we are trying to get in Nigeria so that all the governments we have in the country will practise them all to the glory of the Almighty God and to the blessed memory of you, Papa Obafemi Awolowo.  We'll tell him that we are struggling to get those things entrenched in our system.
What attracted you to your wife?
I think in my final year in the secondary school, that was 1969. She was then in primary school and I used to see her on her way to school.  Let me tell you, we are from the same area here in Ibadan.
Which area in Ibadan?
Isale Ibode/Idi Arere.  I would leave my house to my school and she would leave house to her school.  I used to see her and I was attracted to her by the way she dressed.  Then, eventually when I left secondary school and I was working at the Ibadan District Council Treasury, Mapo as a Clerk, I would leave my house on foot to the office in Mapo – not far away from my house and then she would be leaving her house to her school and again I would meet her; still well dressed because her mother was stylish.  I was always attracted to her but I couldn't talk to her.
Subscribe for latest Videos