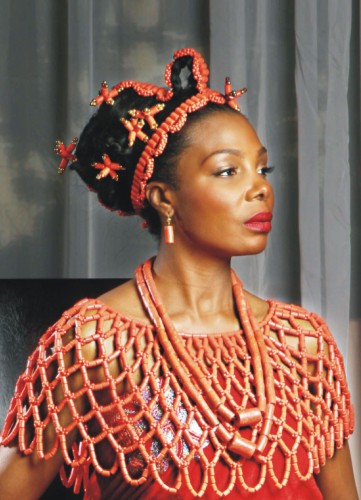 Although she is a graduate of Political Science, her interest has always been in the beauty industry. And for this, she holds her mother responsible. As she put it, it all started from her mum's rich and elaborate dressing table, which held a great fascination for her as a child. It was this same fascination that made her compete and win the coveted MBGN crown.
That singular achievement did not only bring her fame, it also brought her honour. More than 20 years on, she is still as relevant in the social circuit as when she was crowned queen.
Again, her interest in beauty has driven her to revive the rested 'Miss Nigeria' pageant along with partners Yinka Daramola and Tom Iseghohi. Nike Oshinowo-Soleye is, currently, traversing the length and breath of the country drumming up support for the nation's oldest pageantry which she describes as "our national heritage".
When a new Miss Nigeria emerges on September 25th in Abuja, after a seven-year break, it would be Nike's gift to the nation as Nigeria turns 50!
In this encounter, she speaks on her experience as beauty queen, which she brings to bear on this new assignment as well as her life in the beauty industry in a most refreshing way. Enjoy it.
What lessons from your experience, as beauty queen, are you bringing to bear in revamping the Miss Nigeria pageant?
The Most Beautiful Girl in Nigeria pageant is run by an organization and most of them (organizers) are men. As much as they care about you and as painstakingly as they try to make sure we were comfortable and well looked after, you can't compare it with being managed by a women; especially one who had gone through the whole phenomenal process. There is a huge difference.
Once you have the crown placed on your head, you feel like a queen, you walk differently, you stand differently, you act differently, absolutely. So, some of the things that happened to you yesterday, you will not succumb to them today; not with that crown on your head. I understand that. I understand the expectation and the huge responsibility.
So, having been equipped with that knowledge, I feel I have a lot more to offer, not just in assisting them (contestants) to cope, but in helping them to make right choices and decisions about their future; about certain things they want to do afterwards. They are young girls and having gone through the cocoon stage into beautiful butterflies, as it were, I've got my little magic wand and I'm ready to act the part of a fairy godmother.
It's been seven years since the last edition of Miss Nigeria. What new things are you bringing into the pageant, to revive it and ensure it stays?
The interesting thing is that people keep saying it's been rested for seven years. The truth is that Miss Nigeria pageant was epileptic even before it went into this coma. So, what my team plans to do is to handle this in a professional manner. We see the pageant as not just a brand but our heritage. We plan to fuse our heritage with the commercial aspect so it has to be profitable and if it is profitable, then it will succeed.
You described this pageant as 'our heritage'. What Nigerian-ness are we going to see in this re-branded pageant?
If you had talked to me about doing a cover for Allure a year ago, I would have done a fashion shoot. But since I've been involved in the Miss Nigeria pageant, I've travelled all over Nigeria and I'm just so overwhelmed by what I've seen. So, when you talked about doing the cover, I wanted to infuse everything that I've seen on my travels and represent Nigeria beautifully. I can't even begin to tell you how much I've learnt about my country and about my heritage. We are taught about every body's history other than our own.
I didn't know about Lokoja. Take a state like Cross River, I didn't know what it was to be Calabar or what it was about the Ibibios. I didn't understand the different ethnic groups and the different cultures; which meant I certainly did not understand my country until I got involved in the Miss Nigeria pageant. Now, this new understanding is what I plan to impact the nation (with) in subtle ways.
The girls will emerge from six zones of the country so, it's a pan-Nigeria pageant. We also have two international zones: the UK and the USA so that Nigerians in Diaspora can be in touch with their heritage and feel proud of where they come from.
We've had a situation in this country where an international pageant was stopped because of our diverse cultural and religious beliefs. What have you included or excluded in this pageant to address this and ensure we have a truly Nigerian pageant?
What I did was to look at other secular countries that are deeply religious yet, hold pageants Jordan, Indonesia, Philippines, Turkey etc. I realise that what they do is that they take the pageant and infuse their own traditions into it. That is what I have done with Miss Nigeria pageant. And, if it is Miss Nigeria, then, it has to be representative of the wishes of the people and everything that we like. Immediately, we removed the swim-wear segment. We don't need nudity to judge beauty. We are not looking for fashion models; we are looking for beautiful women.
Also, Nigeria is a country where you have extremely intelligent young ladies. If the pageant is to be truly representative of what our women are really like, it means we have to look at every aspect of what makes the Nigerian woman. We can't ignore their intellect, cultural values, traditions, sense of poise and sense of being. So, it's not about what the world considers beautiful, it's about what we, as a nation, consider beautiful. The girl who is eventually crowned Miss Nigeria might actually not be 6 feet tall or stick-thin because, most of our girls are not 6 feet tall and they are not tiny, whinny girls. So, we want a pageant that is truly representative of our own unique beauty.
That means you are not interested in the queen participating in other international pageants?
Absolutely not! She would win the Miss Nigeria pageant and that would be it for her. She is not going to go to Miss World or Miss Universe or Miss Continental or Miss anything. She is going to do charity work on behalf of our country. I keep taking people back to the most recent disaster in Haiti and I remember watching TV and seeing black children homeless and suffering and feeling powerless. I also remember thinking to myself and saying, where is my country? I didn't see Nigeria, the most populous nation in Africa helping out. Miss Nigeria would be there handing out water, handing out mosquito nets, helping to make sure that there is shelter for the children. She would be doing good work on our behalf.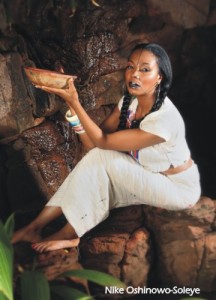 Many young girls are more concerned about the glamour than the work. How are you going to find that girl who will be ready to work?
Luckily, I don't have to find her on my own. The whole nation is going to participate in choosing that girl. Once we've done with zonal casting, all 36 girls representing each state in Nigeria would be put in a reality house and the whole nation can view these girls on TV and vote them in or out. We would give them tasks, send them to the market to see how they cope, let them have a cooking competition to see whether they can cook. We are all going to watch this on TV and we are all going to decide who we want to represent us as the nation's queen.
For the first time, Nigeria will truly have a queen that was chosen by the whole of Nigeria. Now, the girls that survive the reality house are the ones that will now end up on stage on the 25th of September and then, we would choose a winner and two runners up.
You talked about the glamour; of course, every girl dreams of a glamorous lifestyle. But the important thing is that with huge privileges come huge responsibilities and we are not hiding that fact or offering anyone an easy life.
And, don't forget that the number one prize for our pageant is not some exotic holiday or a trip to London. It is education; the gift of first-class education, a scholarship to be educated in any institute of higher learning anywhere in the world. So, if that girl wants to go to Cambridge, she's got it. If she wants to go to Harvard, she's got it as long as she is smart. She can decide she doesn't want to continue with education but wants to acquire entrepreneurial skills. We would look at how to monetize that and help her with the business.
We are a company that is running a national pageant which is basically a heritage and we are at the same time infusing it with modern possibilities.
With the scholarship, is the queen going to trek around town?
No. Of course, she is going to have car. I'm taking that for granted. She is going to have a car, accommodation, a super-duper designer wardrobe and she gets a fabulous salary. The first runner up and the second runner up also win scholarship to be educated in any institution of higher learning in Nigeria as well as salary.
You've seen so many pageants since you won MBGN almost two decades ago. What would you say about pageantry in Nigeria?
I was hoping you won't ask that question because I've just been embarrassed with how obsessed the whole world is with pageants. So there is Miss TV Station, Miss every soap, Miss Fashion, Miss Hot Legs, Miss everything. It's quite bizarre but mostly embarrassing.
We are the premier pageant. We started it all in 1957 with the first Miss Nigeria pageant. So, we've taken it back in order to bring back responsibility, respect, family values and decency.
Values are fast eroding. Can you really bring values back in one year?
I don't plan to do it in one year. I have the licence for three years and renewable every three years. It's a huge responsibility and I do not envisage that people would give me their daughters to look after and then I run off after three years into the sunset. That is not what I plan to do. I plan to stick with this. It's a passion; it's a calling. That's what I believe.
All these queens; do they really fit the bill?
Which queens? I don't see any queen around me. So, long as there is one Nigeria, there can only be one queen and that is Miss Nigeria.
What would you say is the biggest thing you took away from being queen?
The sense of humility when people get together and decide you are special. It's a humbling experience and you want to live up to it. I've spent 20 years trying to live up to that honour; not wanting to disappoint those people who decided that I was special.
Does that put a burden on you?
It can be. Isn't everything a burden? But it's a lovely burden. It's a huge responsibility for a young girl to live up to. But I wouldn't really call it a burden now. It's a privilege and an honour. So, it would be for any young lady that is crowned Miss Nigeria.
What is life in fashion and beauty like?
People always lump the fashion and beauty industry together. I've always worked within the beauty industry. I enjoy the beauty industry. Beauty is about aesthetics and it is real. I love that aspect of my work; taking people from all walks of life and transforming their lives by putting a crown on their heads and giving them a goal and a reason.
What is it like being in the limelight?
It is indescribable. You've spent half of today with me now so you have an idea of what my life is like. I can't describe it as unpleasant because most people are not unpleasant to me when they are with me. If they are unpleasant, it would be behind my back.
Having said that, if you crave privacy, you have to stay at home. I spend a lot of time at home. There is no camera flashing at you at home. But there are places you can go to where there are no cameras. Also, you'd soon learn that you have to have a close group of friends and also rely very heavily on your family. You learn to cope but isn't that another reason why I am equipped to do this job? I've been there. I know the pitfalls, as it were, and I can tell you what to do and what not to do.
How do you deal with stares?
You learn to cope very quickly. I used to be described as arrogant and my mother had to tell somebody, "My daughter is not arrogant". When I walk into a room, I don't make eye contact because I'm going to stumble. So, every room is one great catwalk. I just focus and walk straight to where I'm supposed to go and sit. That's how I handle it. It takes training though and I've had 20 years in that.
You talked about values and style. Is it something you got from home or something you acquired as you developed?
It's from my mother. This is all my mother's fault. Let's blame my mother. My interest in beauty developed from my mother's dressing table because that was where I played. She had this phenomenally expansive dressing table in her room and I was fascinated by all the brushes, lotions and creams that she had. When my mother goes out, I'd go to her dressing table and try everything on. Before she came back, I would arrange everything back the way I imagined that she had arranged them. But that woman, she would open her door, come in and shout, "Adenike!" When my mother calls my full name, I know I'm in trouble. And she would ask if I went near her dressing table. Then, she would arrange everything back. So my love for everything beautiful started from that dressing table.
My mother and her sisters all have beautiful hair and gorgeous skin. I grew up brushing her hair and playing with her hair. When I got sent to boarding school in England, my holiday was spent trekking the streets of London or where ever we were, buying and discovering things. That was how my love for beauty developed from my mother's dressing table. My sense of family values and what is right or wrong came from my family.
What is your favourite fashion item?
I don't have a favourite fashion item because I'm actually not a fashion person at all. There is nothing in the fashion industry I can't live without but I am addicted to lip balm.
How much are you willing to sacrifice for beauty?
I wouldn't sacrifice money for beauty because you don't have to. The best things in life are free. The most important tools you need to stay beautiful are sleep and water. I sleep well and drink tones of water. That is why I look the way I do.
Stylists:
Bola Balogun &
Bolaji Animashaun
Vintage Aso-Oke:
Sade Thomas-Fham