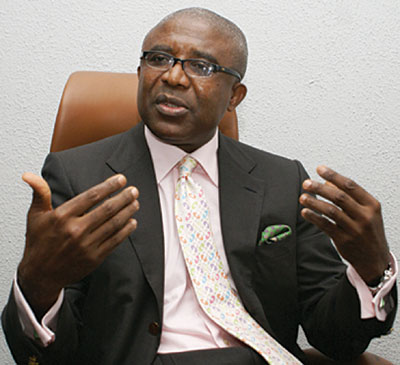 Former President of the Athletics Federation of Nigeria, AFN, Mr Dan Ngerem was on the right part of taking athletics to the next level. He was putting enduring structures on ground for athletes, both for the old as well as young and upcoming ones.
He was not the type that waited for government funds to carry out his programmes. He sourced  funds privately.
Sometimes he used his personal funds with the hope of getting it back when the government money is released.
As a man coming from the private sector, Ngerem ensured that both athletes and administrators in the AFN did things the right way. That was were his problem with the old hands, especially ex -athletes, who felt that things must be done their own way, started.
They called for his replacement with one of their own, stage managed protests, like was done in Paris during a World Championship, to discredit his regime. He did not allow this distract him as he carried on till the end of his tenure in 2004.
President of the International Association of Athletics Federations, IAAF, Lamine Diack of Senegal even visited Nigeria to see what he was doing for athletics and told him to tarry because "you are doing a good job." Diack even told him of the same experience he had in his native Senegal while he was climbing up.
However, Ngerem did not want to look desperate, clinging on to power when some people were clamouring for a change of baton, not for lack of performance, but simply because they could not fit into his programme. So he stepped aside to allow for the emergence of Mrs Violet Odogwu-Nwajei.
Many years after, even with a new man at the helm of AFN, these ex athletes are not still satisfied that the AFN is getting it right. Many of them, including those who fought Ngerem, are ironically calling for the return of Ngerem. They argue that he is the only one with the private sector touch who can help the federation get funds to run its programmes instead of waiting for government fund that is always perpetually late in coming.
Saturday Vanguard sports put this before Ngerem but he giggled and said no with emphasis, adding however that as a patriotic Nigerian, "I will always want to serve my country and assist in whatever way possible but not necessarily as a president (of AFN) or a board member.
I am still supporting athletes and athletics even since I left. I am still giving athletics boost one way or the other if they can perform well. Take some one like Blessing Okagbare, I promised her five thousand dollars ($5000) if she won a medal of a any colour at the 2008 Beijing Olympics.
They did not give her the psychological boost that she needed prior to the Olympics as at then. So I don't really need to be president or a board member to support athletics. I have always maintained that what the sport needs is those that are patriotic, passionate and are good administrators, that have integrity, so that they would be able to raise money.
That you are a former athlete does not necessarily qualify you to be a good administrator, that you are former athlete does not make you a marketing guru,  that you are a former athlete does not make you credible. You've got to earn those things outside of being a good athlete. So what we do need are good managers for our sports, managers that are credible and transparent, managers who can raise money and account for it, that is what we need.
If we are able to get those people in place, I bet you then we can get all the support that we need. For those former athletes clamouring that I should come back,  I do tell them that I will continuously be straight,  I will continuously account for every kobo I was given and I will continuously say the whole truth and nothing but the truth.
May be for them, they are realising it now but for me, it is too late in the day because I have moved on. I had the time then, I had the information, I had the spiritual support, I had a number of people who were also having sleepless nights by supporting the process.
Take for example, how will you bring back a man like AK Amu (now late), somebody I called the father of athletics, somebody that was a repository of facts, somebody I can wake up by 2 a.m. and ask a question on athletics and he will gladly discuss it for about 30 minutes or one hour or whatever number of hours it will take. So that time has passed, we need new people, once they have this characterisation that I have talked about, athletics will move forward.
Finally, no Nigerian should think that he is indispensable. I am not indispensable, there are other Nigerians that are as good, that are credible, that are accountable, that are transparent, we should encourage them to come to the front but in doing that, let those charged with sports administration stop playing games with it, let them stop being selfish with it.
They should please stop over concentration on football, they should spread our wings to all sports so that we can use it as a leveraging  factor to develop our youths. But when we are concentrating only on one aspect (football) and manipulating the system, good people will not come to the fore.
It is not everybody that will want to fight, and come in and face media criticisms and all that, but I bet you, if the NSC can restructure and reposition sports, create clear guidelines as to what is needed and the kind of personalities that are needed, Nigerian sports will compete with any one anywhere in the world,  be it Canada, be it United States. We have the resources here, we have the money here as well, but the right thing must be done.
Can you tell me a website where I will go today to see what Nigerian athletes need ahead of the Commonwealth Games? Can anybody tell me what the needs of Blessing Okagbare are today?  Can anybody tell me what Damola Osayemi's  needs are? For example, if the athletes need N100  and the NSC can only come up with sixty naira, put it on the conscience of Nigerians,  that look these athletes need hundred naira, but we have been able to come up with sixty, we need forty, we will all chip in our widows might.
But right now, it is an atmosphere of confusion, it is on atmosphere of anything goes.  Today sports has become big business,  instrument of empowerment of youths, no nation trivialises  this anymore except in places like Nigeria.
Subscribe for latest Videos