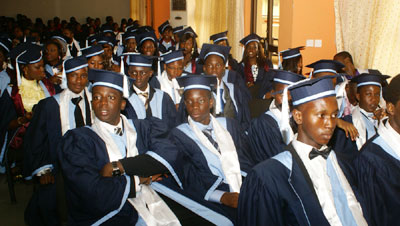 By Emmanuel Edukugho
Nigerian Turkish International College (NTIC), Isheri, Ogun State held its 5th Graduation/Valedictory Ceremony recently at NEC House, Alausa-Ikeja, Lagos, which attracted distinguished persons from all walks of life including parents.
The Guest of Honour, Otunba Gbenga Daniel, Governor of Ogun State, was represented  by the Director of Education, Ministry of Education, Science and Technology.
The ceremony featured interlude of music by boys, Turkish Traditional Dance, Nigerian Cultural songs by girls, Nigerian Traditional Dance (Efik-Nnyoke Dance) and speeches by guest speakers including the Head prefect's address.
Other items in the programme were presentation of prizes to deserving students, computerized introductory presentation of the Graduands, presentation of awards to graduating students, academic and non-academic staff and presentation of school leaving testimonials.
Principal of the Nigerian Turkish International College, Mr. Kamil Kemanci, in his welcome address said that for the graduating student and their ever supporting parents, the graduation ceremony marks the completion of the second stage in their march towards a successful life career.
"For us in the school, it marks the successful completion of one assignment with the students. Let me use this medium to remind the graduating students that this is not the end of their relationship with the Nigerian  Turkish International College for we are always going to be monitoring and provide the necessary assistance where we can."
He called on the graduands to take all the admonition you got here at the ceremony very seriously, adding that, "they should be your guide."
Kemanci paid glowing tribute to all the parents who supported and stood by the college and at the same time craves for more. He noted that the celebration today is that of "a mutual co-operation between the parents and the school with the sole objective of ensuring the success of our students, our children."
Vanguard Education Weekly had a brief  interview with Kamil Kemanci after the ceremony.
Excerpts of the interview:
What is the source of  funding for the college?
It is private funding and therefore our funds are not coming from the government. We have our headquarters in Abuja, and have schools in Abuja,
Yobe, Kano and Kaduna States.
Do you have any connection with Nigerian Turkish Nile University, Abuja?
Yes, we have link with the University. There is a company established to run these educational institutions, the Nigerian Turkish International Colleges in the country. The company is registered and does nothing else, but only education.
How old is the college?
We are 12 years old. It all started in Ikeja. Now the college is located in Isheri, Ogun State.
We have secondary – junior and senior with 400 students.
There are primary and nursery sections  in Ikeja. It's our 5th graduation.
Can you say how many graduates the college has produced?
The total graduates produced by the college is 112. Today, there are 48 graduates leaving the college.
What is the staff strength?
There are 45 academic staff – Nigerian and Turkish teachers in the college.
Subscribe for latest Videos