By Paul Bassey
I feel like laughing, that members of the NFF Executive  committee have met and impeached three of their members including the president, his first vice and the chairman of the technical committee, and quickly replaced them. This is just the beginning.
I have heard people say this is medicine after death. Some have called me to say they are cowards and should sink together. My answer is, did they swim together? Why should they sink together? No let them talk. Let their President come out and deny them, prove that they were all part of the rot.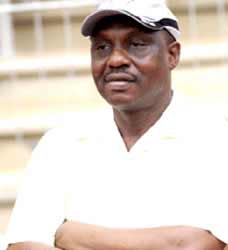 It is instructive that it is Princess Bola Jegede that was made to read the communiqué. Right from the first day of this administration, the Princess was at the receiving end of neglect. She told close friends how her powers as chairman of the female football committee were usurped, how others were brought to lead trips in her domain, and how she does not know what was going on in the board.
Friends advised her to stay put. To fight the fight from within….. it is instructive that Dr. Singabele has been given an opportunity to re express himself. His story we all know, how he was banned for daring to speak out against the draconian Lulu administration.
On the side of the rebels sits Dominic Iorfa, the firebrand who has always fallen out with chief Ogunjobi on technical issues of our football. Every time he dared to complain, he was threatened and rebuked yet he fought on so much that they found it wise opening some windows to him.
When the media said over and over again that the present NFF was being run by the three musketeers they were called names. Meanwhile those affected, these same people refused to speak up, because they considered it an insult….now, they know better?
Yes they knew in Angola.
When they came back, they instituted an impeachment procedure, questioning why, as members of the executive committee they were not part of the decision making process, did not know how moneys were made, received and shared, worse they were abandoned, allowed to fend for themselves.
You need to hear of the pathetic story of a board member who had to hitch a ride in the back of a pick up van to be able to go watch Nigeria's match in Angola.
Let those who felt there was nothing wrong with this board, now wait and listen, because there will be more revelations yet. I am even expecting one from Lagerback as regards the team he took to South Africa.
FIFA and CAF Executive Committee member Dr, Amos Adamu has called for a diplomatic solution to the issue. That, I will not mind. However let me say that entering for an international competition is not by force. Pray, should we decide now to play the Nations Cup qualifiers, where are the players we are going to use?
Because of Kanu and co. our football was stagnated. We closed eyes to budding talent and stuck with aged players. Now that the scales have fallen from our eyes, we need at least two years to be able to put up a credible national team, lest we continue this wobbling and fumbling.
Meanwhile, let the "new board" of the NFF write to FIFA on their latest move even as they summon an emergency meeting of the congress as we watch, laughing from the side lines.