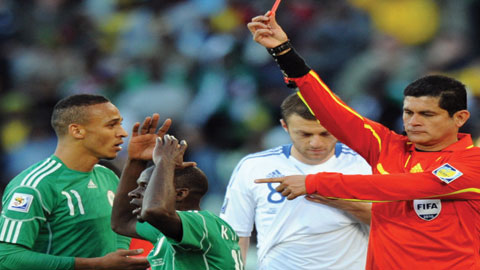 By Ime Bassey
Following Super Eagles's defeat to Greece on Thursday, Nigerians have been reacting with divergent views, some still hoping for a second round berth while some others have ruled Eagles out completely.
Speaking with Saturday Vanguard sports, ex-Super Eagles midfielder, Mutiu Adepoju said that, "It was a very painful game for us because we had the game in our hands until Sani Kaita was sent off . Playing with ten men against a team that needed victory at all cost, it was very difficult to keep them from scoring."
On Kaita's red card, Adepoju said, "Kaita's reaction was totally uncalled for, he was not fouled neither was there any tackle against him by the Greek player. Players do lose their cool, but not in a game which we needed victory."
According to Adepoju, Enyeama had a good game only for that error which can be connected to the Jabulani; After the game, he still gave a good account of himself.
Commenting on Lagarback's substitution of Osaze Odemwingie, he said that, "it is a normal substitution for a team that is down. The only thing is that, I don't know what Lagerback saw in Osaze that he had to substitute him for Ogbuke.
Notwithstanding, Ogbuke is a very good player that could have delivered at that point he was brought in.  He should have relaxed with that chance to put us ahead. The way he played the ball showed that he was not composed and was in a hurry. If he had scored, we would have been ahead, and stand the chance of defended the goal."
The team had issues all round, the defence was not the only problem. We had an attack that could not convert chances that's why we lost."
When asked what he would have done if he was the coach, he said, "I would have still continued with one striker and bring in an attacking  midfielder, who can join the attack and also, fall back to help the midfield."
He concluded by saying that the way foward  is to create a good  preparation process that involves the grass root and continuity of the players discovered.