Cote d' Ivoire  Tuesday, played a goalless draw with Portugal in its first Group G match at Port Elizabeth, South Africa.
Didier Drogba's introduction into the match at the 66th minute could  not change the  outcome , as both countries   have  a  point each on the group's table.   However, Brazil will play  North Korea in its first game in the 2010 tournament at 21.30hrs Nigerian time.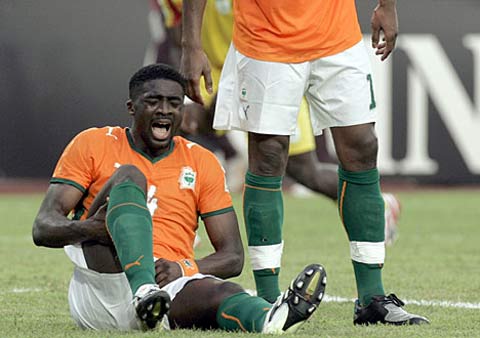 Live Commentary
National anthem of both countries in progress
All set for kick off.
00mins: Kick off
 6mins: Benjamin Angoua gets a yellow card for a foul on Ronaldo
11mins. Ronaldo rocket shot hit the left post
12mins: A yellow card  for Ronaldo and Dennel after a challenge.
45mins: Half time.
45mins: 2nd half begins
46mins: Cote d' Ivoire gets a corner,quickly taken but danger averted.
47mins: Drogba warming up on the sideline. Is he fit to play?
54mins:Portugal makes the first substitution; Simoa enters for Dammy
61mins: Deco out , Tiago in.
66mins: At last Drogba is in.
66mins. Comes in Solomon Kalou
67mins. Yaya Toure fires a shot but went wide.
72mins: Portugal takes a corner, but danger averted.
80mins: Ronaldo is down again.Free kick from 25-30. Ronaldo plays it but goes over the crossbar.
84mins:  Raúl Meireles   goes out for Ruben Amorim in another Portugal substitution.
88mins: Substitution  for Cote d' Ivoire; Emmanuel Eboue  goes out for  Romaric
94mins: Final whistle.
Cote d' Ivoire 0-0 Portugal
What is your opinion of  Cote d' Ivoire's performance  against Portugal ?