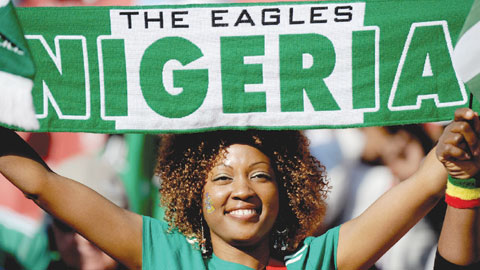 BY Paul Bassey
I have always said that if I had a chance of deciding which country to come back to in my next life (?) then that country will have to be Nigeria. I know that God and the Angels, especially the Angels will wonder why I will turn down the US, France, Japan, Australia etc and prefer to go back to a place where nothing seems to work.
Given the experience of my first life, I will be considered a lunatic not to take advantage of becoming a German or New Zealand citizen, preferring to go back to a country where even electricity cannot be guaranteed and corruption is said to be a way of life. I can hear a brave and concerned Angel saying " Mr. Bassey, if you must go back to Africa, why don't you go to South Africa, Egypt or Morroco?"
They do not understand that thanks to sports, football in particular. I have travelled far and wide and there is no country for me that compares with Nigeria. Every time I get out of this country for two weeks, I feel so home sick that but for official engagements I have always felt tempted to pack my bags and run home.
Forget the fact that the moment I alight at the Murtala Mohammed Airport, a sudden feeling of regret envelopes me. Sets me thinking why we are the way we are.
Nigerians are such a happy people that even the maladministration with the  political stench that oozes from high places has not dampened the morale of a people determined to live life to the fullest.
Then comes the man with an opinion of his own. Not cowed, very independent not minding whose horse is gored. Yesterday I had come out to say that though the Eagles lost, they played well enough to deserve our commendation. I thought our boys were brilliant and that hard luck stood between them and at worst a draw.
I ended by throwing in a teaser, asking whether it was ok to play well and lose, opposed to not playing well and winning as happened in Angola.
Umoh Bassey, a former player of Calabar Rovers quickly replied that we just have to play well.
That football is about playing well, but playing well and not losing. Quite a number agreed, adding that we could still qualify, that if we play Greece and South Korea like we did against Argentina, then the second round was guaranteed. ……
Then the stinker. A bitter Nigerian who simply identified himself as Joseph Aguebor from Surulere.
He said he was disappointed in me for celebrating mediocrity. That he will not forgive me and Lulu and Lagerback and Ogunjobi and Uchegbulam…… if the Super Eagles do not go pass the quarter final already attained by Senegal and Cameroun.
" Why are you celebrating defeat? In football it is either you play and win, draw or lose. I am sure you are aware that last Saturday we were put three points behind Argentina and South Africa.
I am sure you are aware that when our children will look at the records in the next forty years, it will not be written that "we played well" what they will see is the fact that we lost. Full stop.
"For pushing out Amodu, you guys must just go out there and justify your Onyibo coach and the millions of naira you are wasting on him. I am happy President Goodluck went there, to further drive home the point that in football, there is no substitute for hard work. Not even goodluck.
" Then your Kanu, who may not get to kick any ball during the matches, yet you took him there, blocking out younger and fitter players. Please spare us all this talk of playing well, go and get us qualification ticket or, all hell will be let loose.
" God bless Enyeama"
He did not even give me the opportunity of defending myself. Nigerians we hail you.
See you tomorrow.