•••We were abducted claimed suspects
By Evelyn Usman
The Ogun State Police Command has arrested five students of the Moshood Abiola Polytechnic, Ogun state, who were allegedly on the verge of being initiated into one of the confraternity groups. The suspects among whom is a female accomplice, were arrested inside a classroom in Ansar Ud Deen Primary school at midnight three weeks ago.
Recovered at the initiation scene, according to the command boss, Mr Musa Daura, were two locally- made double barrel guns cut to size, a locally- made single barrel gun cut to size,  thirty live cartridges, , six Wax German axes and a blue beret.  In addition, according to him, were three new cutlasses, four mobile handsets, a small pot containing charms and amulets.
In this interview with Crime Alert, the suspects all denied being involved in the initiation process as alleged by the Police.  They, rather stated that they were abducted by a group of persons from their respective homes and forced to the initiation point against their wish. For the female suspect,  Sekinat Atinuke Oketayo, she simply shrugged her shoulder  when approached, saying her arrest followed her attempt to open the door for her fleeing boyfriend while running from the police.
The 20- year-old girl who completed her Ordinary National Diploma(OND) course in Accountancy three months ago, stated " I was not at the scene of the initiation . My fault was that I opened the door for my boyfriend,  Akinsanya Babatunde.  He called at midnight to tell me to open the door for him, that some persons were after him and I did , only for some men who later identified themselves as policemen to rush in after him. The weapons that they said they found were not found in my apartment, they were recovered at the initiation scene, inside the classroom"
The boyfriend who happens to be in the same class with her,  25-year-old Akinsanya Babatunde on his part said he was abducted by one CK while in the campus before he was driven to the primary school to be forcefully initiated into Eiye Confraternity.
" I had gone to see a friend at the campus penultimate Saturday and was returning when a red Starlet Saloon car pulled up beside me . Before I knew what was going on, one of the passengers pointed a gun at me.  He directed me to come in and,  I obediently did. That was all I could remember before I was brought to the primary school among those to be initiated. The faces, except that of CK were all strange to me. I am not a member of the cult and have never been. I was just about to be initiated but was saved by the timely intervention of policemen.", narrated the Shagamu Ogun state- born student.
Another suspect, 24-year-old Adewusi Yomi, an indigene of Idiroko in Ipokia Local Government Area of Ogun State, also claimed to have been forcefully taken to the initiation point by a group of boys. But when asked how that was possible if they never gave their consent,  he kept mute, maintaining his grounds that he was forced.
"I had gone to my  hostel named  Onikolobo which is off campus to pack my  books after the completion of my OND programme on Friday , March 19. Then the next day being Saturday, I decided to go to Okeyeke Area, where a car  almost hit me. After dogging, I raised up my head to query the driver, only to sight CK and some other unknown faces who were students of Mooshood Abiola Polytechnic.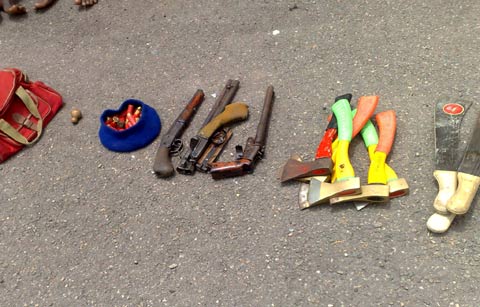 But before I could do that, one of them just came out of the car and asked me to move inside the car.  Thereafter, I was taken to Ansar Ud Deen Primary School. While inside the classroom, I was given the beaten of my life. I thought I was going to die until we heard the police coming. Unfortunately, I could not run because of the severe beatings I received.   And when the policemen arrived, all our abductors escaped leaving us to our fate because we did not even know the way out , owing to the fact that it was dark".
The third suspect, 27-year-old,  Samuel Babatunde said he was picked up by the group of boys in his Olokomeji hostel room. ". I was about sleeping that night when I heard a knock on my door and without anticipating danger, I opened the door only to behold  CK and members of his group who beckoned on  me to get dressed and follow them.   At first I hesitated, but when one of them pointed a gun at me, I obeyed because I was helpless and nobody would have come to my aid even if I had screamed.
Quickly, I got dressed and as I passed by CK, I noticed they were all armed and I became more afraid because I did not know where they were taking me to. Outside the hostel, they ushered me into a Mazda vehicle  and they sped off to a place I later knew as a primary school, where they carried on with an initiation exercise"said the Owu, Abeokuta-born suspect.
For 28-year-old Qudus Ayilara, he claimed he was deceived by a telephone call from his abductors who invited him to a wedding ceremony in Ogun state.
" I had relocated to my family house in Lagos after the completion of my OND course since January.
But on Friday  March 19, 2010,  I received a telephone call from CK, inviting me to a friend's wedding scheduled for Saturday, March 20, 2010 at the MAPOLY Auditorium, Main Campus.
But to my surprise when I got to the venue, there was nothing on ground to show that a wedding was holding.  Rather, I was forced into a waiting Starlet Car and whisked to an unknown primary school in Isabo area, where we were kept inside a classroom for almost an hour and warned not to raise any alarm or risk being killed.
Later, they started beating us , saying that was part of the initiation process. I laid on the ground, almost dying , until some plain- clothed policemen broke into the classroom which was locked from behind, apparently to deceive people".
Crime Alert learnt that after the first round of beating which left the suspects exhausted, the suspected leader of the cultists simply identified as CK who is currently on the run with members of his group, reportedly locked the suspects inside and went to relax with his friends in the car. Their position apparently aroused suspicion from a police patrol team which approached the primary school.  But on sighting the policemen, CK and members of his group reportedly fled. The policemen were said to have been combing the school premises for a possible clue of the fleeing group when they stumbled on the suspects inside one of the classrooms.
The suspects, according to the CP, would be charged to  court as soon as investigation was concluded.