Nigeria's track and field team completely dominated and won 18 out of 21 gold medals on offer at the Africa region 2 Youth Olympics trials in Dakar, Senegal at the weekend.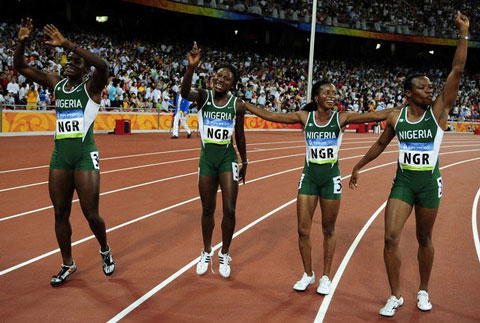 The boys and girls of Chief Solomon Ogba won all the track events gold medals listed at the two-day championships and only lost the high jump boys and girls as well as the triple jump boys gold to qualify for the first-ever Youth Olympics which holds later this year in Singapore.
An elated Athletic Federation of Nigeria president, Chief Solomon Ogba, who led the team to Dakar said on return from Dakar yesterday morning after the championships that success indeed supposes endeavour.
"When you train for a reason and you train very hard, you will get the result. That is what has happened here in Senegal", he said and gave his federation a pass mark for using a higher standard to pick the team.
"I think the secret of our impressive performance could be attributed to our decision to pick the athletes for this championship by using the IAAF World Junior standard instead of the IAAF World Youth standard.
This already gave them an edge over their counterparts from other West African countries because the event was meant for Under 18s and not Under 20s.But we chose the standard for under 20s and we have reaped bountifully from that decision', he said.
Ogba also revealed that the victorious Nigerian contingent will return home today and that preparation will begin in earnest for the Singapore Olympics.