Top Nollywood actress, Miss Genevieve Nnaji has been appointed face of Make-Up Designory (Mud), a  make up brand newly introduced into the Nigerian market. The new line of make up was brought into the country by sisters, Chinny and Oyinye Onwugbenu owners of Belleza Cosmetics and Spa located in Lekki.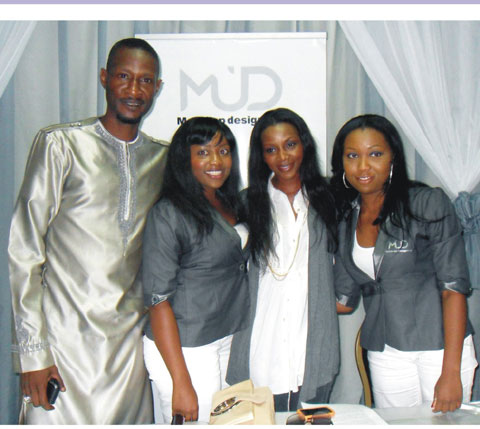 Explaining the choice of Miss Nnaji as face of Mud, during the unveiling of the brand as well as public presentation of the Face of Mud in Lagos on Wednesday, Chinny Onwugbenu said, the contributions of Genevieve to the movie industry is legendary as she is known for top quality films and extreme passion and dedication to her craft.
She added that " Nnaji has been on top of her class for quite some time now. And it made sense to partner up with someone of her calibre and status".
Presenting the product, make up Guru, Bayo Haastrup, a Mud trained make up artist, described the new brand as a product that will enhance the beauty of every Nigerian woman. He said as a mineral based product, it does not only have a good finishing, it also has potentials to cover  difficult spots on the skin. He added that Mud has an advantage as it gives tips on how to use it and the appropriate brush to use for each item.
Endorsing the new brand, Miss Nnaji said she was very impressed with the brand and at the same time, humbled to be chosen for the brand.
"I am excited, it feels so good to be the face of a make up brand because it is indirectly a complement to me. It basically says, I have a beautiful face and they want to sell their product through that face. So I'm really humbled, grateful, thankful to God. As you know, it also means more money so, this is good for me"
Aske on he beauty routine that earned her this honour she says: "I used to have bad skin caused by acne back in the day. Then I realised that I wasn't taking care of my skin the way I should.
I used to wash my face with face wash, thinking that will take away the make but it was always there in my face somewhere, closing up the pores and that was why I kept breaking out because my face wasn't breathing. So now, before the face wash, I use face wipe which completely takes out eh make up, then I wash, tone moisturise, use my eye cream and then make up'.