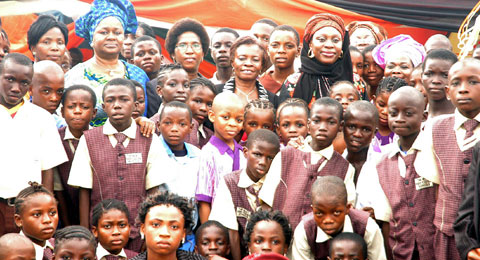 By Emmanuel Edukugho
The neglect of children with disabilities and their prevention from accessing educational services can be remedied by the entrenchment of inclusive education.
Bauchi State first lady, Hajiya Abiodun Isa Yuguda,  made a case for the physically challenged children at the second Vanguard children's conference held last Thursday inside the premises of Vanguard Media, Lagos, attended by over 500 school children and their teachers.
She said that the right to education is universal and must extend to all children, youths and adults with disabilities. This right is enshrined in the convention on the rights of the child.
"Hence the need for better alternatives, this led to the conceptualisation of inclusive education."
She explained that inclusive education was established to act as a catalyst to ensure that the right to education, and the goals of equalisation of opportunities for persons with disabilities and the right to participate in society according to the Dakar Framework are implemented.
"We also know that the vast majority of individuals with hearing or visual impairments in our nation lack basic literacy; those individuals with psychiatric disabilities are treated with often cruel neglect; and that there is a strong link between poverty and disability education and life-long learning opportunities can and must erase these gaps in economic and social development that effectively marginalised individuals with disabilities," Yuguda told the conference.
Saying that she sees inclusive education as a veritable tool in facilitating good social integration of children with disabilities in our society, therefore good social skills are critical to successful functioning in life.
According to her, "these skills will enable children with disabilities to develop their potentials in academic performance, behaviour, social and family relationships, and involvement in extra curricular activities."
Pointing to a known fact that social skills are also linked to the quality of the school environment and school safety, she asserts there is an urgent need for parents, caregivers and teachers to work together in impacting good social skills to our children.
This is important especially in an age where the demands on family life makes it imperative that schools partner with parents so as to enhance the development of our students.
Citing UNESCO to drive home her point, at least every one child born with or acquires a serious impairment which, if no attention is given, could impede the development of the child.
"It is however pertinent to note that 80% of the estimated 200 million children in the world with disability are living in developing countries and very few receive good health care and education, and less than 2% receive special services of any kind."
Coming down to Nigeria, the Bauchi  first lady noted that children with disabilities are most often neglected and prevented from accessing educational services and where few are given the opportunities, they are restricted to special schools in very inhumane conditions.
Benefits of inclusion for students with Disabilities were listed as follows: Friendships, increased social initiations, relationships and networks, peer role models for academic, social and behaviour skills, increased achievement of goals, greater access to general curriculum, enhanced skill acquisition and generalisation, increased inclusion in future environments, greater opportunities for interactions, Higher expectations, increased parent participation, families are more integrated into community.
On the other hand, benefits of inclusion for students without Disabilities include meaningful friendships, increased appreciation and acceptance of individual differences increased understanding and acceptance of diversity, respect for all people, prepares all students for adult life in an inclusive society, opportunities to master activities by practising and teaching others, greater academic outcomes, All students needs are better met, greater resources for everyone.
"At Challenge Your Disability Initiative (CYDI), we are currently practising inclusive education with a view of integrating children with disabilities into normal school with adequate supports. We have pioneered community based rehabilitation in Bauchi and plans are on to expand its scope to rural communities in the state."
Hajia Yuguda submitted that the future of children with disabilities should be an urgent  priority to government at all levels.
She expressed hope that the Vanguard children conference will inspire children with disabilities to aspire to become responsible citizens with "some of you seated here today becoming lawyers, doctors, engineers, accountants, etc."
The theme of the conference was "Moulding The Nigerian Child, Africa's Pride" in which some professionals from diverse areas of specialisation made presentations, delivered speeches in interactive sessions with the children.
There were questions and answers as the children showed understanding of contemporary issues relating to nation building, health, hygiene, culture and career potentials, and inspiration towards achieving dreams and goals in future.
Yuguda commended the organisers of the summit for their initiative and vision.
"We hope this avenue will further enlighten us about the plight of persons with disabilities in our society and cause us to action," she concluded.
Subscribe for latest Videos