By Sam Eyoboka & Kolade Larewaju
ABEOKUTA – PRESIDENT of the Living Faith Church, Bishop David Oyedepo yesterday confirmed that he actually visited ailing President Umaru Yar'Adua at the Presidential Villa but declined to give details of the man's state of health.
Bishop Oyedepo who spoke to reporters in Abeokuta, declined further comments on their visit to the ailing president merely saying "yes" when asked to confirm the reports in the newspapers.
Pressed to speak on the president's health, he said "that is personal. I owe the public no explanation."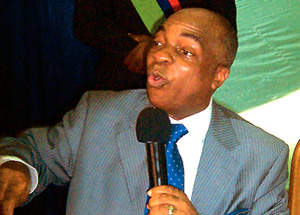 Oyedepo was one of the four Christian leaders who were led by the president of Christian Association of Nigeria, CAN, and Catholic Archbishop of Abuja, Most Rev. John Onaiyekan, who visited President Umaru Musa Yar'Adua on Easter Monday to pray with him. Others included Rev. Emmanuel Kure and the erstwhile chaplain of Aso Rock Chapel, Prof. Yusuf Obaje.
Meanwhile, as over 140 million Nigerians await the verdict of the four Christian leaders on the state of health of President Yar'Adua, feelers reaching Vanguard showed that the team was hurriedly assembled to balance a political equation as Muslim clerics had earlier prayed with him.
According to informed sources, an earlier move to get credible Christian clerics to be part of the Easter Monday visit flopped when some of them were perceived not to be too keen on the visit.
The whole idea of the Easter prayers by Christian leaders was said to have emanated from a former two-term governor who believed he could contract eminent Christian leaders to pray for the ailing president, especially after a similar exercise by Muslim clerics.
The immediate family of the ailing president was said to have bought the idea and therefore asked one of the key officials to liaise with the former governor. It was at that point that the former governor was said to have called the National President of the Pentecostal Fellowship of Nigeria, PFN, Pastor Ayo Oritsejafor who was expected to reach others.
The proposal was for Oritsejafor to recruit the services of the CAN president, John Onaiyekan, the General Overseer of the Redeemed Christian Church of God, RCCG, Pastor Enoch Adeboye and one other cleric.
Subscribe for latest Videos