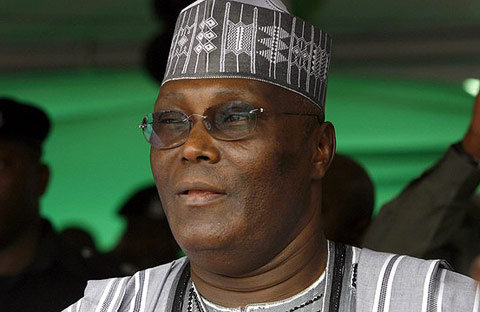 By Dayo Benson, Political Editor & Henry Umoru
Return of former Vice president Atiku to the ruling Peoples Democratic Party has been generating some controversies particularly in his Adamawa State.
Tuesday in Abuja at a press conference cum interactive session, the nation's former no two citizen at a press conference displayed his registration card to convince all that he has been fully readmitted into the party. Some  Adamawa PDP leaders and Alhaji Lawal Keita were among those present at the occasion.
The forum provided the Turaki of Adamawa an opportunity to clarify  issues surrounding his return to the party. He also spoke on 2011,and the PDP. Excerpts:
On the allegation by former president Olusegun Obasanjo one of the reasons for their disagreement was his (Atiku) disloyalty
Talking of loyalty and disloyalty, when did my disloyalty start in my first term? I want to make something very clearly. My loyalty has always been to the Constitution of the Federal Republic of Nigeria because of you look at the oath of office and the oath of allegiance, it is not directed to the President or to the Governor.
The oath of allegiance is to the Constitution of the Federal Republic of Nigeria but when you are working with a military man, who in military tradition, as far as they concerned they said they believe in 100 percent loyalty to them and I made it very clear to my boss then that my loyalty and allegiance is to the Constitution of the Federal Republic of Nigeria.
Now what is the real truth behind the story? I have said this over and over again, there was  never a time the President actually begged me to support him, but of course, I reflected together with the group of governors who where then supporting me and told them why I had to support the second bid of the President. One, it was the decision of the party to zone the Presidency to the South for eight years.
Two, I believe disrupting the zoning is going to disrupt our delicate political balance, that is in terms of our unity, peace and stability:Â  I therefore urged the governors to bear with me so that we could all move together to support the President then. So till we went to the convention ground then, there were still some governors who were supporting me and said, sir can we vote for this man, I said go ahead and vote for him. That is the real story behind the story.
On his earlier allegation of absence of  internal democracy in the PDP and what intends to do now that he is back.
I have every belief  that it is not going to be business as usual in PDP anymore, because leaders are prepared  for a reform, the party members are prepared for a reform and we are all reform minded in PDP. And what we want to see is the PDP we created, we established, we co_founded in 1998.
When there was internal democracy even if you are ready for an ex_officio, you have to go round and campaign and be voted for. That is the kind of PDP we are going to bring back. Make no mistake about it, we will bring it back.
Now that you are back in PDP what is my agenda?   Is it true that you want to be a presidential candidate for 2011, or you want to be a running mate
To be a strong and loyal member of PDP, to make sure that there is reform in PDP, there is internal democracy and due process in PDP that is my agenda. Do I have a chance in PDP if I decide to run? Only God knows. But if you want an analysis, ask for exclusive interview.
Will there be free election in PDP in Adamawa with Governor Murtala Nyako and Senator Jibril Aminu  looming large.
I am not aware whether they are looming large, but I can tell you we will have free and fair election in Adamawa, why, judged by the by elections we have held, where we stood our grounds.  This time the votes must count and therefore they did count.
Is PDP an acceptable party for you
Why not, how can you say the house that I helped to build is not acceptable to me? Why should I not go back to my house. You want me to be on the street.
Now that you have left AC what do you think will  happen to the  party?
I do not know. From all what I know is that two weeks ago I was in Taraba and unknown to me, the entire executive announced  that there is no more AC in Taraba, let this place be like that, you may have no AC.
Are you sure you are back to PDP?
What kind of question is this? You think all of us here will waste our time from Adamawa, from our various places all over the country to gather here if we are not sure we are back to PDP. I want to ask you. Because I am also press man. I know how we think.
Part of your questions is also what stumbling block I faced in AC. I really did not face any stumbling block in AC as such. But right from the word go I said it in AC meetings that AC alone cannot be a viable opposition to the PDP. We need a bigger party and that was why I championed the coming together of other opposition group to be able to form a viable opposition party.
Now I realise that most of them are not prepared or do not have the spirit of give and take so that a viable opposition party can emerge and I said in my address if there is any frustration or disappointment I had in the opposition camp, was because none of them was genuinely and sincerely interested in forming an opposition party. If I have my way today and my pen can make a law, I will make a law to create two or three parties in this country, I will create it if my pen can do it but unfortunately, my pen cannot do it.
People of Nigeria must decide to do it themselves. I am so scared of a dominant one party, so scared to my marrow. If you happen to get somebody in that party to be a president and that person does not believe in vacating office, one,  he has the PDP that has majority in the National Assembly to amend the Constitution and remain in power forever.
Two, he will get all the PDP state legislators to carry out the same amendment and then we will end up with a president for life and one party and only God knows what will happen to us. Many of us here who will never tolerate it will either go into exile, or be in jail or will be killed. I am so scared of a one party rule.
It is very scary. It is not like the ANC that has a one hundred year history and strong institutions to checkmate this kind of things. Ours is a party that is just about 10 years and no strong institutions. So this is my frustration in the opposition camp.
Your misunderstanding with former president Obasanjo was one of the reasons why you left PDP, how do you feel with his image looming as the BOT chairman of the party?
You said what challenges will I face in the PDP with former President Obasanjo looming large? As far as I am concerned, I am not aware whether he is looming large.
Do you agree with the Masari group?
If their  objective is to have reforms within the PDP, internal democracy, the independence of the party at the various levels, you know I support it. Whatever we are going to do must be done through due process. I mean if you want to effect changes in the party constitution, you must come through the convention, through the congresses at the convention and do your reforms.
You cannot do your reforms by having a pressure group and asking for national executive that is elected in a convention. That is why democracy is good. If you are dissatisfied, wait for the time to come and effect the changes through elections. So definitely I am for a reformed PDP. I am for new a PDP. I am for more independent party structures at all the levels so that the party can be independent of who ever whether you are the Chairman of local government, whether you are the governor, whether you are the President. Definitely I will like to see such a party structure.
What is my impression of the suspension of 19 members?
I do not have facts. I do not have information about the suspension, so I do not know really what transpired.
Will I attend the NEC meeting?
Why not if invited.