Niger government is to    commence the sale of 24,500 metric tones of fertilisers to farmers for the 2010 cropping season, the Commissioner for Agriculture, Alhaji Aminu Yusuf  has said.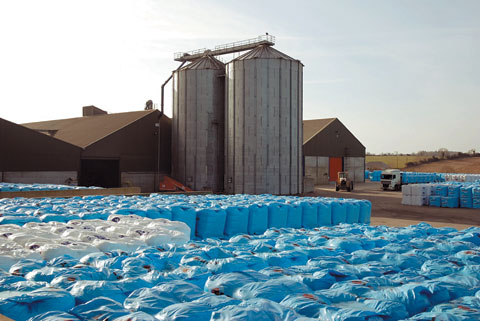 Yusuf told newsmen recently during a post executive council meeting that the council approved 30, 000 metric tones of fertilisers for the ministry, for the 2010 cropping season.
"Already we have secured 20, 000 metric tones and we also have the carry over of 4, 500 metric tones from 2009 stock, so altogether we now have 24, 500 metric tones of fertilizer for distribution and sales,. he said.
The 30, 000 metric tones ordered by the government, of which 20, 000 metric tones had arrived, cost government N1.5 billion.
The commissioner said that the remaining 10, 000 metric tones would be delivered to the government in the next one month.
He said that the government would provide more than 60 per cent subsidy on the fertilisers in order to encourage farmers to assist government to achieve food security.
He said the fertilisers would be sold at N2, 500 per bag for NPK, against its N2, 900  in 2009; N2, 100 per bag of Urea, against  N2, 500 in 2009 and 1, 800 per bag of SSP, against  N2, 000  in the same year.
Gov. Babangida Aliyu will formally kick_off the sale on April 30, in Wushishi Local Government Area.
Meanwhile, the state governor, Alh.  Babangida Aliyu , has requested Russia's assistance in power generation, agriculture and road construction.
Aliyu made the appeal in Minna  when he received the Russian Ambassador to Nigeria, Mr Alexander Polyakov, during a visit
He said that his administration would ensure that it tapped from Russia's experience in tackling the problem of power generation and road construction.
Aliu subsequently, set up a power committee,  headed by Dr Peter Sarki, Commissioner for Tertiary Institutions and an equipment committee, headed by Alhaji Abdullahi Wuse, the Commissioner for Local Government Affairs.
He said the state would welcome investors from Russia, commending the Russian Government for its assistance to Nigeria since independence.
Polyakov said that Russia was exploring bilateral agreement between his country and Nigeria in the area of power generation and agriculture.
He said his country had increased its scholarship placements for Nigerians willing to study in Russia from 55 to 62.