By Ifeanyi Okolie
PERHAPS,  if  Bajide Kehinde, a 25-year-old Ondo state born graduate of school of Oceanography and Marine Research, Victoria Island,  Lagos had known that a mid- afternoon call put across to him by his very good friend Adeyemi Feyijimi would turn out nightmarish, he would probably have ignored it and enjoy his sleep at his sister's residence where he was already in bed.
But as it turned out that day, an undisclosed family feud between his friend and mother almost took his life after his friend set their building ablaze.  Though Bajide survived the inferno by a stroke of luck, he would never forget the incident that has almost disfigured him in a hurry.   The psychological trauma and the realization that his very good friend who had excitedly called him to pass a night with him that ill-fated day,  was the same architect of his present state was written all over him as this reporter approached for a chat.
How it all started
Giving graphic details in an emotion laden voice of how he may never look himself again except through a plastic surgery, the visibly confused Bajide lamented, "If I had known,  I would have remained in my bed at my sister's apartment when my friend Feyijimi called me to come over and spent a night with him in his family house.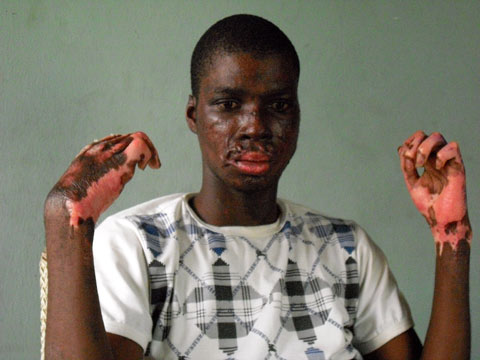 But we were good friends and so, I could not have thought that evil awaited me.   It all started on November  6, 2009. I was in bed about to sleep;  having watched a football match till about 12: 15 pm.  Since I came to Lagos, I had lived with my sister somewhere on governor's road Ikotun until that after noon when my friend called me to say that I should come over to their house so that we could spend the night together.
I  responded with excitement because I needed a break from the boring governors Road, Ikotun residence of my sister.  I therefore raced down to my friend's family house where we had a good time that night.  The following day when I wanted to leave, he insisted that I spend another night with him which I willingly obliged.  But that marked the beginning of my woes.
The second day, my friend and his mother started quarrel  over an issue which I did not know.   The argument became uncontrollable so much so that my friend threatened to set his father's house ablaze.   As their guest, I tried to talk to him,  but he would not listen.
Suddenly, he ran out of the house only to return with a gallon filled with petrol. At that time,  it all seemed as if they were waiting for me to be in their home before engaging in that sort of argument.   To make good his threat, my friend started wetting the walls of the building with the petrol.  While he was doing that, his mother came in to discover to her chagrin the action of her son.
At that stage I became curious and confused.  Surprisingly, while we were all still contemplating on the next step to take, his mother stepped out and quickly shut the door. I followed her, but on getting to the door, I discovered that it was locked from the out side.  I tried to pull it open but I couldn't   Feyijime who was also standing with me on the dark passage ignited a lighter he was  holding and threw it on the floor. He ran into a room and shut the door.  Just then, I heard a loud noise and the entire passage was completely dark.
The fire started burning seriously, and it got to my legs.  I thought of forcing the locked doors open but tripped hitting my face against a ball of fire burning strongly from the petrol soaked walls. Then I got my face, hands and legs burnt.   I was badly burnt that  I thought of giving up.    But I managed to get out through a window.
As soon as I came out,  people started shouting as they  saw me. The pains were too much that I felt like dying. When  I got down, I jumped into a shallow well but some people pulled me out.  Then. I was rushed to Holy Family Hospital, but I was  rejected.  Later,  I was  taken to another hospital, where I was treated for two weeks.
Then  Feyijimi's mother  for a  reason I do not  know came and  took me from the hospital and brought me  back home.  Instead,  she contracted a native doctor who starting treating  me in her house.
However, When my sister learnt about it,  she came and took me out from her house to Ibgobi Specialist Hospital.  Surprisingly, both mother and child did not border to  visit me through out my stay at the hospital. My sister was the only person looking after me until I was discharged."
Continuing, Bajide said, " Feyijimi and I were like blood brothers  because his mother is from my town  in Ondo State, we were very close because he was my classmate in school and  people thought  we were blood brothers, even my twin brother was not as close to me  as Feyijimi.  There are times when he fell sick people came to call me and I took him to the hospital.
Though we were close, we are different in character because he smokes and drinks, but I do not.   During our stay in school, he got expelled when the school authorities discovered that he was not of good behaviour.  I have an uncle, a Marine engineer who was sponsoring I my twin brother and Feyijime in school.  He had promised to get us a job when we are through. But when  he was expelled and my Uncle became and very angry with him and he stopped helping him.
He gave me money to start processing my Seaman's Passport and I was  supposed to travel either to Ghana or United Kingdom for the course.  I had  told Feyijimi everything and begged him not to  tell anyone and he assured me only for him to go home and told his mother. I believe that was when his mind got poisoned and he became jealous. I know his mother poisoned his mind against me because we were good friends.
Crime victims foundation to the rescue
Apparently irked by the plight of Bajide, the Director of Crime Victims Foundation Mrs. Gloria Obguji, has assured that her foundation would get to the root of the matter because according to her, the matter was never incidented in any police station.   "But we are taking it up the case against them.   I will alert the Commissioner of Police in charge of the state, Mr. Marvel Akpoyibo and a prima facie case will be establish against  them.
Subscribe for latest Videos